To sustain this free service, we receive affiliate commissions via some of our links. This doesn't affect rankings. Our review process.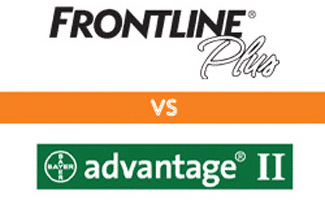 Your friends may not think that your dog is the most accommodating host, but fleas and ticks sure do. To keep these pesky parasites from taking up residence in the K-9 zip code, a regular dose of flea and tick medication is in order. Which one? We thought you might ask, so we've reviewed two of the leading medications. In the battle of Frontline vs Advantage, we find out which medication best fits the bill for your dog.
Frontline Plus
Frontline Plus, a Merial product, claims to kill 98-100% of fleas within 24 hours of topical application, though it doesn't give a time frame for ticks. It not only treats adult fleas, but fleas in all stages, including eggs, larvae, flea allergy dermatitis, thereby breaking the flea cycle. It contains two tough killing ingredients:
Fipronil kills adult fleas and ticks by collecting in the oils of the hair follicle and releasing onto the skin and coat
(S)-methoprene kills flea eggs and larvae.
The formula also guards against sarcoptic mange and lice, is waterproof and protects your pup for up to 30 days, and never expires so long as you store it according to package instructions. Frontline Plus is safe for puppies over eight weeks.
Popular Products
Advantage II
Advantage II, a topical Bayer product, claims to kill fleas within 12 hours. It treats fleas in all stages (adults, eggs and larvae), as well as flea allergy dermatitis and lice. It does not kill ticks, while Frontline Plus does. The two main ingredients are:
Imidacloprid attacks the flea's nervous system and ultimately kills it
Pyriproxyfen is an insect growth regulator (IGR) that kills fleas in the immature stages of their life cycle by mimicking the juvenile growth hormone of fleas.
Both ingredients work together to break the flea cycle. Advantage II is also waterproof and lasts up to 30 days. The product never expires so long as you store it to package specifications and is safe for puppies seven weeks and older.
Popular Products
Small dog, under 10 lbs. –  for 4-Pack
Medium dog, between 11-20 lbs. – $54.99 for 4-Pack
Large dog, between 21-55 lbs. – $55.99 for 4-Pack
Extra-large dog, over 55 lbs. – $55.97 for 4-Pack
Application
Both products are available in topical form and should be applied using the following steps:
Open product carefully.
Remove pet's collar to aid in application.
Part hair until the skin is showing on the nape of your dog's neck, between the shoulder blades.
Frontline Plus users will apply product on the neck, as will Advantage II users, unless your dog is large or extra large, in which case you will repeat the part fur-and-apply method four times along your dogs back, finishing at the top of the tail.
Though both products are waterproof, do not wash your dog for 24 hours after application to ensure full coverage has been reached.
Wash your hands thoroughly after applying and discarding of the product.
Give your pet a treat for being so good during their treatment!
Overview
While Advantage II is slightly cheaper than Frontline Plus, it only protect against fleas (in their various stages) and not ticks (Frontline Plus does fight ticks as well as fleas). Advantage II clearly states that it kills fleas within 12 hours on its packaging, while Frontline Plus does not, but their website claims it terminates them in 24 hours. Bottom line: If ticks are not a concern, Advantage II is the right route for you, but if you are worried about ticks, it's better to pay a bit more and go with Frontline Plus for your pup.
Keep in mind that a product that works for one dog may not work as well for another. It is important to monitor your dog after application and also remember that these products work best as a preventative measure. If you are interested in more options, check out our detailed flea and tick prevention reviews. If your dog already has fleas, also visit our article on Getting Rid of Fleas.
We are a participant in the Amazon Services LLC Associates Program, an affiliate advertising program designed to provide a means for us to earn fees by linking to Amazon.com and affiliated sites.
Disclaimer: The information provided through this website should not be used for diagnosing or treating a health problem or a disease. It is not a substitute for professional care. If you have or suspect you may have a health problem, you should consult your health care provider.
Disclaimer: This website contains reviews, opinions and information regarding products and services manufactured or provided by third parties. We are not responsible in any way for such products and services, and nothing contained here should be construed as a guarantee of the functionality, utility, safety or reliability of any product or services reviewed or discussed. Please follow the directions provided by the manufacturer or service provider when using any product or service reviewed or discussed on this website.