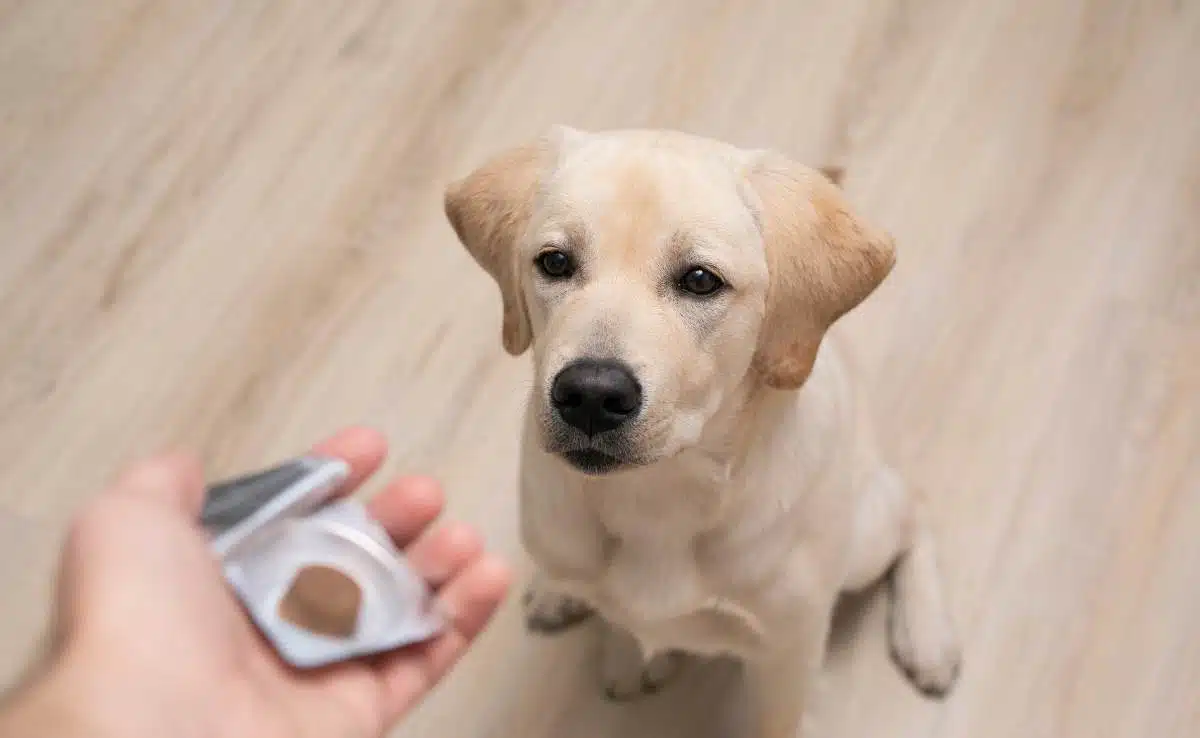 Fleas and ticks love to reside in pets' fur (especially when it's warm, as they can't live below freezing). Not only are these pesky parasites a nuisance, but they also create health concerns too. Keep fleas and ticks from bothering your pup (and you) with a regular dose of medication. We've reviewed two of the most popular options on the market, so you can compare and find which is a better fit for your furry friend.
FRONTLINE® Plus Review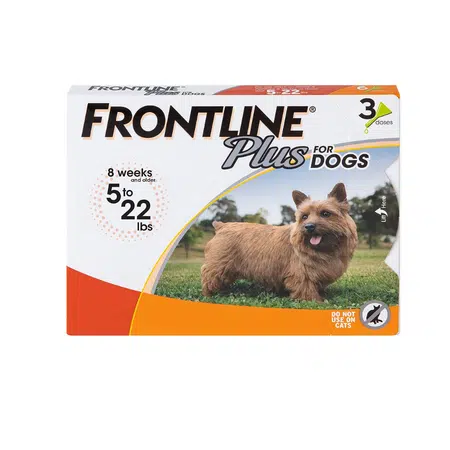 View FRONTLINE® Plus on Amazon
FRONTLINE® Plus, a Merial product, claims to kill 98-100% of fleas within 24 hours of topical application (though it doesn't give a time frame for ticks). It treats adult fleas and fleas in all stages, including eggs, larvae, and flea allergy dermatitis, thereby breaking the flea cycle. It contains two tough-killing ingredients:
Fipronil kills adult fleas and ticks by collecting in the oils of the hair follicle and releasing them onto the skin and coat.
(S)-methoprene kills flea eggs and larvae.
The formula also guards against sarcoptic mange and lice, is waterproof, and protects your pup for up to 30 days. Plus, FRONTLINE® never expires unless you store it according to package instructions. FRONTLINE® Plus is safe for puppies over eight weeks.
Is FRONTLINE® Safe For Dogs?
Yes. FRONTLINE® Plus is formulated with fipronil and (S)-methoprene. Fipronil is approved by the EPA as safe to use on dogs and cats, and (S)-methoprene is approved by the US EPA (Environmental Protection Agency) for use on dogs and puppies eight weeks of age and older. It is not recommended to use FRONTLINE® on other animals or humans.
Price
Below are some popular products and their prices for three doses.
Advantage II Review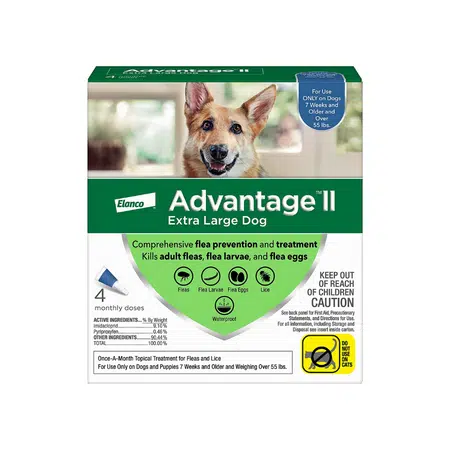 Advantage II, a topical product by Bayer, claims to kill fleas within 12 hours. It treats fleas in all stages (adults, eggs, and larvae), as well as flea allergy dermatitis and lice. Unlike FRONTLINE®, it does not kill ticks. The two main ingredients are:
Imidacloprid attacks the flea's nervous system and ultimately kills it.
Pyriproxyfen is an insect growth regulator (IGR) that kills fleas in the immature stages of their life cycle by mimicking fleas' juvenile growth hormone.
Both ingredients work together to break the flea cycle. Advantage II is also waterproof and lasts up to 30 days. The product never expires so long as you store it to package specifications and is safe for puppies seven weeks and older.
Price
Below are some popular products and their prices for four doses.
Application
Both FRONTLINE® Plus and Advantage II are available in topical form and should be applied using the following steps:
Open the product carefully.
Remove the pet's collar to aid in application.
Part hair until the skin is showing on the nape of your dog's neck, between the shoulder blades.
Apply product on the neck (unless your dog is large or extra-large, in which case you will repeat the part fur-and-apply method four times along your dog's back, finishing at the top of the tail).
Though both products are waterproof, do not wash your dog for 24 hours after application to ensure full coverage has been reached.
Wash your hands thoroughly after applying and discarding the product.
Give your pet a treat for being so good during their treatment.
FRONTLINE® vs Advantage: Which Is Better?
FRONTLINE® Plus is slightly less expensive than Advantage II and protects both against fleas (in their various stages) and ticks (whereas Advantage only treats fleas and is more costly).
Advantage II clearly states that it kills fleas within 12 hours on its packaging, while FRONTLINE® Plus does not, but their website claims it terminates them in 24 hours.
What's the verdict? While both products are similar in application and shelf life, FRONTLINE® Plus has the added value of killing both ticks and fleas. However, if you need more immediate results, you might be better off paying a little more for Advantage II.
Keep in mind that a product that works for one dog may not work as well for another. It is important to monitor your dog after application and also remember that these products work best as a preventative measure.
If you are interested in even more options, check out our in-depth flea and tick prevention reviews for some natural alternatives and other applications. If your dog already has fleas, you might also benefit from reading our article on getting rid of fleas.
Tagged With: Comparison, Fleas, Skin, Ticks