To keep the lights on, we receive affiliate commissions via some of our links. Our review process.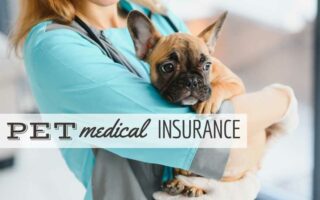 Pet medical insurance is commonly referred to as pet insurance or pet health insurance. A pet insurance policy helps pay for veterinary treatments covered by your chosen pet insurance provider, as outlined in your specific policy. It works similarly to human health insurance, but instead of paying a co-pay or reduced amount at the vet's office, you pay the entire bill and then file a claim for reimbursement from your provider. But, in both cases, health insurance allows you to focus your attention on helping your dog heal instead of stressing about the financial impact if your dog experiences an illness or accident.
Is There Pet Medical Insurance For Dogs?
Yes, medical insurance plans for dogs exist. In fact, we have several articles about pet insurance that can arm you with the details you need to discover the best plan for you.
Where Do I Find The Best Pet Medical Insurance Reviews?
Finding the best pet insurance reviews can be difficult. Some websites determine rankings based on who is willing to pay them the most. This isn't how we do things at Canine Journal.
Why Should You Trust Us?
You can trust our reviews because our team conducts extensive research.
We analyze each company's coverage and exclusions, customer feedback, claims process, pricing, and more. We also:
Speak with real-life customers
Interact with each companies' customer service department
Read each pet insurance policy (including the fine print)
Provide the most in-depth, unbiased information.
Have a licensed insurance professional on staff who reviews everything we write about insurance to ensure you get the most accurate information.
Last but certainly not least, our research team is not privy to our compensation agreements, so the recommendations we make are entirely unbiased based on what is best for you as the customer. Our goal is to help you feel empowered to make the most informed decision for your dog.
Trustworthy Pet Insurance Reviews
Now that you understand more about our process, here is a collection of the different ways we have compiled the data to provide the most valuable recommendations for you while making your decisions.
You can read about our dog medical insurance reviews, including our top three picks and all of the most popular providers. Our analysis includes key features, plan and cost options, coverage, exclusions, and more.
Once you've learned a little about each company, you can look at this pet medical insurance comparison to see how the companies stack up against one another. We have comparison tables that make it easy to review plans, coverage, waiting periods, age restrictions, and prices.
If you want the best dog medical insurance for a specific need, we have that too. This overview covers everything from the best pet insurance for price, puppies, older dogs, wellness coverage, bilateral conditions, discounts, and more.
Finally, if you'd like to see a complete list of U.S. pet medical insurance companies, we've got you covered. Our pet insurance directory includes the year founded, headquarters location, underwriter(s), customer service details, plan options, and more.
How Much Does Pet Medical Insurance Cost?
According to NAPHIA (North American Pet Health Insurance Association), the average monthly premium for an accident and illness dog insurance policy in the U.S. in 2021 was $48.66 ($28.57 for cats). However, dog medical insurance cost varies by provider and plan and are unique to your pet's breed, location, age, and pre-existing conditions.
We recommend running quotes with a few companies to see how pet insurance can fit into your budget. Our short pet insurance quote form will pull prices from all three of our recommended companies for you.
Can I Get Pet Insurance For Pre-Existing Medical Conditions?
Pre-existing medical condition dog insurance is possible, but only if your dog's condition is curable. What does that mean? Each pet insurance provider defines a curable pre-existing condition differently. However, ailments like diarrhea, vomiting, foreign body ingestion, ear infections, and urinary tract infections can be considered curable and may be eligible for coverage by select providers. You can learn more about the best pet insurance for pre-existing conditions here.
Is Pet Insurance Worth It?
Still wondering if pet insurance is worth it? We can help you learn more about pet insurance, including how it works, what it covers, how much it costs, how to pick the right company, and more. Our top priority is to help our readers understand what they're buying when purchasing a pet insurance policy, so they have no regrets afterward.
Tagged With: Reviewed By Insurance Agent