Wisdom Panel DNA tests provide breed and genetic health information for your dog (or cat). We think they're one of the top dog DNA testing companies and our pick for the best dog DNA test for mixed breeds. They offer three main dog DNA testing kits: Breed Discovery tests for 350+ breeds plus drug and medication sensitivities (MDR1 test). Essential tests for 350+ breeds, 35+ traits, 25+ medical complications, and more. Premium tests for everything the Essential tests for in addition to 200+ genetic conditions and a veterinarian consult for notable health findings. They even have a cat DNA test too.
Are you looking to save a little money on a DNA test with a Wisdom Panel discount code? We're here to help!
Pricing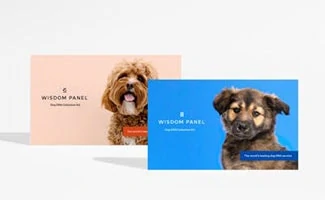 Wisdom Panel DNA Test Coupon
See below for the latest Wisdom Panel promo code:
Wisdom Panel is often offered at a discount from the MSRP price at Chewy.
Previous Wisdom Panel Coupon Codes
The Wisdom Panel coupon above is an ongoing deal, but if there are any previous promotions, we'll share them here too, making it easy to compare.
Why Is Wisdom Panel A Good Choice?
We've tried Wisdom Panel ourselves and can attest to the results and what they show. Get your results back in two to three weeks, and it covers 99% of 350 breeds, types, and varieties and over 200 canine genetic health conditions (with their Premium test). They also partner with charitable organizations and animal rights groups.
Full Review Of Wisdom Panel (with our personal experience)
Compare Wisdom Panel To The Competition
You can learn about Wisdom Panel's competitors and see how Wisdom Panel compares to other dog DNA tests by reading our comparison article.
Tagged With: Discounts