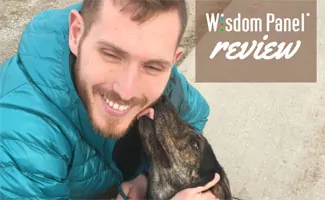 When my husband and I adopted our dog Sally in 2017, we were extremely curious about her dog breed makeup. We suspected she was a hound of some sort but were uncertain of what type or anything else beyond that.
We decided to take a dog DNA test to learn more. We completed a Wisdom Panel breed detection test for her, and in less than two weeks, we had the results. What we discovered in the results was completely surprising to us.
Wisdom Panel sent us the Wisdom Panel Health DNA test to try for free in exchange for an unbiased review. The DNA test I conducted with the 3.0 kit was not a free trial. The review scoring and pros and cons are for the newer Essential and Premium test kits.
View on Amazon | View on Chewy
Wisdom Panel DNA Review

Product Name: Wisdom Panel DNA
Product Description: Wisdom Panel provides breed and health information in its DNA tests.
Summary
Our team determines the overall rating based on several factors, including ease of testing, genetic health screenings, breed identification, pricing, customer support, and more.
Wisdom Panel is an excellent choice for mixed breed dog DNA testing as it offers both breed and health information. It's a comprehensive solution, and we consider it the best one-stop-shop for dog DNA testing.
Pros
Tests cover 99% of 350 breeds, types, & varieties
Genetic mutation testing for 265 canine health conditions (Premium test)
Comes with two swabs, and they'll replace for free if damaged
Veterinarian phone consultation available to discuss results from health tests
Includes a relative finder
Results back in 2-3 weeks
Charitable partnerships with animal rights groups
Phone, email customer service for any questions
Good website resources about canine DNA testing
Cons
Genetic marker testing is much less detailed and in-depth vs. Embark (twice as much genetic info from Embark vs. Wisdom Panel)
Key Features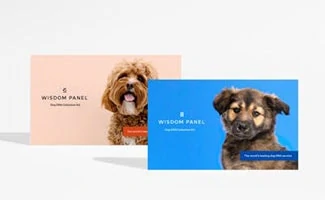 All 3 dog DNA kits they offer test for the MDR1 mutation, which causes sensitivities to many commonly used medications and can result in potentially life-threatening problems
Distinguishes the breed makeup of your dog broken down into percentages
Also offers tests for breeders of dogs and cats (these include genetic health tests, traits, and genetic diversity)
Fast results compared to others
Company has tested over four million pets
Price
Wisdom Panel's Genetic Research
Wisdom Panel partners with scientists to expand genetic research into dogs and cats, and their findings are helping provide a foundation for further discoveries into inherited diseases in both species. In the largest DNA-based study of domestic cats to date, published in June 2022, researchers genotyped more than 11,000 domestic cats for 87 genetic variants associated with disease, physical appearance, or blood type. They found 13 previously undocumented disease-causing variants in 47 breeds or breed types.
Another recent study examined the DNA of over one million dogs in Wisdom Panel's database. Scientists then analyzed the medical records from veterinary clinics for 43.5% of the genotyped dogs to gain a better understanding of the prevalence and distribution of 250 disease-causing variants in dogs. The study found that disease mutations are collectively common in all dogs and that many health issues are shared by both mixed-breed and purebred dogs.
My Experience With Wisdom Panel
I had a great experience with Wisdom Panel. In fact, you can read about my hands-on testing in comparison to Embark DNA in this article. I have tested both Wisdom Panel's 3.0 kit and the new Health DNA tests for my dog, Sally.
The instructions were easy to follow for both tests, and I liked that the packaging was simple because it didn't complicate things. The swab used to collect the DNA samples are similar to a mascara wand, which I wasn't expecting, but it didn't affect the way I used it.
Thanks to the DNA test, we were able to learn more about Sally's genetic makeup as well as the different traits that each breed shows. For example, she has some German Shepherd in her, and she definitely loves to herd. It was fun to connect the dots and understand our pup even more.
Both times I submitted the tests, I received my results within a couple of weeks and was able to read up on the different breeds that makeup my dog as well as the health information provided by Wisdom Panel Health. Overall, it was a fun experience, and I learned a lot.
Sally's DNA Results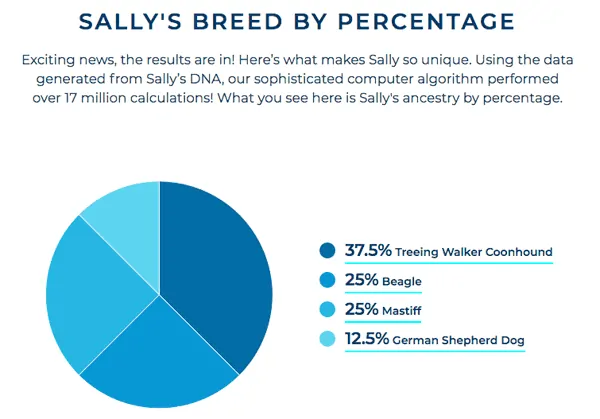 Are you curious about our dog's DNA results? The Wisdom Panel test said Sally was the following:
37.5% Treeing Walker Coonhound
25% Mastiff
25% Beagle
12.5% German Shepherd Dog
The Coonhound in her is pretty obvious but seeing Mastiff on the results was entirely unexpected. She's about 50 pounds, so she's definitely not the size of a Mastiff. However, the brindle coloring in her face and paws, as well as the white patch on her chest, have Mastiff written all over her.
I'm not the only one who was surprised with my dog's DNA test results. Read some of the whackiest results we found while conducting research for this article.
Sally's Health Results
Wisdom Panel screens for more than 150 genetic health conditions and noted if Sally was "at risk" or a "carrier" for any disease-causing mutations. Sally's results showed that she was a carrier for hypocatalasia (aka acatalasemia and canine catalase deficiency (CAT)). She didn't show up as being at risk for any diseases, which made me a happy dog mom.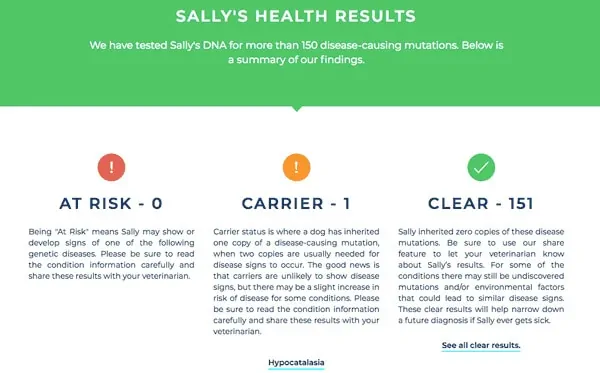 How To Get A Good Swab
When I swabbed my dog Sally's cheek, I was worried I wasn't going to do it correctly. Watch this quick video to see how I did it.
Want To Learn About Genetic Makeup Or Health?
View on Amazon | View on Chewy
Wisdom Panel provides breed and health information in its DNA tests, which is why we think it's a great one-stop-shop for dog DNA testing and our pick for best dog DNA test for mixed breeds. You can learn about Wisdom Panel's competitors and see how Wisdom Panel compares to other dog DNA tests by reading our comparison article.
Tagged With: DNA