To sustain this free service, we receive affiliate commissions via some of our links. This doesn't affect rankings. Our review process.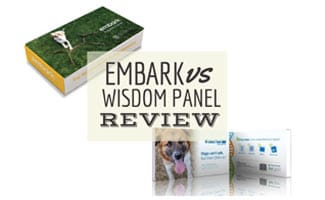 When we adopted our dog Sally we were so curious about her family history, breed makeup and any potential health concerns. Not knowing her entire history or even what breed(s) she is was a bit of a concern for us because it would make vet forms more challenging to fill out, plus we wouldn't know what types of illnesses to watch out for.
When Michelle (the founder of Canine Journal) asked if I'd like to do a DNA test for Sally I got very excited and immediately said yes.
Embark sent us a dog DNA test kit for free in exchange for an unbiased review. Canine Journal purchased the Wisdom Panel 3.0 dog DNA kit to help research for this article. Read further to find out which dog DNA test we think is best.
Embark DNA vs Wisdom Panel
Visit Embark's Website| View Wisdom Panel on Amazon  
The table below shows the different categories we considered when choosing the winner between the Embark Dog DNA Test and Wisdom Panel. Be sure to read each section below to see why we think one is better than the other for each category. Depending on what you are looking for, you may want to try out one dog DNA test over another.
| | Embark | Wisdom Panel |
| --- | --- | --- |
| Best Turnaround Time | | |
| Easiest to Use | | |
| Best for Genetic Health Screenings | | |
| Best for Breed Identification | | |
| Best Value | | |
| Best User Interface | | |
| Overall Winner | | |
Turnaround Time
On March 13, 2017, I swabbed Sally's cheek for the Embark and Wisdom Panel DNA tests and mailed them out. Two days later, Wisdom Panel emailed me saying the lab had received the test. It wasn't until March 22 (9 days later) that I heard from Embark saying Sally's saliva sample was received.
On March 24 (11 days after conducting the test), I had Sally's DNA test results from Wisdom Panel. I received the results from Embark more than 6 weeks later, on May 5. I was much more impressed with the timeline for Wisdom Panel than Embark.
I realize that my situation was different since I was testing out two DNA tests, but once I got the Wisdom Panel results I wasn't as excited for the Embark results. I was mostly curious about Sally's mix and what breeds she came from and Wisdom Panel delivered that to us within a couple weeks.
I was still curious about what Embark would tell me because I wanted to know about her health as well, but I wasn't thinking about it every day like I was prior to receiving the results from Wisdom Panel.
I realize this wouldn't be common for most of you using a pet DNA test for your dog, but in this day and age, people want instant gratification and Wisdom Panel had a much quicker turnaround than Embark. To be fair, Embark did notify me saying it would take one to two months to get the results.
Update May 2018: We were informed that Embark has increased the speed of their turn around time from 6-8 weeks to 3-7 which is an improvement but still not as fast as Wisdom Panel's 2-3 weeks.


Winner: Wisdom Panel
Easiest To Use
I'm not going to lie, I panicked a little when I completed both the Embark and Wisdom Panel tests. Sally isn't a drooly dog, so when I read the instructions that I needed to swab her mouth for approximately 30 seconds I wasn't sure how much saliva I would get.
I did the Wisdom Panel test first, then Embark. Embark's instructions recommended I wave a treat in front of Sally to help get her drool flowing. I wish I would've done this for Wisdom Panel because it would've made it a bit easier.
I preferred the swab for Embark over Wisdom Panel—Embark's was a cotton swab and Wisdom Panel's was kind of similar to a mascara wand. With the Embark swab I wasn't worried about pressing too hard into Sally's mouth, however, with the Wisdom Panel wand I was a little worried I'd scratch her. However, I'm sure these concerns were irrational.
Both companies had easy to follow instructions, but I preferred Wisdom Panel's because it was more simplified. Embark's kit came with a lot of extra inserts which was a little overwhelming so I read them all a couple of times to make sure I did the test correctly.
Plus, I had to insert the swab into a container and shake it for 10 seconds, which isn't a big deal but it was an added step to the process.
Neither one were as easy to do as a human DNA test. Looking back, I wish I would've waited for my husband's help. That way one of us could have held Sally in place while the other swabbed her cheek.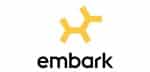 Winner: Embark Dog DNA Test (by a hair)
Genetic Health Screenings
Wisdom Panel wasn't very detailed in the health portion of the test; it specializes more in the breed makeup of your pet. Wisdom Panel only tests for multidrug sensitivity (MDR1), which is the sensitivity to certain drugs and medications.
Embark, on the other hand, is very detailed regarding Sally's health. Embark tests for more than 160 genetic conditions and noted if Sally was "at risk" or a "carrier" for various conditions. Fortunately, she was only at risk for one genetic condition, dilated cardiomyopathy (PDK4) and a carrier for one genetic condition, hypocatalasia, acatalasemia (CAT).
I was able to learn more about both of these genetic conditions and even share it with my vet through Vet Report. Embark also emailed me before I received these results to give me a heads up, because learning your dog could become ill can be a bit disheartening.
I thought this was a really nice gesture and won them points in my book. If you want to learn more about your pet's health, we'd recommend Embark Dog DNA Test over Wisdom Panel.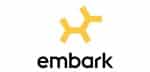 Winner: Embark Dog DNA Test
Breed Identification
The table and screenshots below shows the breed results I received from each company. I will discuss the results below the table.
Wisdom Panel Results: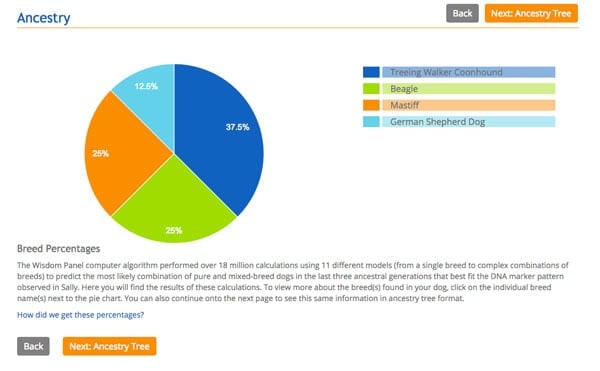 Embark Results: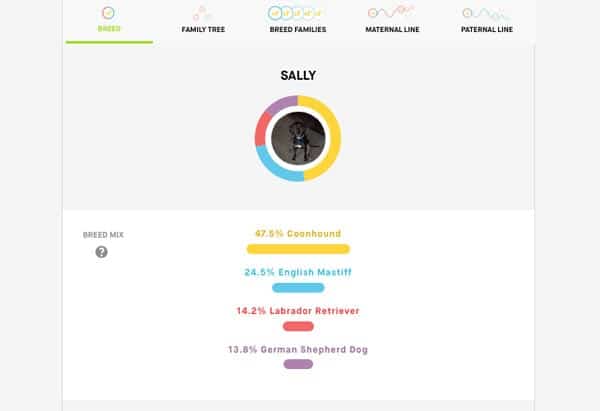 | | Embark | Wisdom Panel |
| --- | --- | --- |
| Coonhound | 47.5% | |
| Treeing Walker Coonhound | | 37.5% |
| Mastiff | 24.5% | 25% |
| Labrador Retriever | 14.2% | |
| Beagle | | 25% |
| German Shepherd | 13.8% | 12.5% |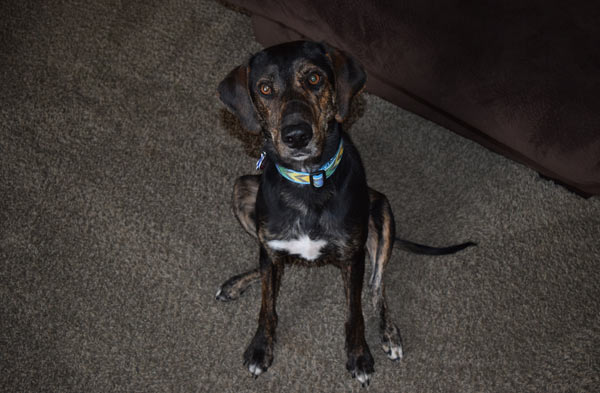 First of all, which do I think was the most accurate dog DNA test? I definitely see the treeing walker coonhound (TWC) in my Sally's appearance and behavior. She has the "treeing" behavior and is extremely even-tempered, she doesn't have a mean bone in her body—all of which are characteristics of a TWC. Her ears aren't as big as a coonhound's ears, so I think Wisdom Panel is correct with this one.
Both companies said she had some type of mastiff in her as well as German shepherd dog. Now the tough part, does she have Labrador retriever or beagle in her? Honestly, this one was tricky for me but I think the Labrador retriever is more realistic than the beagle just because of the behaviors I see in Sally. In the end, I think both companies were fairly accurate and it's a tie. What breeds do you think are in Sally?
Wisdom Panel and Embark Dog DNA Test were both very detailed in Sally's breed makeup. I was able to read about each breed's description and behaviors and discuss with my husband whether or not we recognized any of those characteristics in Sally. Embark also gave descriptions of related breeds, which for me personally complicated things.
It was a bit overwhelming to read about four to six related breeds for the four different breeds Sally was made up of. I preferred Wisdom Panel's simplicity compared to Embark's extreme detail. However, I think it's nice that Embark offers this option and gives you as much information as possible so you can learn about your dog. If you're into this type of detail, you should definitely go with Embark.
Both Embark and Wisdom Panel also gave me a copy of Sally's family tree to show what breeds her parents, grandparents and great-grandparents were. This was cool to see drawn out and I could see what breeds her parents were most likely and it helped me understand Sally's family more.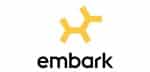 Winner: Embark Dog DNA Test
Value
The winner in this category is not based on which one has the lowest price—if that were the case, Wisdom Panel would be the winner. This category is based on which DNA test kit gives you the best bang for your buck. Embark Dog DNA Test costs $199.99 and gives you detailed breed and health results for your pet. Wisdom Panel costs
$79.98 and gives you detailed breed information.
Although finding the breed of Sally was very exciting to me, learning about her health was more important. I am now able to tell Sally's veterinarian what health conditions we need to be watching out for. This is extremely important to me and I think this is extremely important to other pet parents out there too, which is why we think Embark gives the best information for the price paid.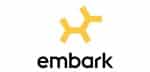 Winner: Embark Dog DNA Test
User Interface
Embark has a very clean and nice looking website. There is so much information provided to you that I didn't realize there were parts I could click on to get even more information. This was a little overwhelming, but everything was displayed nicely and for the price you pay for an Embark Dog DNA Test, it's better to get too much information than not enough.
Wisdom Panel displays its information in a clean format that is easy to digest. The website is easy to navigate with areas that are clearly marked on where you should click to learn more information. This was easy for me to learn more about Sally because the results were formatted like a timeline moving from one point to the next. Opposed to Embark's, which was formatted like a spider web with lots of bubbles coming off from different sections.



Winner: Wisdom Panel
Overall Best Dog DNA Test For Dogs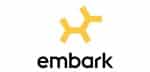 You've probably come to the realization that Embark is our pick for best DNA testing for dogs but it is also my favorite. Through our research and firsthand experience, we are confident in Embark's DNA results (learn more in our in-depth Embark Dog DNA Test Review).
However, if you're not as interested in your dog's health details, want your results sooner or want a cheaper option, you may like Wisdom Panel more than Embark. Ultimately, the decision is up to you, but either way, have fun learning more about your dog. I know I did!
Watch these pet parents as they find out the breed of their dog.
What information do you want to discover about your dog?
We are a participant in the Amazon Services LLC Associates Program, an affiliate advertising program designed to provide a means for us to earn fees by linking to Amazon.com and affiliated sites.