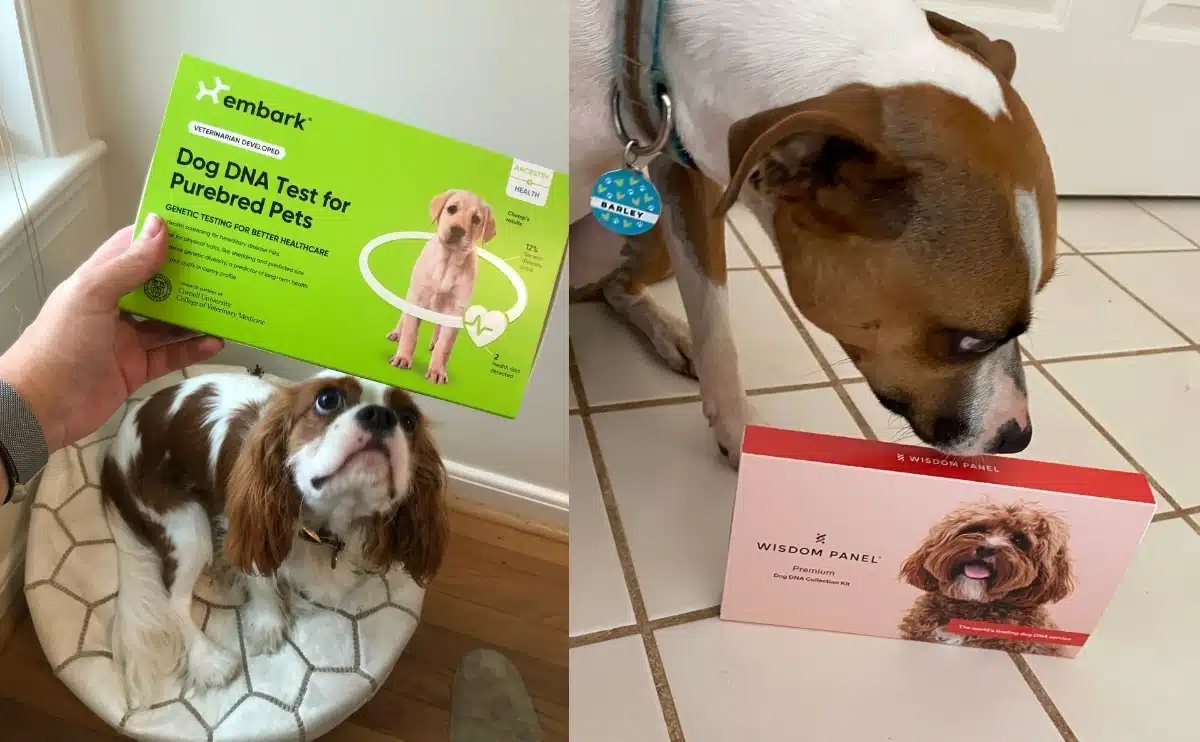 We tested out Embark and Wisdom Panel's dog DNA tests on the same rescue dog, Sally. We learned about her family history, breed makeup and health concerns. Embark and Wisdom Panel sent us dog DNA test kits for free in exchange for unbiased reviews of each product.
Embark DNA vs Wisdom Panel
Visit Embark | View Wisdom Panel on Chewy
The table below shows the different categories we considered when choosing the winner between the Embark Dog DNA Test and Wisdom Panel. Be sure to read each section below to see why we think one is better than the other for each category. Depending on what you are looking for, you may want to try out one dog DNA test over another.
Easiest Sample Collection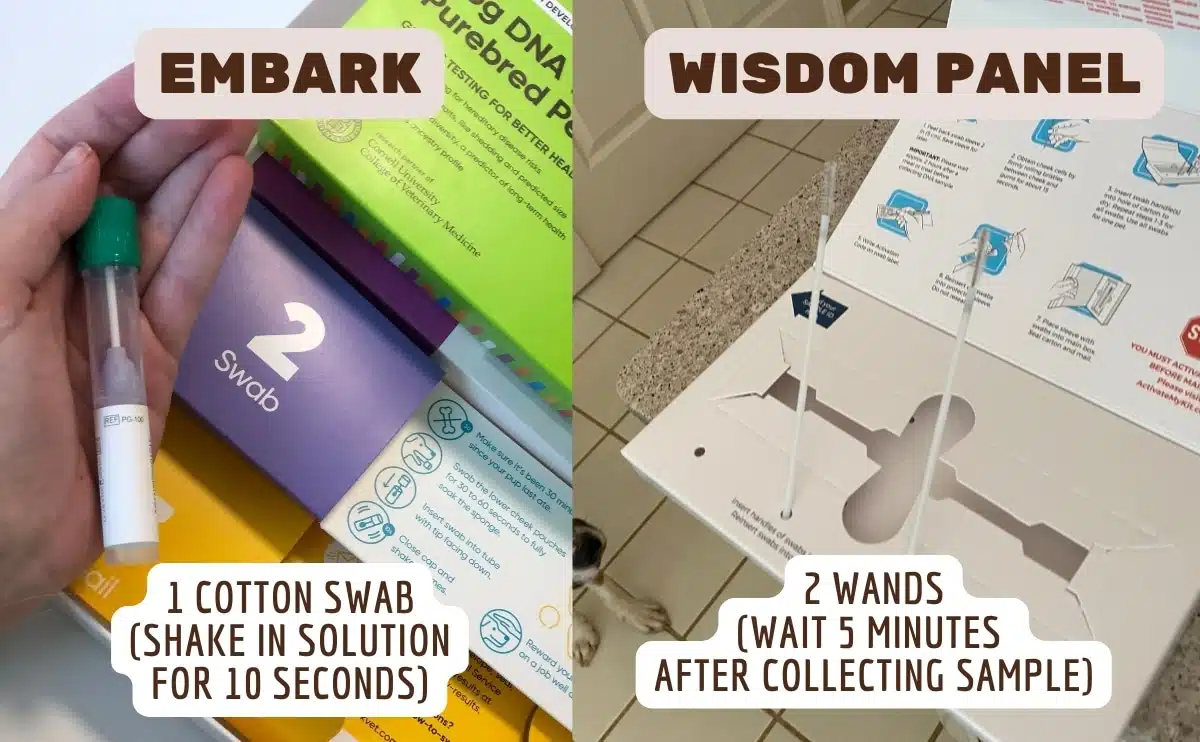 Both companies had easy to follow instructions. Wisdom Panel's was more simplified. Embark's kit came with a lot of extra inserts which was a little overwhelming so I read them all a couple of times to make sure I did the test correctly. Plus, I had to insert the swab into a container and shake it for 10 seconds, which isn't a big deal but it was an added step to the process.
Wisdom Panel you must wait 5 minutes before putting the wand back into the envelope and sealing it. Embark's is a cotton swab and Wisdom Panel's is similar to a mascara wand. With the Embark swab I wasn't worried about pressing too hard into Sally's mouth. However, with the Wisdom Panel wand I was a little worried I'd scratch her.
Winner: Easiest Sample Collection
I preferred the one softer swab with solution for Embark
over the two Wisdom Panel sticks.

Genetic Health Screenings Test
| | Embark | Wisdom Panel |
| --- | --- | --- |
| Genetic Health Conditions Tested | 230+ | 210 |
| Physical Traits Tested | 35+ | 35+ |
Embark offers two tests that give you health and traits results, one for mixed breeds and one for purebreds. Both give you the same amount of analysis and data. Wisdom Panel offers two health tests: essential tests health only and premium tests for health and physical traits. They both test the same number of physical traits but Embark has more health conditions. How did the results compare?
Our Personal Experience With Dog DNA Health Tests
Both test results noted if Sally was "at risk" or a "carrier" of any disease-causing mutations. Sally's results showed that she was a carrier for hypocatalasia (aka acatalasemia (CAT)) for both Embark and Wisdom Panel. Sally is spayed, so her being a carrier of something isn't a big concern for us since she won't have any offspring.
Additionally, for Embark, Sally's results showed she is at risk for dilated cardiomyopathy (PDK4). Sally was cleared for dilated cardiomyopathy in the Wisdom Panel Health test. I'm not sure what to think here since there's no way to confirm which test is right or wrong. In the end, I'd rather be told that she is at risk for something, so myself and our vet can be on the lookout for any symptoms of the disease.
Below is a screenshot of the sample results you might expect from the health results. The Embark test is a Purebred test from a Canine Journal Cavalier King Charles Spaniel and Coco is an example mixed breed dog on their website.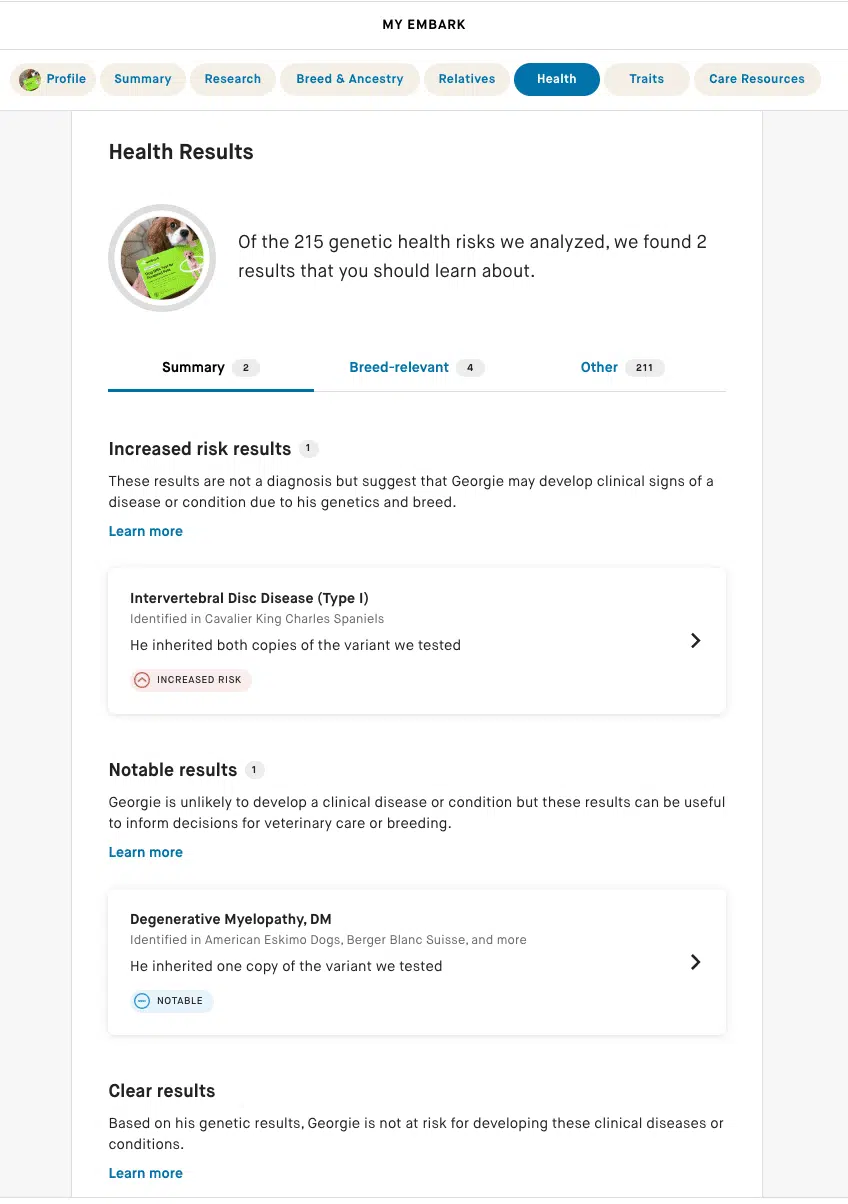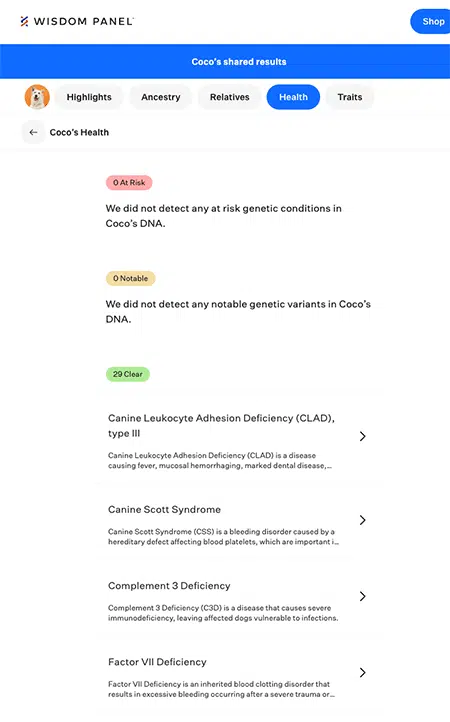 I was able to learn more about both of these genetic conditions and Embark let me share it with my vet through Vet Report. Embark also emailed me before I received these results to give me a heads up, because learning your dog could become ill can be a bit disheartening. I thought this was a really nice gesture and won them points in my book.
To be fair, Wisdom Panel may do this as well, but since Sally didn't have any diseases she was at risk for, this wasn't something I received.
Winner: Genetic Health Screening Test
Embark wins by a hair
because it tests for more conditions than Wisdom Panel.

Winner: Embark
Breed Identification Test
| | Embark | Wisdom Panel |
| --- | --- | --- |
| Breeds Tested | 350+ | 350+ |
Embark and Wisdom Panel both offer a beed ID test and analyze the same number of breeds. We tested the two side by side and got to compare how the results aligned based on our dog mixed breed dog Sally.
Our Personal Experience With Dog DNA Breed Identification Tests
The table and screenshots below shows the breed results I received from each company for Sally. I will discuss the results below in more detail along with which company I think was more accurate.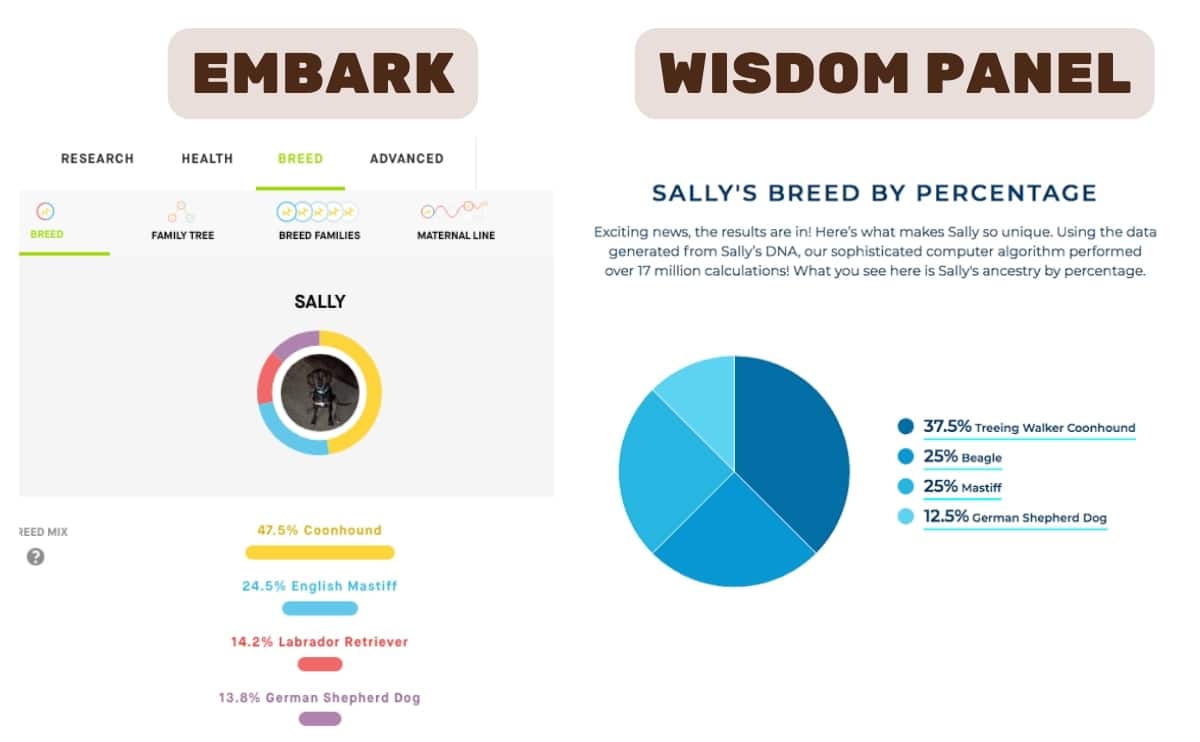 | | Embark | Wisdom Panel |
| --- | --- | --- |
| Coonhound/Treeing Walker Coonhound | 47.5% | 37.5% |
| Mastiff | 24.5% | 25% |
| Labrador Retriever | 14.2% | |
| Beagle | | 25% |
| German Shepherd | 13.8% | 12.5% |
Which do I think was the most accurate dog DNA test?
Coonhound: I definitely see the treeing walker coonhound (TWC) in my Sally's appearance and behavior. She has the "treeing" behavior and is extremely even-tempered, she doesn't have a mean bone in her body — all of which are characteristics of a TWC. Her ears aren't as big as a coonhound's ears, so I think Wisdom Panel is correct with this one and I appreciated the specificity.
Mastiff: Both companies said she had some type of Mastiff in her. Some Mastiff traits that I see in Sally include her intelligence as well as protective nature around strangers. She also tries to intimidate other dogs sometimes if they enter her space too quickly without an even playing field (aka she gets very defensive if she's on leash and an off-leash dog is charging towards her).
Labrador Retriever & Beagle: Now the tough part, does she have Labrador retriever or beagle in her? Honestly, this one was tricky for me but I think the Labrador retriever is more realistic than the beagle just because of the behaviors I see in Sally. In the end, I think both companies were fairly accurate.
German Shepherd: This was also distinguished as one of her breed makeups in both tests. Sally can be calm when we're relaxing or energetic when we're playing. She is very observant and excels in obedience training. She requires a firm, consistent alpha to keep her guard instincts in check (of people and property).
Wisdom Panel and Embark Dog DNA Test were both very detailed in Sally's breed makeup. I was able to read about each breed's description and behaviors and discuss with my husband whether or not we recognized any of those characteristics in Sally. Embark also gave descriptions of related breeds, which for me personally complicated things.
It was a bit overwhelming to read about four to six related breeds for the four different breeds Sally was made up of. I preferred Wisdom Panel's simplicity compared to Embark's extreme detail. However, I think it's nice that Embark offers this option and gives you as much information as possible so you can learn about your dog. If you're into this type of detail, you should definitely go with Embark.
Both Embark and Wisdom Panel also gave me a copy of Sally's family tree to show what breeds her parents, grandparents and great-grandparents were. This was cool to see drawn out and I could see what breeds her parents were most likely and it helped me understand Sally's family more.
Winner: Breed Identification Test
Embark
is the winner for most accurate since it gives more detail to related breeds.

Results Turnaround Time
| Embark | Wisdom Panel |
| --- | --- |
| 2-4 Weeks | 2-3 Weeks |
Winner: Turnaround Time
Embark
& Wisdom Panel is a tie since speed is relatively similar.

Winner: Embark (Tie)
Value
Wisdom Panel is the winner here since Embark Dog DNA Test costs more than Wisdom Panel in all categories. They also give you more lower priced options with the breed and health only (no traits). However, Embark gives you more accurate, detailed results. So keep that in mind when you pay for what you get.
Winner: Value
Wisdom Panel
costs less than Embark so they are a better value
.

Variety Of Tests Offered
As you can see above Embark has a more comprehensive offering of dog tests. However they don't offer a cat DNA test. Wisdom panel offers the cat test but not the additional oral and gut health tests. We are a dog website so a bit bias to lean towards Embark here, but will give it a tie since Wisdom Panel includes cats too!
Winner: Variety Of Tests Offered
Embark
& Wisdom Panel ties since both offer a good variety.

Winner: Embark & Wisdom Panel (Tie)
User Interface
Embark has a very clean and nice looking website. There is so much information provided to you that I didn't realize there were parts I could click on to get even more information. This was a little overwhelming, but everything was displayed nicely and for the price you pay for an Embark Dog DNA Test, it's better to get too much information than not enough.
Wisdom Panel displays its information in a clean format that is easy to digest. The website is easy to navigate with areas that are clearly marked on where you should click to learn more information. This was easy for me to learn more about Sally because the results were formatted like a timeline moving from one point to the next. Opposed to Embark's, which was formatted like a spider web with lots of bubbles coming off from different sections.
Winner: User Interface
Wisdom Panel
has a better way to present the results than Embark in our opinion
.

Overall Best Dog DNA Test For Dogs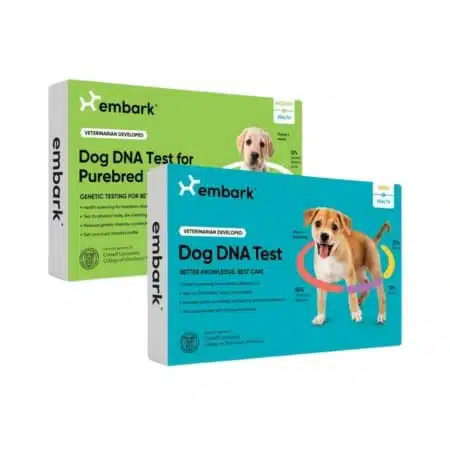 Embark DNA + Health tests are the comprehensive dog DNA tests that screens for breed identification, 35+ physical traits, ancestry, geographic origin, and genetic disease risk (for 230 known canine genetic health problems). They also have a relative finder that lists dogs in their database related to yours.
Your test results include a detailed vet report to help you and your veterinarian plan the best care for your dog. Embark stands out from the pack because it identifies twice as many genetic markers as most other companies and has a research-grade DNA genotyping platform. Embark offers their DNA + Health test for both purebreds and breeders.
Winner: Breed Identification Test
Embark's DNA + Heath tests are the most comprehensive and bang for your buck.

Overall Winner: Embark
Embark is our pick for best DNA testing for dogs. Through our research and firsthand experience, we are confident in Embark's DNA results. Learn more in our in-depth Embark Dog DNA Test Review and Wisdom Panel DNA Test Review.
Tagged With: DNA, Gifts