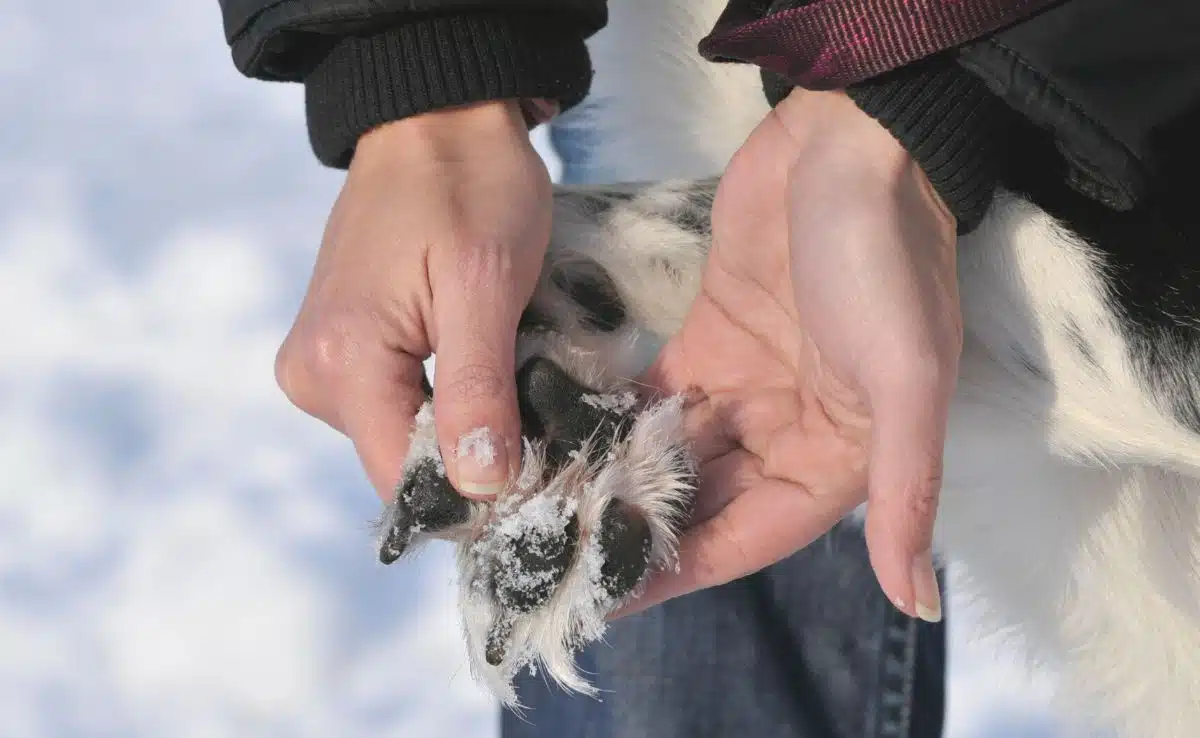 As humans, we often tend to think if our feet get cold in the wintertime then so do our dogs' paws. But what does the research say about when dog paws are cold? And should you be concerned about your pup's paws? And how do you keep their pads protected in the winter (and summer) months? We've got the answers plus some recommended products.
Specialized Circulation Systems Discovered In Dog Paws
According to the Wiley Online Library Dr. Hiroyoshi Ninomiya of the Yamazaki Gakuen University of Tokyo, Japan, tested the theory of whether or not dogs' feet could resist freezing after reading previous studies on the topic. In the past, researchers claimed that dogs' feet can withstand becoming frozen in temperatures as cold as -35° Celcius. Ninomiya and his team wanted to see whether this finding applied to today's domesticated dogs.
After using electron microscopes to observe the feet of domesticated dogs, researchers discovered that dogs have a unique circulatory adaptation that protects dogs' pads from freezing. How does it work?
Do Dog Paws Get Cold?
Each dog has veins that are extremely close to arteries within the dog's paw or footpad. The close proximity of the veins and arteries ensures that heat transports from the circulatory system to the area that's experiencing cooling first. In more simple terms, as a dog steps outside and his feet begin to cool down rapidly, the heart can pump warm blood to the feet quickly by utilizing the artery that is near the neighboring veins in the footpads.
This discovery was important because this type of circulatory system had not yet been seen in other types of domesticated animals or even humans (meaning at some point during the evolutionary process, dogs naturally lived in cold climates). For an animal to develop such a specialized feature, it must have been a necessary adaptation to help the creature survive.
Why Should I Protect My Dog's Paws In Winter (And Other Seasons)?
Do dogs' feet get cold in the snow? Even though your dog's paws don't freeze naturally, they still need protection from cold temps and other elements. In winter, the biggest threats are salt and chemicals they can pick up on their paws from treated roads and sidewalks. And in extreme cold (and hot) climates, your dog's pads can dry and crack.
Here are some products we recommend to keep your dog's paws safe and comfy.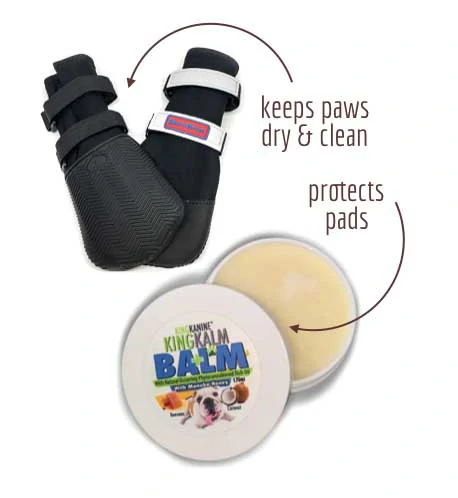 Dog Booties
Keep your dog's paws clean, dry, and protected with booties, like these Bark Brite Neoprene Paw Protector Dog Boots. They're water-resistant and have good traction. And users say they're easy to put on, they fit snugly and they don't fall off easily as many other dog boots can.
Paw Balm
You can also use a balm, like King Kanine's Dog Paw Balm with CBD, to protect your dog's pads from winter elements and rough terrain. Just rub some on before you head out for a walk. You can also use this balm as a moisturizer for dry and cracked pads anytime. It's made with all-natural ingredients, including CBD, coconut oil, and manuka honey.
Tip: If you're not using boots, be sure to wipe off your dog's paws after going on a walk to remove any ice, salt, or other residues he may have picked up.
Do Other Animals Adapt To Cold Temps?
This incredible adaptation is in additional animals — most notably those living in cooler territories. A good example is a dolphin that has a similar circulatory system in its fins to ensure that cold blood does not return to the body. Likewise, this system resides in penguins' beaks.
This short video from Vetstreet summarizes the information in this article.
Remember To Keep Your Dog Warm
How cold is too cold for dog paws? Despite the fact that dogs' paws will not freeze naturally, under no circumstance should dogs be left outside in freezing temperatures. Smaller dogs and dogs with thin or non-existent coats, in particular, are likely to lose body heat at a much faster rate than other dogs and should always be provided with proper insulation when spending time in the cold.
Keep in mind, when temperatures drop below 20°F, all dogs (regardless of their size or coat thickness) are prone to developing hypothermia and frostbite. Learn more about how to keep your canine cozy in our top picks for the best dog boots and winter coats. The same goes for warmer climates and keeping your pup's paws protected from the hot pavement.
Tagged With: Paws