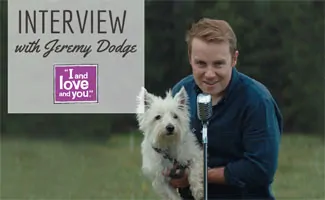 Jeremy is the Digital Marketing Manager at "I and love and you" (our top pick for best all-natural dog food kibble) and proud father to his 5-year-old Westie, Gus. He has been a pet lover his entire life and has only worked jobs that allow Gus to come to work with him.
Jeremy and Gus got a job at "I and love and you" in 2017. They could not be happier – sharing the story of this high-quality pet food with dog and cat owners across the country. Learn more about the company's history and what's next for this growing dog food company.
Tell us the story of how "I and love and you" was founded?
Our brand was founded by a couple of people who all worked at a natural pet food store in Boulder, Colorado. They really loved their pets and wanted to feed them the best food possible. They formulated a raw food for dogs, which was the first product from "I and love and you."
Video: About "I and love and you"
Watch this quick video to learn more about the company and what makes them so unique.
How did the company come up with its name?
Everyone at our company really loves their pets and the way we show that love is through the food that we give to them. The three words I and love and you are expressed when you feed your pet our high-quality food. Plus, our founder was kind of an Avett Brothers fan. (Editor's note: we are too!)
What makes "I and love and you" stand out from other grain-free and organic dog food products?
We take pride in our 5-star ratings on our pet food from Dog Food Advisor. They are an independent testing lab that evaluates the overall nutrition of the food, not just looking at individual metrics like protein content. Our goal is to make top quality pet food that is affordable for all consumers.
We find that even some of the most expensive pet foods do not always perform well in Dog Food Advisor reviews. We seem to have found the right formulas that are nutritious without being too expensive.
How are the "I and love and you" recipes developed?
We work with food scientists to develop recipes and rely on our office pets to refine them. We go through several recipes for each product before releasing the final product to the market.
What challenges have you faced and how has the company overcome them?
While we love cats, they are not the easiest to photograph for our marketing materials! We overcome this challenge with laser pointers and cardboard boxes.
What's it like working at "I and love and you"?
The office dogs play an integral role in the success of "I and love and you." They know when we have been working too hard and insist on taking the employees out for a walk. They are the best colleagues!
Any Top Dogs at your office or on your board?
Our office is full of top dogs! They are all represented with their own profiles in the ILY Family section of our website.
What's life like in Boulder, Colorado?
If you like pets and life outdoors, Boulder is for you. Our beautiful hometown is right at the base of the Rocky Mountains, with easy access to skiing, climbing, hiking, and more. Boulder has been a great place to start a natural food company because nearly everyone who lives here believes in the natural food movement.
Our neighbors are our #1 customers. The Naturally Boulder networking group is also a great resource supporting our industry. Lots of natural food brands have started in Boulder, so there is a lot of wisdom in this town about how to do it right.
What's next for "I and love and you"?
We will continue to expand our product line with new innovations that continue to offer highly nutritional products at an affordable price. Keep an eye out for a new line of kibble toppers for cats and dogs rolling out later this year.
Will do! Thanks, Jeremy for taking the time to share more about our new favorite kibble brand. How clever that it's heart-shaped rather than the standard brown balls.
If you want to read more fun interviews, check out our Top Dog interviews. If you want to learn about "I and love and you" as well as other healthy dog food options, read our full review of the best dog food delivery providers.
Tagged With: