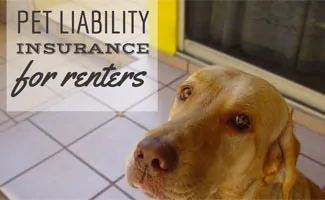 As a renter, do you worry about the damage your pets can do to the property you're leasing? How about potential injuries to your neighbors or visitors in your home? The unfortunate reality is that you can be held liable for your pet's behavior – even if you take all the precautions to prevent your pet from inflicting any kind of damage. All owners know that pets (like children) don't always follow the rules. So, what can you do to protect yourself and keep your precious pet with you?
Renters insurance, personal umbrella liability policies and pet liability insurance may all be options, but it's confusing to navigate just what you need. Property damages can be costly, but the major area of concern is injuries inflicted by your dog to other pets or to people. Your liability in these circumstances can run into tens of thousands or even hundreds of thousands of dollars. Here, we've tried to unravel the puzzle for you, so read further to see what you need to consider.
Does Your Renters Insurance Cover Pet Injury Or Damage Liability?
It depends on the state, type of pet, and insurance company. The major concern about pet-incurred liability involves dog bites or other pet-related injuries because your financial liability can be incredibly high compared to property damage. Every state has different laws regarding a dog owner's liability for dog bites or injuries and the amount for which a dog owner is liable. Many major insurance companies include pet damage or injury as part of their renters insurance in most states. However, in some states, it is excluded from coverage on all basic homeowners and renters policies.
There can also be limits to coverage, and many insurance companies will deny you coverage depending on the breed of dog you own (see our "Bad Breed" list below) by adding a Canine Liability Exclusion Endorsement or an Animal Liability Exclusion to your homeowners or renters policy.
What Should You Look For With Renters Insurance Coverage?
So, if you rent and you're considering getting a dog, or if you're looking to rent with your family pet, there are a number of things you need to consider. First, does your renters insurance cover dog bites/injuries that occur in or on the property that you are leasing? What if the injury occurs off-premises (i.e., at a local dog park)? Will your renters insurance cover it then? Some policies will only pay for injuries and property damage while the pet is on the defined premises and others will pay no matter where the injury occurs (most stand-alone dog liability insurance policies will pay no matter where the injury or property damage takes place). Also, how much does your renters insurance cover for pet liability? If you're not covered or not satisfied with your current policy, consider these options.
Consider switching your renters insurance since different providers may have different allowances and exclusions for pet liability.
Consider a separate pet liability insurance if your insurance company doesn't cover pet liability, their coverage is low, or if they only cover pet liability "on-premises"
A personal umbrella liability policy may be more cost-effective than paying for both renters insurance and pet liability insurance (this is a common way of meeting both needs). However, many insurance companies will not sell you a personal umbrella liability policy if you own a "bad dog breed". Also, make sure that the personal umbrella policy that you're considering doesn't exclude animal (or pet) liability.
What If You Need Separate Pet Liability Insurance?
There's good news if you've exhausted your basic renters insurance options. A growing number of specialized insurance companies now offer separate dog liability insurance – and some even cover the so-called "bad dog breeds" (see list below). In some cases, landlords will only accept your pet if you show proof that you've purchased separate dog liability insurance.
What Are the So-Called "Bad Breeds?"
If you own or are considering owning one of these breeds (or any mix of these breeds), you need to ensure your pooch will be covered. Many insurance companies have certain breeds they won't cover even if they offer dog liability insurance for renters. And each insurance company has its own list of "bad breeds" on its dog breeds insurance blocklist. The following list is a general rule of thumb, but experts say the first four breeds are the most commonly denied. Check with your insurance agent to see which breeds they cover.
Pit Bulls & Staffordshire Terriers
German Shepherds
Doberman Pinschers
Rottweilers
Akitas
Alaskan Malamutes
Chows
Great Danes
Presa Canarios
Siberian Huskies
Wolf-hybrids
Note: Some landlords discriminate too based on dog breed but an insurance policy may set their minds at ease.
How Do You Identify Aggressive Dog Behavior?
Even the most well-trained and tame dogs can get aggravated from time to time. This video by F.I.D.O. gives you some signs to watch out for with your dog, so you can nip his aggressive behavior in the bud before it's too late.
Why Take Your Chances?
If you don't have pet liability insurance and your dog bites someone in your home, you have a lot more to lose than just your dog. Consider the statistics: an estimated 4.5 million people are bitten by dogs each year and around 800,000 require medical attention for these injuries.1 What's more, the national average cost per claim for dog bites/injuries was $50,245 in 20202. As a renter or homeowner, pet liability insurance is a must, unless you don't care about your finances going belly up. The bottom line is – it's much better to be safe than sorry.
What's been your experience with pet liability insurance as a renter?
Sources: [1] AVMA, [2] Insurance Information Institute
Tagged With: Liability