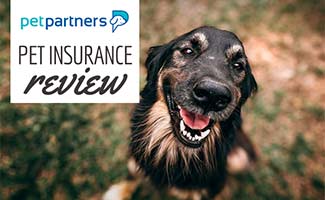 PetPartners started offering pet insurance under its brand name in 2009. It has customizable plans, allowing you to choose your deductible, payout limit, and reimbursement levels. PetPartners is nearly identical to AKC Pet Insurance. How does it compare to the competition? Our experts find out.
PetPartners
Pros
No vet records or exam required to enroll
Optional wellness plan (must purchase in conjunction with pet insurance)
BBB rating: A+ through PetPartners, Inc. (also administers AKC Pet Insurance policies)
Your pet is covered when they travel with you in the U.S. or Canada
5% multi-pet discount
Claims are typically paid within 7 days
Cons
No illness coverage for dogs enrolled after age 9
Must purchase coverage for inherited/congenital conditions separately if you want them covered
Hip dysplasia and congenital and hereditary conditions are only available for coverage if you enroll your dog at 2 years old or younger
$3-$4 transaction fee (depending on the state), highest in this comparison
Exam fee coverage is an additional fee
PetPartners Pet Insurance Promo Code
Consider All Your Pet Insurance Options
Some age restrictions and coverage add-ons that we expect to be standard inclusions are not with PetPartners. We've reviewed more than a dozen companies and have chosen the best pet insurance companies based on coverage, customer service and reputation, claim repayment, price, plan customizations, and more in our pet insurance reviews.
Will you sign up for PetPartners?