To keep the lights on, we receive affiliate commissions via some of our links. Our review process.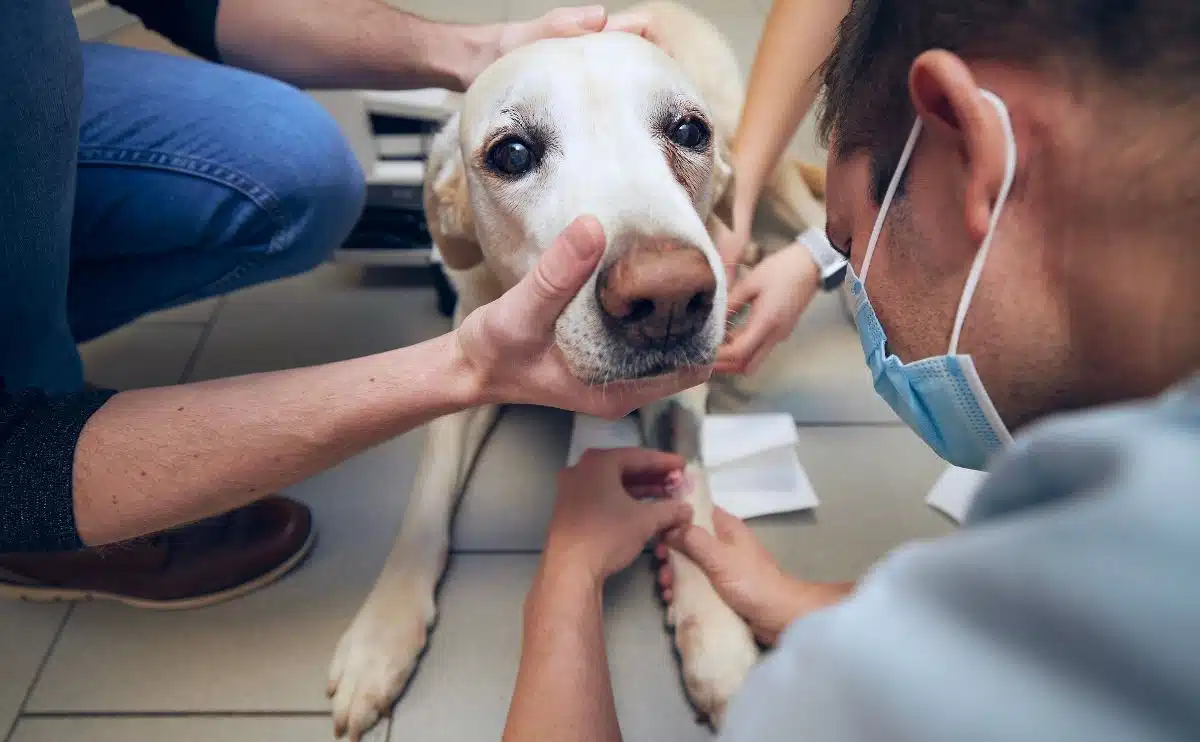 If you own an older dog, you're probably wondering if pet insurance is an option for your pooch at this age. Knowing when your dog is considered a "senior" can be confusing, especially when they're still energetic and up for an adventure. Insuring your dog as early in life as possible is the best course, but it's also good to know that pet insurance is an option for senior dogs. Learn more about what you should consider and which company may be the best choice for your dog.
Can You Get Pet Insurance For An Older Dog?
Yes, you can get pet insurance for your older dog. However, some insurers have maximum age restrictions for new enrollment. The table below shows some of the most popular pet insurance companies and their maximum age limit at enrollment.
| Company | Maximum Age At Enrollment |
| --- | --- |
| | |
| | |
| | 14 Years Old* |
| | 14 Years Old For Illness |
| | Depends On Breed† |
| | |
| | 14 Years Old |
| | |
| | |
| | 10 Years Old |
*Healthy Paws Plan Restrictions – Must be enrolled before four years old in NY; enrollment after six years old has plan restrictions & no hip dysplasia coverage (MD doesn't have this age limitation for hip dysplasia coverage).
†Lemonade Plan Restrictions – No enrollment for some breeds beyond specific ages.
Does Pet Insurance Cover Older Dogs?
Yes, pet insurance covers aging dogs as long as you've enrolled them in a policy before the company's maximum enrollment age. Once enrolled, the insurer won't end coverage just because your dog has reached a certain age. As long as you maintain continuous coverage and pay your premiums, your dog should be covered for the rest of their life.
When Is A Dog Considered Senior?
For most breeds, dogs are considered seniors once they reach seven years of age. However, it really depends on the size and breed of the dog. It is a scientific fact that smaller dogs age more slowly than larger ones.
For example, Chihuahuas live 15-20 years on average, while French Mastiffs live five to eight years on average. Chihuahuas are considered seniors when they reach 11-12 years old, and French Mastiffs are seniors at around seven. Therefore, Chihuahuas become seniors much later in life than French Mastiffs.
Is Pet Insurance Worth It For Older Dogs?
Two of the most common health concerns for older dogs are cancer and mobility-related issues.
According to the American Veterinary Medical Association, almost 50% of dogs over the age of 10 will develop cancer. The average treatment plan for cancer (surgery, chemo, and radiation) ranges between $6,000 and $10,000.*
Additionally, the American Animal Hospital Association says that 1 in 5 dogs experience mobility issues, including CCL tears, hip dysplasia, patellar luxation, and arthritis. The treatment for these diagnoses can range from $1,000 to $8,000.*
Older dogs are more likely to require vet care due to an accident or illness, making pet insurance worth it in most cases. As long as you can afford the premium, insuring your dog will better prepare you financially for any unexpected emergencies you may encounter.
*The cost of medical care can vary based on your location, vet, breed, the severity of the condition, cost of medical equipment, and more.
What Type Of Pet Insurance Coverage Is Available For Older Dogs?
Policies with accident and illness coverage are the most common type of pet insurance for senior dogs. These policies offer coverage for vet treatment related to common accidents (e.g., broken bones, torn ligaments, foreign body ingestion, etc.) and illnesses (e.g., allergies, cancer, vomiting, diarrhea, etc.).
Some companies restrict coverage for dogs enrolled after a certain age. For example, Embrace only offers accident-only coverage for dogs enrolled at 15 years or older. Accident-only coverage excludes illness-related vet bills. So if you were to enroll your 15-year-old dog with Embrace and they were diagnosed with cancer, the cancer-related vet bills wouldn't be eligible under this coverage.
What Is The Best Pet Insurance For Older Dogs?
The best pet insurance for each dog isn't one size fits all. Depending on your dog's current health status and potential health concerns, you may find one company more fitting than another for insuring your pet.
The table below includes some of the most common conditions pets experience at an older age. Healthy Paws, Embrace, Lemonade, Trupanion, and Nationwide are excluded from award consideration in this article because they all have age restrictions for older pets.
| Company | Alternative/ Holistic Therapies | Sick Visit Exam Fees | Gum (Periodontal) Disease | Tooth Extraction | Curable Pre-Existing Conditions* | Illness Waiting Period | Accident Waiting Period | CCL Surgery Waiting Period | Hip Dysplasia Waiting Period |
| --- | --- | --- | --- | --- | --- | --- | --- | --- | --- |
| | | Extra Fee | | | | 14 Days | 3 Days | 6 Months | 14 Days |
| | | Extra Fee | | Due To Accident | | 14 Days | 1 Day | 6 Months | 6 Months |
| | | | | | | 15 Days | 15 Days | 6 Months | 6 Months |
| | | | | | | 14 Days | 14 Days | 14 Days | 14 Days |
| | | | | | | 14 Days | 14 Days | 14 Days | 14 Days |
*Coverage for curable pre-existing conditions varies by provider. To learn more, read each company's individual review, including details about this coverage.
After comparing the companies above, Pets Best is our pick for the best pet insurance for senior dogs. Although Pets Best doesn't offer coverage for alternative and holistic therapies, it has more thorough dental coverage, a common concern as our pets age. Pets Best also has shorter waiting periods for hip dysplasia and accidents than its competitors.
Is Pet Insurance More Expensive For Older Dogs?
Pet insurance premiums for older dogs are almost always higher than premiums for puppies. This is because senior dogs have a higher risk of developing an illness or experiencing an accident. Therefore, older dogs are considered riskier (aka more expensive on average) for the insurance company.
However, this doesn't mean pet insurance isn't worth it for your dog. Obtaining quotes from multiple pet insurance providers may show you that a policy is more affordable than you initially thought. And even if your premium ends up being higher than you hoped, the coverage can be lifesaving for your dog and prevent your savings from an unexpected drain in a time of emergency. Additionally, there are some ways you can lower your pet insurance premium to be more in line with your budget.
Tips To Make Pet Insurance More Affordable For My Older Dog
The tips below can help reduce your premium and make pet insurance more affordable. However, only apply these tips if the potential portion of vet bills you're responsible for is still affordable and the coverage is what you need.
Choose a lower reimbursement percentage
Choose a lower payout limit
Choose a higher deductible
Pay your premium annually to eliminate additional transaction fees
Opt for accident-only coverage instead of accident/illness coverage
What If My Dog Has Pre-Existing Conditions?
You can still insure your dog even if they have pre-existing conditions. But, each company handles this differently, depending on the specific health condition. For example, AKC Pet Insurance offers coverage for pre-existing conditions after 365 days of continuous pet insurance coverage, making it an excellent option for those pets with chronic conditions (e.g., diabetes, allergies, arthritis, etc.).
Other companies, like Spot and ASPCA Pet Insurance, cover curable pre-existing conditions that have been free from treatment and symptoms for 180 days before your policy's effective date. Want to know more? You can dig into more details about the best pet insurance for pre-existing conditions and read our recommendations.
Tagged With: Reviewed By Insurance Agent