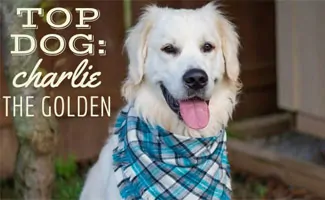 In as little as a year, Charlie went from a newborn pup to an internet star with an Instagram following of over 140,000 fans. This self-proclaimed "certified weirdo" has proven to be quite the entertainer, growing a massive fan base in just a short time.
We were excited to have the opportunity to get to know Charlie in our exclusive Top Dog interview.
1. How did you and your human(s) meet?
They found me through a breeder and fell in love! My momma knew she had to have me.
2. What makes you a "certified weirdo"?
My momma claims I'm a weirdo. I think I just have a very outgoing personality. She says I'm weird because I love to play with my grooming brush and I don't act like a typical Golden.
3. What's your favorite hobby and why?
I have quite a few, but I'd say digging holes. Ya know because what dog doesn't love dirt!
(Note: if your pup likes to make a mess in the yard too, read how to get dogs to stop digging holes).
4. Where did you get the idea for making dog videos?
My momma. She started my Instagram to document me growing up. She never thought so many people would love me. But c'mon, who could resist my face? LOL
5. Who are some of your favorite fellow dog celebrities?
Tucker Budzyn, Bandana Jax, Maya Polar Bear and Long Coat Max.
6. What are your favorite dog products?
I really love all the stuff I get in my monthly BarkBox!
(Check out what we think about BarkBox and how to get your paws on a discount code).
I also absolutely love my raw boosters from TruDog!
7. What are your best tips for Golden Retriever parents?
If you're gonna get a Golden, please get one from a reputable breeder. Also, make sure you have the time to dedicate to raising one. Us Golden's can be a lot of work and don't like being alone.
(Or better yet, adopt your next dog from a local rescue organization).
8. What's your favorite part about being a celebrity dog?
All the friends I have made from all over the world! All the free stuff is nice too, LOL.
9. What's next for Charlie?
Hmm, probably the same old stuff — digging holes, pulling weenie moves on my bros and tormenting my sassy cat Sophie.
Thanks to Charlie for sharing some tips and insights into his silly world. Follow along with Charlie the Golden's videos and funny captions on Instagram @charlie_the_golden18.
You can also learn more about the Golden Retriever breed and what makes them a favorite family dog.
Tagged With: