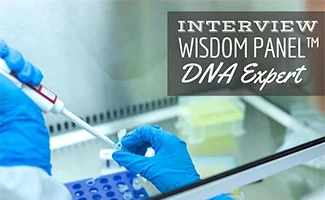 Wisdom Panel™ is one of the leading dog DNA testing companies. Their scientists have been studying and collecting data for more than 20 years. With this experience and a large pool of data, they can accurately identify a dog's DNA details alongside robust analysis and insights. This information is not only useful to explain what type of dog you have, but it can also help predict potential underlying health conditions.
We got the chance to ask an expert from Wisdom Panel™'s team about their testing process and how their experts are uniquely able to give families important details about their pup's lineage and health background.
Visit Wisdom Panel On Chewy | Read Our Review
What testing methodology do you use?
Wisdom Panel™ tests use a quick, non-invasive swab to collect DNA from the cells on the inside of a dog's cheek. Once our laboratory receives the sample, DNA is extracted and then submitted for further processing. In this step, we examine the extracted DNA at tens of thousands of genetic positions to screen for variants.
Our proprietary algorithm then evaluates the pattern of variants to identify the breeds in the dog's DNA (using the extensive Wisdom Panel™ breed database to analyze potential pedigrees and calculate the best match). At this time, we also generate the dog's traits and genetic health results. All of these processes have been rigorously validated through repeat testing and third-party review by independent specialists, geneticists, and leading authorities on canine genetics.
Has the company participated in any external research studies?
Sound science is the foundation of everything we do. To validate our findings, we actively contribute to peer-reviewed journal publications, research, and clinical studies (such as a landmark study of coat color genetics published in late 2019). We regularly update our research page with the latest and greatest studies by our scientists and University partners.
How is Wisdom Panel™ different than the competition?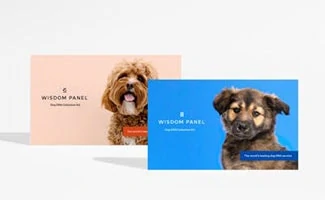 Wisdom Health Genetics has been at the forefront of canine genetic testing for close to two decades. In that time, we have accumulated a dog DNA database of over 2.5 million samples – far larger than any other canine genetic repository in the world. Access to this library allows us to detect extensive variability across breeds, geographic regions, and populations, meaning that we can currently report 350 (and counting) breeds, types, and varieties. We also offer the most health and trait tests on the market, all of which have undergone rigorous testing to ensure accuracy levels consistent with those expected in human clinical genetic testing.
Why can pet parents be confident in your test results?
We prioritize reliability and precision. Wisdom Panel™ tests deliver the highest level of accuracy possible for a cheek swab DNA test. (As long as the provided DNA sample is of good quality, our cheek swab tests are about as accurate as blood tests.) Health condition detection by Wisdom Panel™ tests is more than 99.9% accurate.
How does your Illumina® Infinium® XT genotyping chip make testing more accurate?
There are four factors that determine the accuracy of a dog DNA test:
the quality of the genetic sample,
the number of markers used,
the sophistication of the algorithm,
and the number of breeds referenced.
We use the Illumina® Infinium® XT genotyping chip to examine 100,000 carefully curated DNA locations (genetic markers) and cross-reference them with our extensive breed database. Our proprietary DNA analysis algorithm (which we're continually improving) then evaluates each dog's unique combination of genetic markers to identify their potential pedigree.
How large is your database and why is this important?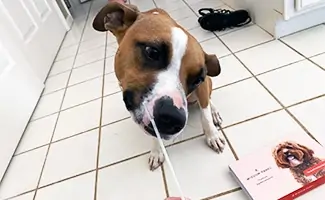 To identify a dog's breed mix, we compare their DNA to that of other dogs in our database. So, the bigger our database, the more accurate our results. And after testing more than 2.5 million dogs, we're proud to have the largest database in the world. Also, our tests screen for more than 350 breeds, types, and varieties. You can find a full list of the breeds covered here.
Why is an accredited laboratory crucial for accuracy?
We partner with Neogen Genomics to ensure that we're obtaining quality results from our tests and to create an accurate map of each dog's health. With the world's most experienced dog DNA testing team, the lab processes more than 1.5 million samples from various sources every year.
When it comes to analyzing our DNA samples, we use U.S. laboratories that are compliant with current American Animal Hospital Association (AAHA) guidelines, accredited by both American Association for Laboratory Accreditation (A2LA) and the United States Department of Agriculture (USDA), and certified by the International Organization for Standardization (ISO) 17025 ("General requirements for the competence of testing and calibration laboratories") . These accreditations are crucial for accuracy because they help ensure proper quality control.
How do you explain when pet parents say results are inaccurate?
Pet parents sometimes think they know their dog's breed makeup. But studies suggest that visual breed identification (even by professionals) is accurate only about 25% of the time.
Many traits don't physically manifest, and others can be misleading. Inspecting a dog on a genetic level provides valuable insights into their breed ancestry. Plus, it can also reveal healthcare considerations associated with a particular breed.
Video: How Wisdom Panel™ Saved A Dog's Life
Watch this quick video to see how finding a dog's breed via a Wisdom Panel dog DNA test helped save Darwin's life.
Learn more about Wisdom Panel™ in our Best Dog DNA Test Comparison and our in-depth Wisdom Panel Review.
Tagged With: DNA