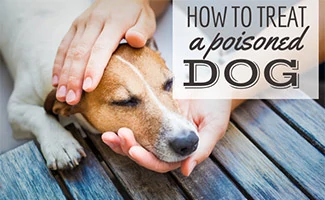 Did your pet eat chocolate or get into the antifreeze in the basement? Act quick! It's toxic, and you need to break out the poison patrol actions ASAP. But what do you do?
Here are the five steps you need to take to get Spot back into good health in no time.
Five Steps To Treat A Poisoned Dog
1. Do Not Panic
It is natural to panic when a loved one is in trouble, but this is the time when you need to take charge of the situation and act with purpose and speed.
2. Watch For Symptoms
Is your dog acting lethargic, or more hyper than usual? Are there signs that he got into something he shouldn't have that might be toxic, like a poisonous plant or chocolate?
Then you need to start by figuring out exactly what your pet's poison is and how much he consumed. If it's food-related, you may have a little more time to act and treat than you would with chemical poisons.
But, do not assume this. Take notes (literally) of what the poison is and your pet's symptoms so you do not forget once you are in panic mode and talking to someone who can help. You may even want to take a quick video with your smartphone of strange behavior.
3. Call The Vet
If you have a pet, you should always have your vet's phone number programmed into your cell phone and in a place in the home where you can quickly find it (refrigerator door perhaps). This way it is easy to locate when you need it most. It's also a good idea to have the contact details for the 24/7 emergency vet that is closest to your home in case something goes wrong on the weekend or late at night.
So, since you know right where the number is, do not delay. Call your vet right away to explain the situation and ask for advice for the next steps. If the office is closed, call the emergency vet. Be sure to have your notes in hand and be prepared to jump in the car to head for help immediately.
4. Contact The Pet Poison Hotline
In an emergency, when you cannot reach your veterinarian, immediately contact your local animal emergency clinic or call one of these hotlines to speak to a toxicology specialist and vets who are able to assist 24/7.
Pet Poison Helpline 1-855-764-7661
North Shore America / ASPCA Hotline 1-888-232-8870
ASPCA Animal Poison Control Center at 1-888-426-4435
Note: They charge a small fee of $59-75 per incident and will ask for age, weight, medical history of your pet, what they were exposed to, amount, when it happened, and current symptoms.
Tip: Try using our "Ask a Vet" chat feature that is available 24/7 (see the lower right-hand corner of your browser window). You'll get answers from a doctor within minutes.
5. Do NOT Search For Answers On The Internet
If you are reading this, it is probably too late to warn you against this but remember, that you need to act quickly. A local vet or poison expert is better suited to do this than your computer. And, they can help you treat your specific situation while keeping you focused on your dog versus all the random horror stories you will find online.
So, step away from the computer right now and CALL THE VET. Do not administer home treatment unless directed by a professional as you may cause more pain than assistance.
Tagged With: Emergency, Poison