To sustain this free service, we receive affiliate commissions via some of our links. This doesn't affect rankings. Our review process.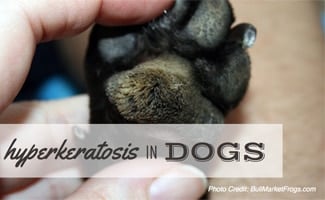 Hyperkeratosis is also known as hairy dog feet. This is probably self-explanatory, but it's called this because it looks like your dog is growing abnormal hairs on his skin. This can be a painful experience which is why it's important to take your dog to the vet. There may be an underlying cause as to why your dog has hyperkeratosis.
What Is Canine Hyperkeratosis?
Canine hyperkeratosis is when the skin on your dog's nose or paws thickens and hardens. Unfortunately there is no cure, but there are things you can do to prevent your dog from getting hyperkeratosis. This skin condition in dogs occurs when there is too much keratin. There are two types of hyperkeratosis: nasal hyperkeratosis in dogs occurs on the nose area and foot pad hyperkeratosis occurs on the paws. Dogs with hyperkeratosis may have dried out, callous looking paws and noses. If the skin cracks, an infection may develop.
What's Causes It?
Unfortunately, hyperkeratosis is passed down through genes. Specifically, Labradors, Golden Retrievers, Dogues de Bordeaux, Iris Terriers and Bedlington Terriers commonly develop this skin condition. Hyperkeratosis often occurs in the first year of a dog's life after it's passed down through genes. Skin conditions in dogs, like hyperkeratosis, can be symptoms of other problems including the following.
Canine Distemper – A vaccine is given to puppies for Canine Distemper which is why this virus is rare.
Leishmaniasis – Caused by a parasite, which is often carried by sandflies. This illness can be controlled with medicine.
Pemphigus Foliaceus – This is a common autoimmune skin disease that is often diagnosed with a biopsy. It is treatable with immunosuppressive drugs.
Zinc Responsive Dermatosis – This is a skin disease that can occur if a dog is not absorbing zinc properly. It can be treated with zinc supplements.
How Do You Treat Hyperkeratosis?
Looking for hyperkeratosis in dogs paws treatment? Unfortunately, there is no known cure at this time. However, the skin condition can be managed by softening and then removing the hardened skin on your dog's paws and nose. Make an appointment with your vet to have this done frequently.
How Can It Be Removed?
As we mentioned above, if your dog has hyperkeratosis, it's important to keep it controlled and have the excess skin trimmed off. Make an appointment with your vet and if you and your vet are comfortable, your vet can teach you how to trim your dog's paws. Here is a video of how the process works.
Call Your Vet
If your dog has hyperkeratosis you should take him to the vet. Since hyperkeratosis is a symptom of other illnesses, there is a chance that your dog is sick with something else, as well.
Has your dog ever had hyperkeratosis?
Disclaimer: The information provided through this website should not be used for diagnosing or treating a health problem or a disease. It is not a substitute for professional care. If you have or suspect you may have a health problem, you should consult your health care provider.
Disclaimer: This website contains reviews, opinions and information regarding products and services manufactured or provided by third parties. We are not responsible in any way for such products and services, and nothing contained here should be construed as a guarantee of the functionality, utility, safety or reliability of any product or services reviewed or discussed. Please follow the directions provided by the manufacturer or service provider when using any product or service reviewed or discussed on this website.