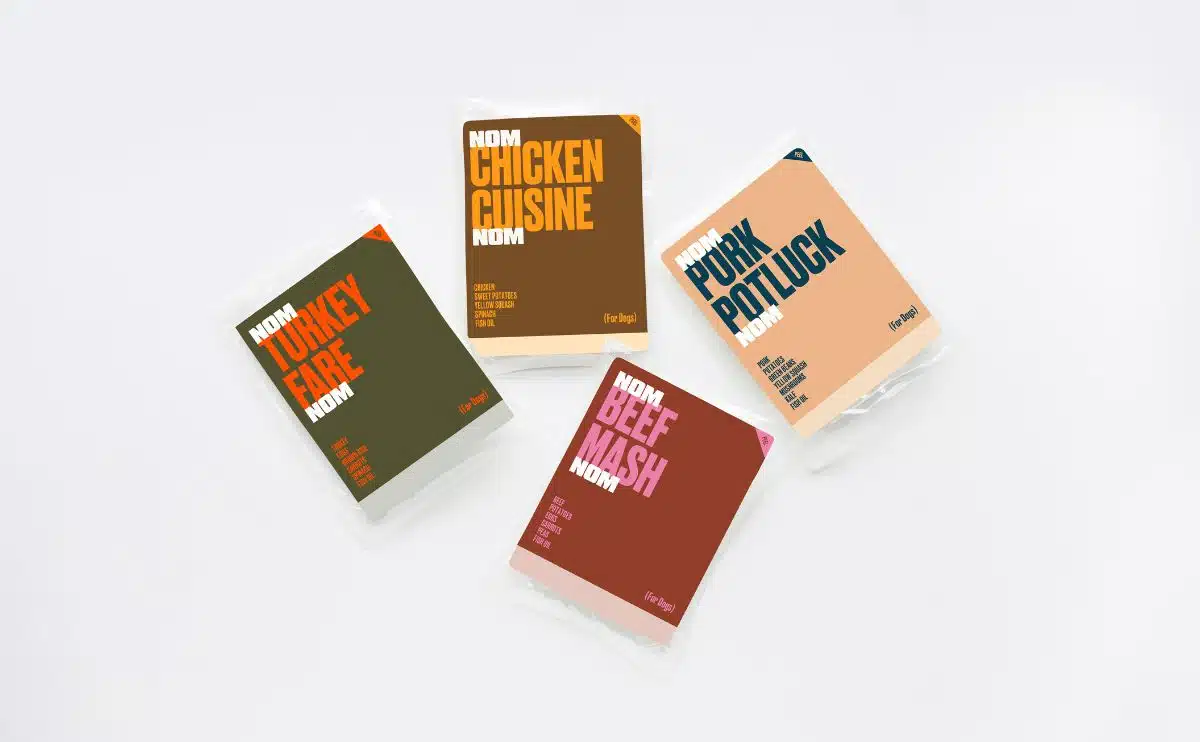 Do you consider fresh pet food merely a glorified version of table scraps? Think again! Fresh dog and cat food isn't just a fad. It's a fantastic way to keep your pet as healthy and happy as possible. We tested out Nom Nom on one of our own. What's our verdict on this all-natural dog food?
Nom Nom Review

Product Name: Nom Nom
Product Description: Nom Nom makes fresh meals for dogs with all-natural ingredients
Summary
Nom Nom is an excellent choice for cat and dog food delivery if you're looking for fresh, human-grade meals for your pet.
Our team determines the overall rating based on several factors, including variety, nutritional value, pricing, customer support, customization, and more.
Pros
Great variety of meals, including grain-free and gluten-free options
Food prepared in-house every week (never frozen)
Auto-shipping and you can pause or cancel anytime
Boxes, meal packs, and insulating liners are all either recyclable or made from recycled materials
30-day money-back guarantee
Free shipping
Good customer support with access to pet nutritionists via live chat, phone and email
Cons
Must contact customer support to customize recipe combinations and portion sizes (can't do it via website)
Only shipping option is monthly
Key Features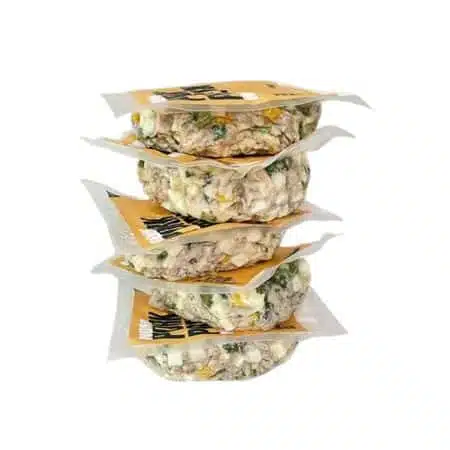 Price
Nom Nom bases its pricing on your dog's age, weight, and target weight. Plans start at $1.57 per meal. The following prices* are based on a mixed-breed male profile, one-year-old, 38 pounds, healthy size, neutered, no health problems, or allergies.
Coupon
Our readers have access to save 50% off your first order of Nom Nom; no promo code needed. Use this link to get started!
Gut Health Products
Nom Nom has launched a dog-specific gut microbiome test kit and a line of dog probiotics. Combined with Nom Nom's healthy dog food, these products can further improve your dog's digestive and overall health.
Dogs suffering from digestive and skin problems, including diarrhea, gas, vomiting, inflammatory bowel disease, constipation, food sensitivities, and itchy skin, could be missing critical healthy bacteria in their gut. If this sounds like your dog's health issues, they could benefit from Nom Nom's gut microbiome test and probiotic.
Note: We have not tested these gut health products from Nom Nom.
Insights Gut Microbiome Test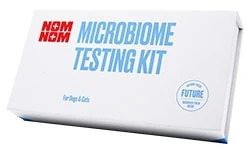 First, it helps to know what healthy bacteria are missing in your pet's gut. That's where the science-based Insights Gut Microbiome Test for dogs and cats comes in handy.
How Does It Work?
You order this at-home test kit online, collect a sample of your pet's feces and mail it back to Nom Nom's lab. Then the lab analyzes the levels of known bad and healthy bacteria in your pet's gut and gives you detailed results.
How Do These Results Help?
If you discover that your dog's levels of a certain healthy bacterial strain (for example B. animalis, which helps to keep diarrhea at bay) are low compared to healthy dogs, you can find a probiotic containing this specific bacterial strain to get your dog's gut back to a healthy balance.
Price
Probiotic Support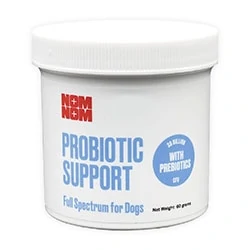 Formulated by its expert team of veterinary nutritionists and microbiologists, Nom Nom's Probiotic Support is a blend of 7 different strains of live healthy bacteria (and a prebiotic).
You can use this probiotic product to improve an imbalance of healthy bacteria in your dog's gut, which you could discover from the gut health test. You can also sprinkle this tasteless powder on your dog's food every day to help maintain normal digestive and immune function.
Price
Learn more about how probiotics benefit a dog's health and additional probiotic products in our best probiotics for dogs reviews.
Tiny's Personal Experience
Nom Nom gave us a free one-month supply of dog food to test out on one of our Canine Journal family members. Here's our unbiased review.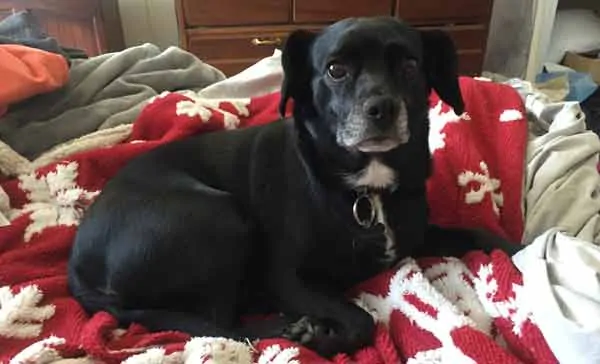 Pet Profile
Name: Tiny
Age: 6
Gender: Male
Breed: Supposedly a mix of Pug and Cocker Spaniel, but who knows?! He looks like a black lab puppy.
Weight: 24 lbs (his ideal weight)
Health Concerns: Occasional digestive problems and blocked anal glands.
Personality: Active, very playful and a bit high-strung. He's my shadow 24/7 and is extremely friendly with people (not so much my two cats, though!).
Getting Started
I jumped at the chance to put Tiny on a fresh food diet. I have to confess, I've been a kibble pet parent for years, so this was a big change for me and Tiny. Like most dogs, he's never been excited about his kibble and always begs for "real-people" food. I couldn't wait to see how he'd react to higher quality (and surely more tasty) food.
Once I placed my order, Nom Nom sent me a same-day, follow-up email asking for more details about Tiny, including his activity level, gender, breed, current dog food and anything else you want them to know about your dog. Once I submitted that information, they processed my order and emailed me the delivery date.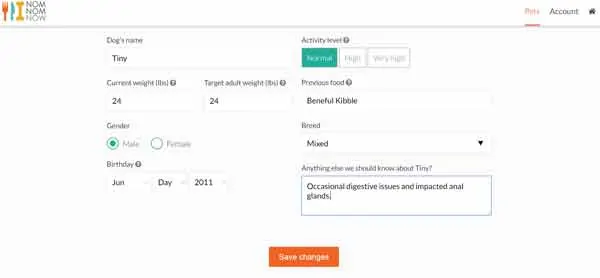 Nom Nom Unboxing
On delivery day, they sent me a reminder email in the morning. The box arrived as promised, full of individually sealed meals that were kept fresh with two huge, reusable cooling packs. There was also a handy instruction booklet that included nutritional information and tips for transitioning your dog to the Nom Nom diet.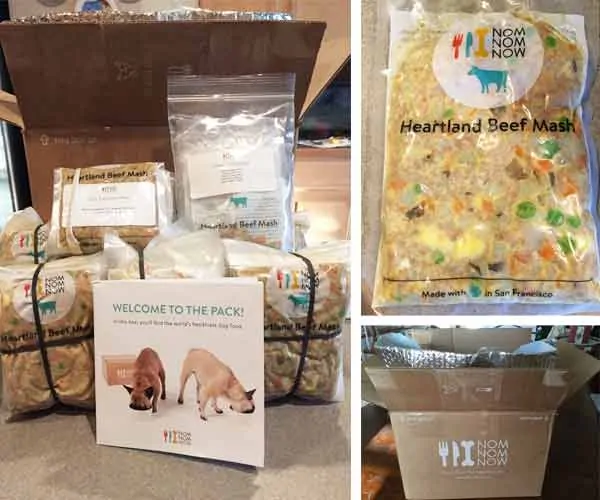 Tiny's snout was buried in the box, and his tail was going a mile a minute! But first I had to put two weeks worth of food in the freezer and the remainder in my fridge. A word of warning, once you take the meals out of the box, they warm up pretty quickly so make sure you get them put away soon after you open the box.
They give you a week's worth of starter packs, which contain half the regular portion of their food. You mix this with your existing dog food twice a day for a week to help make the transition easier on his digestive system. I opted for the beef mash for his meals, but they also sent me samples of their four other recipes to try out.
It's Finally Feeding Time!
Tiny's first meal was a big hit. The food came well-sealed, and all the ingredients looked and smelled very fresh. He was beyond excited to see what all this fuss was about and gobbled up everything in no time. But would he be this enthusiastic after a few meals?
Video: Nom Nom Unboxing
See how it looks out of the box and find out if our test pups gobbled it up or not…
Week One Update
I'm happy to report that Tiny is still a huge fan of his Nom Nom meals after a week of transition meals. After a few days, he even started spitting out the kibble on the floor to get to the good stuff! I tried to get this on video, but he wouldn't perform on cue.
I had been worried about potential digestive issues with a pretty drastic diet change, but the side effects were surprisingly minimal. On Day 3, his tummy seemed a bit unsettled, but by Day 4 he was back to normal.
Now it's time to cut out the kibble entirely. I'm sure he won't miss it!
Week Four Update
I'm happy to report that Tiny still loves his new diet, and I've even noticed that his coat is looking healthier than ever!
How's Customer Service?
I have to say, Nom Nom's customer support far exceeded my expectations. They sent me an email making sure my delivery went smoothly and a few others to check on our progress.
After the first week, Matt, my Nom Nom account manager, sent me a text checking in on how the new meal program was going and giving me his direct line in case I needed anything. If you don't want to receive texts, you can opt in or out when you place your order or by updating your account.
Nom Nom also has nutrition specialists to answer any of your questions along the way, and they were super helpful, knowledgeable and quite friendly. I couldn't be more pleased with the entire experience. This company really seems to be passionate about their products — and your pet.
People Can Eat This Pet Food Too!
See what the creators of San Francisco-based Nom Nom (and their pets) have to say about their venture that's now expanded to all 48 contiguous states.
How Does Nom Nom Compare?
Nom Nom is an excellent choice for cat and dog food delivery if you're looking for fresh, human-grade meals for your pet. It has among the widest variety of recipes and has fantastic customer support. You can customize portion sizes and combine recipes in your deliveries. This service is, however, on the pricey side.
If you want to see alternatives to Nom Nom for your pup, be sure to read our article comparing the best dog food delivery services, which includes all-natural kibble, high-end dog food you'll find at your local store and more or our article comparing the best fresh dog food options. But if you are looking for fresh delivered cat food, Nom Nom is your best bet.
Tagged With: Cats, Food Delivery