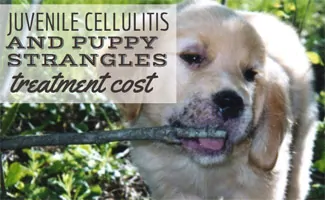 Puppy strangles (or Juvenile Cellulitis) is a condition all pet parents (specifically puppy parents) need to be aware of. In the past, this disease has been considered fatal (and still is if left untreated. Fortunately, modern day veterinarians know which medications to prescribe to help your pup heal.
This article is dedicated to teaching pet parents about puppy strangles and what the symptoms and treatment consists of. We also include a testimonial from a pet parent whose dog was diagnosed with puppy strangles, so you can see how one case played out.
What Is Puppy Strangles?
Puppy strangles, also known as canine juvenile cellulitis, is a skin-related autoimmune disorder that most often affects puppies. Autoimmune diseases occur when the immune system mistakenly attacks the body's healthy cells. Puppy strangles is most common in pups between three weeks and four months old and is not normally seen in adult dogs. The most commonly affected areas are the face, outer part of the ear and salivary lymph nodes.
What Causes Puppy Strangles?
Like most autoimmune diseases, there is no known cause for puppy strangles. Some breeds (golden retrievers, dachshunds and gordon setters) appear to be predisposed to it.
What Are Puppy Strangles Symptoms?
Facial swelling (specifically the eyelids, lips and muzzle)
Salivary gland lymphadenopathy – a disease which affects one or more lymph nodes
Marked pustular and oozing skin disease, which can develop into hollow passages within 24 to 48 hours
Ear infection with pus
Crusted lesions
Tender skin where affected
In 50% of cases the dog will have a lack of energy
Decrease in appetite
Fever
Joint pain
In rare instances, sterile pustular nodes over the trunk, reproductive organs or around the anus
What Does Puppy Strangles Look Like?
To see a puppy with canine juvenile cellulitis, watch the video below. Just a friendly heads up, the video can be a bit difficult to watch because the pup is whining. However, it's rather informative and useful to know what exactly to look for, so if it happens to your dog, you can help him sooner than later.
https://www.youtube.com/watch?v=a5xbDL1Kj74
Puppy Strangles Prognosis And Treatment
If your puppy goes untreated for too long, the prognosis can be poor. In most cases, juvenile cellulitis treatment demands immunosuppression which allows the system some time to heal and reverse its attack. Prednisone ($40 per 100 count) is commonly prescribed by veterinarians as a puppy strangles treatment because it is used to treat inflammatory diseases. Your dog's vet may also prescribe an antibiotic such as:
Amoxicillin Clavulanate 500mg – $20 per 100 count*
Cefadroxil (liquid form) – $30 for 50ml or $60 for 100ml*
Cephalexin 500mg – $30 per 100 count*
The combination of Prednisone and an antibiotic will help give your puppy the best prognosis.
*Please note that these costs can vary by location, vet and use of pet insurance.
Is There A Puppy Strangles Natural Treatment?
While we wouldn't call these cures, they can help calm your dog's symptoms. We urge you to consult your vet before using a puppy strangles home treatment on your dog. Each pup is different, and you do not want to risk making the situation worse.
Apply a hot pack to your dog's sore face two or three times a day.
Wet a washcloth with as hot of water as you can stand, wring it out, and hold it against your dog's swollen throat. Do this for five minutes on, then five minutes off and repeat until the cloth has cooled.
Soak the crusted sores on your dog's face with warm water to soften them and then gently wipe them off. Wash the area with a 2.5% benzoyl peroxide cleanser.
For abscessed lymph nodes, clean the areas three or four times per day with a warm, wet cloth and apply for five to ten minutes.
Your dog's affected areas will be very tender, so make sure you are incredibly gentle. Additionally, being rough with the spots can increase the chances of scarring.
What Are The Long Term Effects Of Puppy Strangles?
Juvenile cellulitis' long term effects include scarring, especially around the eyes. This is due to the puppy scratching themselves, which can increase scarring. Aside from puppy strangles scarring, there are no other known long term effects from puppy strangles.
Is Puppy Strangles Contagious?
Puppy strangles is NOT contagious. It is an autoimmune disease, which means the dog's body has produced antibodies that are attacking its cells and tissue. This leads to the deterioration and sometimes destruction of the tissue.
Is Puppy Strangles Hereditary?
Unfortunately, there isn't a lot of information out there about puppy strangles. We do know that the disease is idiopathic, meaning the cause has not been identified. Because some breeds appear to be predisposed to puppy strangles, there is reason to speculate that puppy strangles has a genetic link.
How Long Does Puppy Strangles Last?
Puppy strangles recovery time can vary based on how severe the case is. If diagnosed early, your dog could have a quicker recovery time. However, this isn't always the case.
A Pet Parent's Experience With Puppy Strangles Symptoms And Treatments
Pet Parent: Isaac
Pet: Zeek, 4-month-old Golden Retriever
Diagnosis & Treatment: Puppy Strangles condition; lymph node surgery
Claim Cost: $1,232
Healthy Paws Pet Insurance Reimbursement: $1,014
Isaac's Out-of-Pocket Expense: $218
"Zeek is a 7.5-month old Golden Retriever puppy with a great personality despite the medical issues he's had to endure!" said Isaac. Zeek was diagnosed with Puppy Strangles (a rare auto-immune disorder also known as Juvenile cellulitis) ​when he was roughly four-months-old after quite a bit of back and forth on the diagnosis.

"At first, Zeek had very low energy, was ​sleeping a lot and not eating for 2-3 days. He also developed a lump in the side of his​ neck," Isaac continued. "The vet thought he was fighting an infection and treated the symptoms with antibiotics."

When Zeek's condition did not improve, and the swelling around his neck got worse, Isaac went back to the vet who then recommended a CT scan of the area.

"The scan was done in an emergency pet hospital where they quickly diagnosed his condition and hospitalized him. At that point, his lymph nodes expanded to the size of apples [and were] restricting his airways!" Isaac said. "He required emergency surgery to have a set of his lymph nodes removed. After a long recovery period and post-surgical steroid treatment, he is back to normal."

Today, Zeek is doing rather well, considering all he's been through as a puppy! "He loves chasing leaves, squirrels and birds, and he's, of course, a huge fan of tennis balls," said Isaac. "He's completely healed from his condition and we are waiting until he is fully healed from another surgery – this time tie elbow dysplasia – before we can resume winter activities. We know Zeek can't wait to go play in the snow again, as well as with other dogs!"
Since Isaac had signed Zeek up for Healthy Paws pet insurance before a health issue arose, a significant portion of the claim was covered by Healthy Paws. Unfortunately, Zeek had elbow dysplasia surgery as well, but Healthy Paws most likely picked up the majority of this bill too (unless Zeek had a pre-existing condition).
Signing up for pet insurance can save you the hefty vet bill and the stress of deciding whether or not to take your dog to the vet in a time of emergency or illness. Unfortunately, many pet parents opt to skip making a vet appointment because they are worried about the expense of the office visit fee and any additional care or medications that may be needed. Pet health insurance is a great way to make sure the needs of your beloved pet come first.
We recommend signing up for pet insurance immediately after you adopt your dog, no matter what the age, so you aren't faced with the decision of choosing your bank account over your dog's health. The younger the dog, the less expensive your policy will be and the more coverage you will have since your dog has far fewer pre-existing conditions at that time than later in life. You can learn more about Healthy Paws, and how they performed in our pet insurance reviews.
Tagged With: Cost, Skin