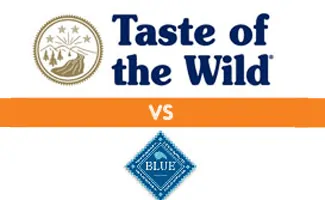 When it comes to healthy dog food choices, it's not always a cut and dry decision as to which to choose for your pup. Here we compare two high-quality options that focus on natural ingredients, Taste of the Wild vs Blue Buffalo, so you can see which food fits your dog best.
Taste Of The Wild vs Blue Buffalo
Made by Diamond Pet Foods, Inc., owned by Schell and Kampeter, Inc., Taste of the Wild is a family owned, privately held business. As a relatively new brand of dog food made only since 2007, Taste of the Wild was created to meet the market's growing demand for a natural, grain-free dog food. However, it also offers a grain-inclusive option as well.
It offers both wet and dry food as well as diets for different life stages (adult, pregnant or nursing, puppy and senior) for a total of 21 high-quality food choices for your canine. All of their formulas are created to emulate what dogs would eat in the wild with unique lean meats (like bison, venison, or quail) that are certified hormone and antibiotic free, with highly digestible energy sources, antioxidants, and chelated minerals for better absorption.
Nutritional Notes
In addition to all lean meats being free from hormones and antibiotics, they're also free from toxic the preservative ethoxyquin. Instead, all natural dog food preservatives are used by Taste of the Wild. Taste of the Wild also uses reverse osmosis water – the same quality found in your over-the-counter bottled water – to steam-dry all of their foods to be sure that they're free of microorganisms, organic and inorganic chemicals. Every formula is grain free.
Popular Products
Price
If ease is the name of your price game, Taste of the Wild may be the brand for you. The company keeps their offerings, and subsequently their pricing, simple:
Blue Buffalo
It was ultimately Bill and Jackie Bishop's large-breed Airedale Terrier, Blue, and his wide range of health issues, that inspired the two to make a commercially available dog food that was nutrient-rich for our canine companions. It included additional minerals to maintain oxidative balance. All BLUE foods begin with chicken, lamb, or fish, supplemented by whole grains, fresh vegetables and fruits, along with LifeSource Bits, a patented blend of nutrients and antioxidants. They offer foods in three categories – puppy, adult, and senior – with varying wet and dry options for all and a wide range of options spanning the three categories to total 118 adult food options, 20 senior options, and 19 puppy options. So, if you are looking for variety, it is safe to say that a far more diverse range is offered by Blue vs Taste of the Wild. Further, most Blue Buffalo options uses wholesome whole grains, but they do have a grain free option in their Freedom and Wilderness lines if you prefer.
Nutritional Notes
Blue Buffalo never uses chicken or poultry by-products, artificial flavors, colors, or preservatives, corn, wheat, or soy in any of their formulas. The first ingredient for all of their food is de-boned chicken, lamb or fish. Like Taste of the Wild, they use chelated minerals for easy absorption, and their patented LifeSource Bits – a precise blend of vitamins and antioxidants selected by holistic animal nutritionists and veterinarians – are cold-formed to preserve potency.
Popular Products
Price
If variety is the name of your game, Blue Buffalo may be the brand for you. But with so many available options spanning three ages (puppy, adult, and senior) and varying categories within (small breed, sensitive systems, etc.), it's slightly harder to explain the pricing for Blue Buffalo. Blue Buffalo Freedom Grain Free (Chicken Recipe)
Blue Buffalo Life Protection Formula (Lamb and Rice Recipe)
Blue Buffalo Wilderness Grain-Free (In our opinion, the closest comparison to Taste of the Wild):
Natural Dog Foods Overview
While Taste of the Wild and Blue Buffalo's Wilderness formula have many of the same qualities and are both ultimately options you can feel safe feeding your furry friend, we feel that Taste of the Wild's clean ingredient list, lower price, use of hormone and antibiotic-free meats, grain-free guarantee, and ethoxyquin-free preservation techniques give it the slight edge over Blue Buffalo's Wilderness formula.
Comparison Table
Taste of the Wild

Southwest Canyon with Wild Boar
Blue Buffalo Wilderness

Rocky Mountain Recipe with Bison
Chelated Minerals
Yes
Yes
Other Antioxidants
Yes
Yes - LifeSource Bits
First Seven Ingredients
Beef, peas, Garbanzo beans, Lamb meal, Canola oil, egg product, Wild Boar.

Fewer total ingredients.
Deboned Bison, Chicken meal, Turkey meal, Menhaden Fish meal, Tapioca starch, peas, potatoes.
Crude Protein %
29% min
30% min
Crude Fat %
15% min
15% min
Crude Fiber %
15% max
4.5% max
Moisture %
10% max
10% max
AAFCO Approved
Yes
Yes
Uses Hormone & Antibiotic-free Meats
Yes
No
Ethoxyquin-free
Yes
N/A