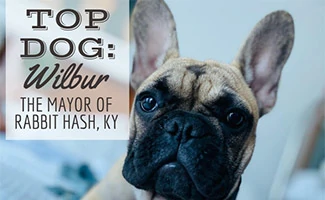 The town of Rabbit Hash, Kentucky, has elected dogs as Mayors since 1988. In November 2020, a French Bulldog named Wilbur Beast was named the town's latest Mayor.
As a purebred French Bulldog, a breed that has known health concerns, Wilbur enrolled in a Fetch pet insurance plan early to help cover potential health issues or accidents down the road.
Learn how Fetch could help your pet (and your wallet)
Learn more about this six-month-old pup and what he hopes to accomplish as a leader since defeating the incumbent pitbull Brynneth Pawltro.
How did you meet your forever family?
I was born on May 18th, 2020, to a family in Columbus, Ohio. My mom saw me on the Internet and decided I was the one—she needed a third dog! She picked me up from a nice gentleman in Columbus one evening and received me along with my AKC papers from the back of a family van.
When we arrived back home in Kentucky, I was introduced to my human sister Kailey and my feline sister Twiggy, a tri-ped rescue. I also have two dog siblings: Woody, a pit bull rescue, and Gracie May, a golden retriever rescue. Woody is two, and Gracie May is 10.
Why did you decide to run for office?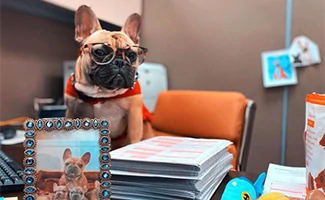 My mom wanted to run one of her dogs for Mayor ever since 1998 when she heard about the first canine Mayor of Rabbit Hash! She grew up in eastern Kentucky but visited Rabbit Hash (in northern Kentucky) many times and fell in love with the nostalgic town as a young adult. My family moved to the Rabbit Hash area in 2020 for work.
With all of the negative media surrounding the U.S. Presidential election and the emotional and negative impacts of COVID-19, she felt the timing was perfect and decided to kick off my campaign to spread positivity and flood social media with cute dog faces!
Tell us about your campaign experience
The (only) rule to run is you must be able to chase a rabbit into town within 1 hour from your home. We live 2 left turns and a long curvy road away, so we met the criteria. My mom announced to the Rabbit Hash Historical Society that we wanted to be a candidate, and they added me right away. There were 17 total candidates, including a rooster, a donkey, and a cat. The rest were dogs.
The historical society set up an online campaign so that anyone in the world could vote, and you could also vote in-person in town. One vote is equal to $1, and all of the fundraising (money) supports the Rabbit Hash Historical Society to keep the town in tip-top shape and repair the historic buildings.
We ran our campaign mostly on Facebook with a few in-person events in town. My mom flooded social media with my adorable photos, keeping it funny and positive while asking for support in votes.
How did you connect with voters (during the COVID-19 pandemic)?
Social media was a great outlet since it's not done in person, and people all over the world wanted to see funny pictures of me! I have an Instagram (WilburBeast2020), a Facebook (Mayor Wilbur of Rabbit Hash), and a Twitter (@MayorWilbur) that my mom updates every day on my adventures throughout the campaign and daily journey as Mayor.
You ran on the platform of mental health and breast cancer awareness. How will you act upon those issues as Mayor?
Both issues are near and dear to my heart. My Granddogma is a Breast Cancer survivor. Mental health stigma is also important to me because of the impacts of COVID-19 and isolation from social interaction that the pandemic has pushed onto our society. I will continue to fundraise for my town and for many issues that people are passionate about.
I plan to become a therapy dog and travel the U.S. in the summer of 2021 while documenting my adventures and reaching out to the public for fundraising to support issues that people believe in. I want to bring a voice to the issues mentioned above and many others, too.
At only six months old, what unique experience do you bring?
Well, I am the first Mayor that you can actually hold, being that I'm still a puppy! I want everyone to be able to watch me grow up. And, since I will be Mayor for four years, that will be totally paw-sible. I'm cute, funny, full of personality, and people love to hold me and give me a squeeze.
I love children because they're so honest and full of innocence. Fundraising for children's causes and visiting them will be a major part of my travels and future goals as Mayor.
Have you started the transition with Brynneth Pawltro yet?
The new Mayor takes office officially on the same day as the Presidential election. So yes!
The official Indoguration was held on January 22nd, 2020. Mayor Brynn is still involved in the town, and it was a very peaceful transition.
So far, I've learned that we work hard, play harder and that being Mayor is a blast! All of the ear scratches, belly rubs, and beautiful people come from far away just to see me. It's all worth every second of my time—I get lots of treats.
What are some of your Mayorial duties and responsibilities?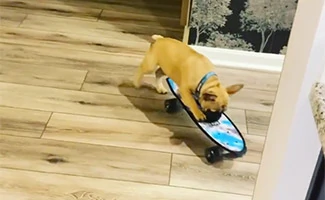 My term is four years, and my responsibilities mostly include fundraising, watching over the town, sitting on the porch, and visiting the shop owners.
But, my main responsibility is to spread smiles. This summer, I'll go on a tour called "Mayor Wilbur, spreading Smiles for Many Miles."
What are your favorite past times?
I enjoy skateboarding and car rides. I also love to run in circles in tall grass and eat lots of food. Other than that, I play with my siblings a lot and snuggle with my humans.
Any favorite dog-friendly places you like to visit in your community?
With COVID 19, we haven't been out to eat, but many patios allow dogs in town. There is a fabulous arboretum in my county, and if I'm not in Rabbit Hash, I love to go there and walk with my family.
What advice do you have for other four-leggers looking to get into politics?
Just give it a try! Find your voice and bark it loudly! You'll be surprised how taking the human element out of politics makes for a peaceful experience for every person and dog involved.
Thanks, Wilbur, for sharing your story, and congrats on your win! We look forward to watching you fulfill your duties and raise funds for many meaningful causes. Your future looks bright and we are so proud of you for spreading your paws-itivity with your community and the world.
Tagged With: