To keep the lights on, we receive affiliate commissions via some of our links. Our review process.
Animalia Pet Insurance is somewhat mysterious to many consumers because there's very little about them online. Few media outlets or consumer are talking about them, which means customers are sometimes unsure who they signed up for pet insurance with. We're happy to inform you more about the company and discuss whether you can trust them for your pet insurance needs.
Get Animalia Quote | Compare Quotes
Animalia Overall Rating
Animalia Pet Insurance Review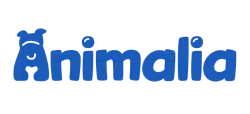 Product Name: Animalia Pet Insurance
Product Description: Animalia offers pet insurance for dogs and cats.
Summary
Animalia is a newcomer to the pet insurance industry. It is available in 39 states and offers unique coverage for prescription food and dietary supplements. 
Our pet insurance experts read through each pet insurance company's policy to provide detailed comparisons and information regarding how a provider fares against others in the industry. We also speak with customers, read online feedback, and communicate one-on-one with pet insurance companies to obtain a well-rounded, unbiased analysis of a company's standings.
Our team rates pet insurance companies based on several factors, including A.M. Best ratings (an indicator of financial stability), claim processing reputations, contract coverage, customer service, pricing, plan customizations, and more.
Pros
No lifetime limits on any plan
Discounts available for multi-pets
Electronic claim filing
Covers the exam fees for accidents and illnesses
Covers virtual vet visits, prescription food, and dietary supplements
Shorter than average waiting period periods (5 days for illnesses, accidents, cruciate ligament, and hip dysplasia)
Cons
Pets aren't eligible for enrollment after 15th birthday
No optional wellness plan
Additional cost for dental coverage
30 day waiting period for cancer coverage
Only available in 39 states
Not covered when traveling with your pet outside of the U.S.
No online portal for policyholders 
Key Features
Underwriter: State National Insurance Company

A.M. Best rating (a measure of financial stability): A

Covers curable pre-existing conditions that show no symptoms for 12 months (e.g., ear infections, urinary tract infections, etc.)
No exam is required at enrollment
No bilateral exclusions (a condition or disease that affects both sides of the body)
Claims process:

Must submit claims within 90 days of the expiration of the policy period
Animalia will notify you in writing whether the claim is accepted or rejected within 15 business days after your claim is received
95% of claims are reimbursed in less than one week
Submit claims via live chat
Where Is Animalia Pet Insurance Available? (Map)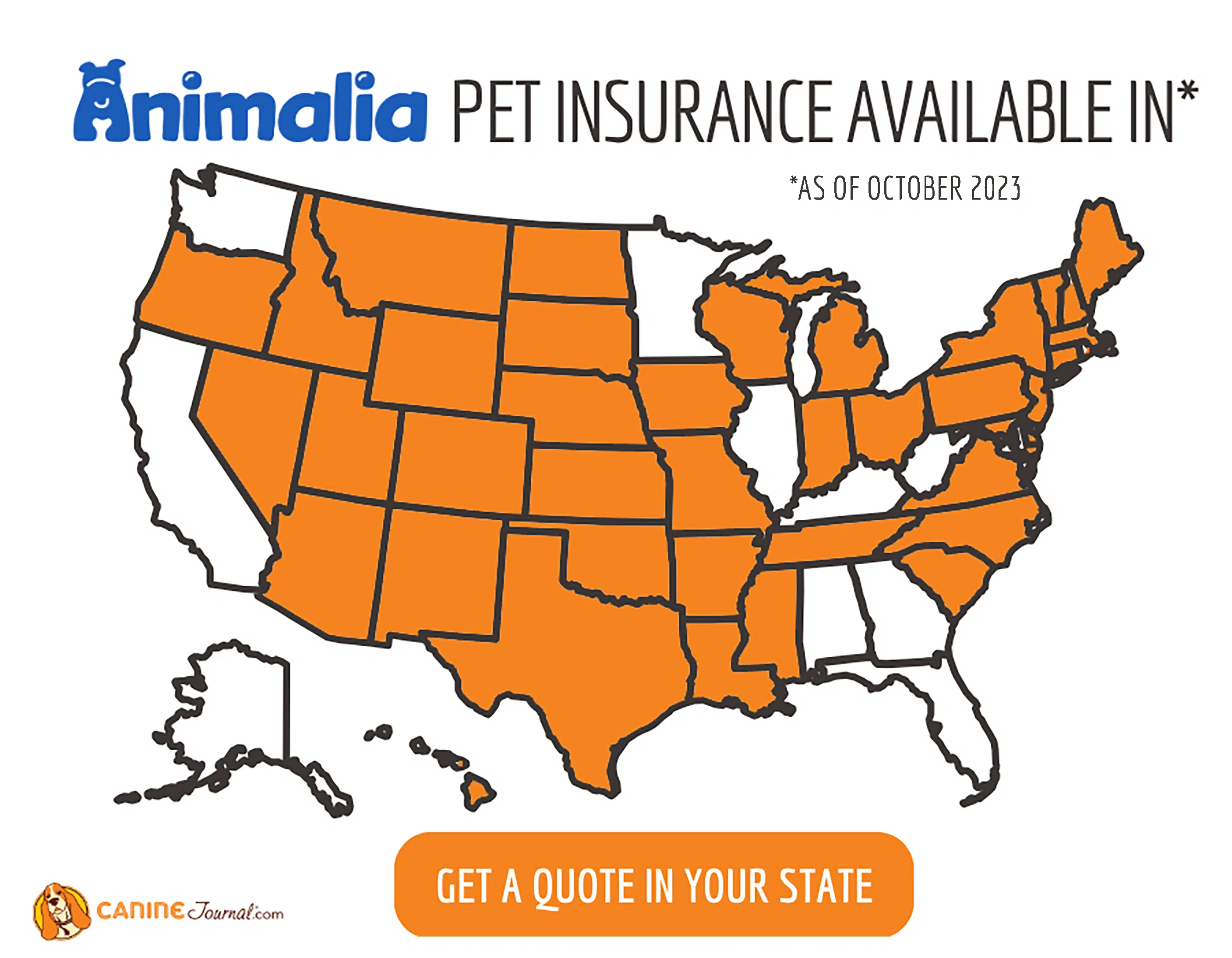 Customer Service Options
What Are Animalia's Waiting Periods*?
Illnesses: 5 days
Accidents: 5 days
Cruciate Ligament: 5 days
Hip Dysplasia: 5 days
Cancer: 30 days
*Waiting periods for California, Maine, and Mississippi are as follows:
Accidents - 0 days
Illnesses - 14 days
Cruciate Ligament Conditions - 30 days
Routine Care - 0 days
What Animalia Cover?
Please know that none of the providers in our pet insurance comparison cover pre-existing conditions, cremation and burial costs, pregnancy and breeding, or unnecessary cosmetic procedures.
All of them cover the following items when deemed medically necessary: emergency care, surgery and hospitalization, specialized exams and specialty care, X-rays, blood tests, ultrasounds, cat scans, MRIs, rehabilitation, cancer, chronic conditions, euthanasia, hereditary conditions, congenital conditions, and prescription medications. However, this coverage may have limitations, so please review your policy carefully.
| Condition | Covered By Animalia |
| --- | --- |
| Behavioral Therapies | |
| Alternative/Holistic Therapies | |
| Accident & Illness Exam Fees | |
| Rehabilitative, Acupuncture & Chiropractic Coverage | |
| Prescription Food & Dietary Supplements | |
| Wellness Care | |
Optional Coverage: Dental
Animalia's basic policy includes orthodontics treatment. However, you can add comprehensive dental care to your pet insurance for a monthly fee in addition to your premium. This add-on covers root canals, crowns, extractions, orthodontic, endodontic, periodontal, and anything deemed medically necessary by your vet regarding dental care.
How Is Animalia's Pricing Determined?
Animalia has no one-time fees or transaction fees. Your monthly premium is based on the deductible, reimbursement percentage, and annual payout options that you choose from the table below.
Deductible Options
Payout Options
Reimbursement Options
$200
$350
$500
$5,000
$10,000
$25,000
70%
80%
90%
Pricing is also based on your pet's details (age, breed, location, pre-existing conditions, etc.). We recommend obtaining quotes from Animalia for your specific pet to get an idea of how much a policy would cost you.
You can also use our pet insurance quote form below to see how top providers compare for your actual pet.
Does Animalia Have Any Discounts?
Animalia offers the following discounts:
Use this link to take advantage of the best possible price. No promo code is needed.
How Does Animalia Reimbursement Work?
Animalia uses a "deductible then copay" reimbursement method. This is calculated in the following way:
Actual vet bill amount – Remaining annual deductible – Copay = Reimbursement amount
So in the example below, the reimbursement is calculated the following way:
$4,800 (vet bill) – $500 (remaining deductible) – $860 (copay) = $3,440 (reimbursed amount)
Frequently Asked Questions
Here are some frequently asked questions regarding Animalia pet insurance from our readers.
Does Animalia Need My Pet's Health Records?
Yes, giving Animalia access to your pet's medical history allows them to determine any pre-existing conditions and communicate with your vet. It will also help speed up the claim approval process.
How Do I Cancel Animalia Pet Insurance?
You can cancel your policy anytime by notifying Animalia in writing via their live chat on their website or by emailing them at [email protected]. You may receive a pro-rated refund of your premium as well.
If you'd like a replacement for your Animalia insurance policy, take a look at our pet insurance reviews to see which pet insurance companies we recommend.
Animalia vs Other Companies
Interested in seeing how Animalia stacks up against other popular pet insurance companies? We've compiled a comparison table including Healthy Paws and Trupanion, two of the most commonly searched companies, compared against Animalia.
| | Healthy Paws | Animalia | Trupanion |
| --- | --- | --- | --- |
| Deductible Type | Annual | Annual | Per Condition |
| No Payout Caps On Any Plans | | | |
| Behavioral Therapy Coverage | | | |
| Coverage For Accident/Illness Exam Fees | | | |
| Enrollment Ages | 8 Weeks – 14 Years | 2 Months – 15 Years | 0 – 14 Years |
| Prescription Food & Dietary Supplements Coverage | | | |
| Extra Waiting Period For Cancer | | | |
| Extra Waiting Period For Hip Dysplasia | | | |
| No Bilateral Exclusions | | | |
| Covers Curable Pre-Existing Conditions | | | |
Our Final Verdict On Animalia
Get Animalia Quote | Compare Quotes
Animalia has some unique offerings, including prescription food and dietary supplement coverage. However, it's a newer company, which means there's more unknown regarding their reputation. Will they follow through with the coverage they promise? After some time in the U.S. pet insurance industry, we hope to say yes. Find out how Animalia Pet Insurance compares against other top pet insurance providers in our pet insurance reviews article.
Tagged With: Reviewed By Insurance Agent