Have you ever wondered where your cat gets her fluffy tail from? Thanks to a cat breed DNA testing, you can learn about her traits and possible diseases she may develop throughout her life. Depending on what you want to discover, you may choose to buy one cat DNA kit over another.
At A Glance…Best Cat DNA Test For…
Best Cat DNA Test
We've chosen our top picks based on several factors, including company reputation, quality of tests, price, and more. Cat DNA testing is relatively new, so there's little user feedback online about these companies.
Best For Ancestry: Basepaws Review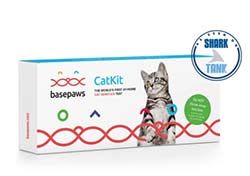 Basepaws has three different DNA tests: Breed + Health, a Whole Genome Sequencing (WGS) test, and as of April 2021, Basepaws now also offers a Dental Health Test.
The Breed + Health test shows you the percentage of genetic similarity to 21 breeds and 4 breed groups as well as 70 health markers representing 40 diseases and 43 genetic conditions. Their Whole Genome Sequencing test gives you a complete and comprehensive look at your cat's genetic information providing around 10,000 times more data than other cat DNA tests (and includes a 1-hour consultation with a feline genetics coach). And the dental test analyzes more than 1,000 microbes in cats' mouths for diseases to help prevent dental conditions.
You collect hair from your feline as well as a mouth swab as a secondary sample. After you mail the DNA samples in, you can expect results in four to six weeks (six to nine weeks for the WGS test). As the company processes more DNA samples over time, their database grows, and they learn more about all cats, including yours. So they continuously update your report to reflect everything they learn.
| Pros | Cons |
| --- | --- |
| Breed and ancestry are included in the results | International shipping costs $15 |
| Percentage breakdown of breed groups | WGS is pricier and takes longer |
| Free shipping in the U.S. | |
| Your report is updated as new DNA markers are added to the Basepaws database | |
Price
Basepaws is having a 4th of July Sale: Use code JULY4 to get $25 off + free U.S. shipping. Use this link to take advantage of this offer and get the best possible price from Basepaws.
Collecting DNA Samples (Video)
This cat was a total champ through the sample collection process for the cat DNA test kit. When I did a DNA test for my dog, she wasn't into having her mouth swabbed at all. And I'm shocked that the cat in the video didn't lash out at its owner when they collected all that hair!
Best For Health: Wisdom Panel Complete For Cats Review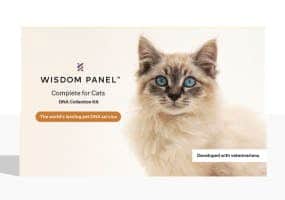 One of the top dog DNA testing companies, Wisdom Panel recently released their Complete for Cats DNA test for kitty owners. (They've offered a cat DNA test for breeders for several years, so they have a fairly large database.) This comprehensive test developed by geneticists and veterinarians gives you results for your cat's genetic health, breed makeup, ancestry, and traits.
If your results show any potential health concerns, you can speak to one of Wisdom Panel's licensed veterinarians for free. We've tested and reviewed Wisdom Panel before for a dog and were pleased with our overall experience. However, the feline version doesn't test for nearly as many traits and diseases as the canine version.
| Pros | Cons |
| --- | --- |
| Tests for 45+ genetic diseases and 25+ traits | Some complaints that results take a month or longer |
| Screens for 70+ breeds and populations (results show breed breakdown 1%) | |
| Includes free phone consultation with licensed vet | |
| Get results within three weeks | |
Price
Best For Budget: Orivet Cat DNA Health Screen Review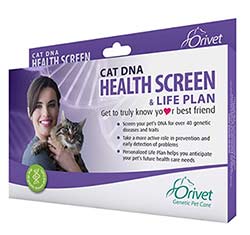 If Wisdom Panel's test is too expensive for you, Orivet's test could be a good option if you only want health results. Orivet tests for more than 40 genetic diseases and traits. All you have to do is swab the inside of your cat's cheek and mail the kit.
You will receive your results back via email within three weeks. You'll learn about any health risks that may present in your cat, as well as any physical traits in your cat's genes.
| Pros | Cons |
| --- | --- |
| Tests more than 40 diseases and traits | Doesn't include breed identification |
| Results also include details about inherited traits and a customized wellness plan | Some complaints that the Orivet website is confusing and hard to navigate |
| Get results within three weeks | |
Price
Best For Breeders: Optimal Selection (By Wisdom Panel) Review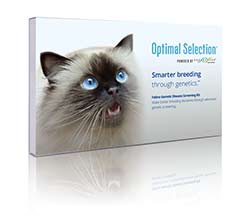 Wisdom Panel's Optimal Selection cat DNA test is designed for breeders. It's meant to help breeders develop breeding programs, but if you're a pet parent, you can still purchase the test (it just may not be as beneficial to you since there are many features specific to breeders).
It requires a mouth swab test from your cat to test for diseases, traits, and genetic diversity. Traits tested include blood type, coat colors, coat types, morphology, coat patterns, and more.
| Pros | Cons |
| --- | --- |
| Tests for 200+ genetic diseases and 40+ traits | Only intended for purebred cats |
| Results in approximately four weeks | |
| Phone and email customer service for any questions | |
Price
Be Sure To Consult With Your Vet
You shouldn't make any major medical decisions solely based on at-home DNA test results. If the test finds that your cat has a genetic mutation and is at a higher risk for developing a certain disease, it doesn't mean that she will. We strongly recommend sharing the health results you receive from your cat's DNA test with your veterinarian.
Have You Considered Cat Insurance?
If you want to learn more about your cat through feline DNA testing to give her the best care possible, you may want to consider cat insurance. And if you have a dog in your life, you can conduct a dog DNA test for them as well.
Tagged With: Cats, Comparison, DNA