To sustain this free service, we receive affiliate commissions via some of our links. This doesn't affect rankings. Our review process.
Best For…

Ancestry

Health

Breeders
Have you ever wondered where your cat gets their fluffy tail from? Thanks to a cat breed DNA test, you can learn about their traits and possible diseases they may obtain throughout their life.
Depending on what you want to learn more about, you may choose to buy one cat DNA kit over another.
Best Cat DNA Test Reviews
Cat DNA testing is relatively new, so there is little user feedback online about these companies. This is a growing field and we welcome your comments below.
Best For Ancestry: Basepaws Review
Basepaws has you collect hair from your feline as well as a mouth swab as a secondary sample. After you mail the samples in you can expect results in 8 to 12 weeks (and possibly up to 5 months). That's a long time to wait.
Basepaws is a new company and they are experiencing a bit of a learning curve. Their goal is to shorten that window and to eventually have results to customers within 4 weeks.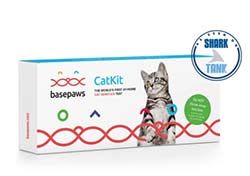 After it receives more customers, the company's database will grow and new feline genetic data will be discovered.
One thing to note about Basepaws is that it does not give percentages for which breed(s) make up your cat. This is because most cats descend from crosses between random bred cats and not bred cats. Basepaws can tell you which breeds you cat is closest to, but not the percentage.
Pros

Cons

Breed and ancestry are included in results
Free shipping in the U.S.
Report is updated as new markers are added to the Basepaws database

International shipping costs $15
Other companies provide results within 3-4 weeks of receiving sample vs. 8-12 weeks for Basepaws
Fairly new company, so you don't receive extensive information yet
Price
Coupon
Use
this link
to get the best possible deal from Basepaws.
Collecting DNA Samples (Video)
This cat was a total champ through the sample collection process for the cat DNA test kit. When I did a DNA test for my dog, she wasn't into having her mouth swabbed at all. And I'm shocked that the cat in the video didn't freak out on its owner when they were collecting all that hair!

Best For Health: HomeDNA Review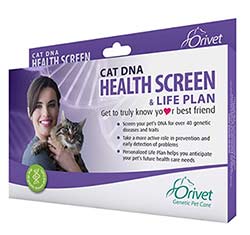 HomeDNA tests for more than 40 genetic diseases and traits. All you have to do is swab the inside of your cat's cheek and mail the kit. You will receive your results back via email within 3 weeks. You will learn about any health risks that may present in your cat as well as any physical traits in your cat's genes.
Pros

Cons

Tests more than 40 diseases and traits
Get results within 3 weeks

Slightly more expensive than others
Only available in the U.S.
Price
Best For Breeders: Optimal Selection (By Wisdom Panel) Review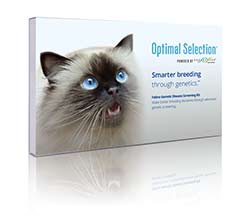 Wisdom Panel's Optimal Selection cat DNA test is designed for breeders. It is meant to help breeders develop breeding programs, but if you're a pet parent you can still purchase the test (it just may not be as beneficial to you since there are features specific to breeders).
It requires a mouth swab test from your cat to test for diseases and traits. Traits tested include blood type, coat colors, coat types, morphology, coat patterns and more.
We've reviewed Wisdom Panel before for a dog and were overall pleased with our experience. However, the feline version doesn't test for nearly as many traits and diseases as the canine version does.
Pros

Cons

Tests 40+ genetic diseases and 20+ traits
Results in approximately 4 weeks
Phone and email customer service for any questions

Only intended for purebred cats
Price
Give Your Cat The Best Care
If you're looking to learn more about your cat through feline DNA testing to give them the best care possible, you may want to consider cat insurance. You can find the best cat insurance in our cat insurance comparison article. If you have a dog in your life, be sure to read up on dog DNA tests as well.
Why are you considering testing your cat's DNA?
We are a participant in the Amazon Services LLC Associates Program, an affiliate advertising program designed to provide a means for us to earn fees by linking to Amazon.com and affiliated sites.
Disclaimer: The information provided through this website should not be used for diagnosing or treating a health problem or a disease. It is not a substitute for professional care. If you have or suspect you may have a health problem, you should consult your health care provider.
Disclaimer: This website contains reviews, opinions and information regarding products and services manufactured or provided by third parties. We are not responsible in any way for such products and services, and nothing contained here should be construed as a guarantee of the functionality, utility, safety or reliability of any product or services reviewed or discussed. Please follow the directions provided by the manufacturer or service provider when using any product or service reviewed or discussed on this website.