Have you ever wondered where your cat gets her fluffy tail from? Thanks to cat DNA testing, you can learn about her traits, breed make-up, and possible diseases she may develop throughout her life. Depending on what you want to discover, you may choose to buy one cat DNA kit over another.
At A Glance: Our Top Picks
Best Cat DNA Test
We've chosen our top picks based on several factors, including company reputation, quality of tests, price, customer feedback, and more.
Winner: Basepaws Breed + Health DNA Test Review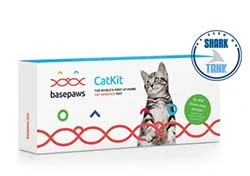 Basepaws has three different DNA tests: Breed + Health, a Whole Genome Sequencing (WGS) test, and a Dental Health Test.
The Breed + Health test shows you the percentage of genetic similarity to 21 breeds and 4 breed groups and lets you know whether or not your cat is genetically predisposed to 43 feline diseases. Health results indicate whether your cat is at high risk, at risk, a carrier, or clear for each genetic condition. This test kit also screens your cat for signs of dental disease and 25 genetic traits, including blood type.
Their Whole Genome Sequencing test gives you a complete and comprehensive look at your cat's genetic information providing around 10,000 times more data than other cat DNA tests (and includes a 1-hour consultation with a feline genetics coach). You can order their Dental Health Test as a separate test, but it's included in the Breed + Health Test.
All you have to do is collect a mouth swab for your kitty's DNA. After you mail in the DNA sample, you can expect results in four to six weeks (six to nine weeks for the WGS test). As the company processes more DNA samples over time, their database grows, and they learn more about all cats, including yours. So they continuously update your report to reflect everything they learn.
| Pros | Cons |
| --- | --- |
| Detailed breed, ancestry, genetic health risks, and signs of dental disease are included in the results | Some customers found the breed identification was inaccurate |
| Percentage breakdown of breed groups | Some complaints that results take over 6 weeks |
| Your report is updated as new DNA markers are added to the Basepaws database | |
| Portion of sales are donated to cat shelters | |
| Free shipping in the U.S. | |
Price
Promo Code
Get $70 off a Basepaws Cat Breed + Health DNA Test with the code: FRIDAY at checkout using this link.
Collecting DNA Samples (Video)
Runner-Up: Wisdom Panel Complete For Cats Review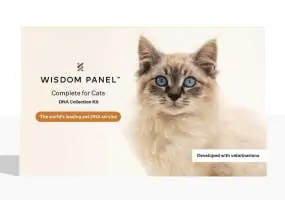 One of the top dog DNA testing companies, Wisdom Panel also offers a Complete for Cats DNA test for kitty owners. (They've offered a cat DNA test for breeders for several years, so they have a fairly large database.) This comprehensive test developed by geneticists and veterinarians gives you results for your cat's genetic health, breed makeup, ancestry, traits, and blood type.
If your results show any potential health concerns, you can speak to one of Wisdom Panel's licensed veterinarians for free. We've tested and reviewed Wisdom Panel before for a dog and were pleased with our overall experience. However, the feline version doesn't test for nearly as many traits and diseases as the canine version.
| Pros | Cons |
| --- | --- |
| Tests for 45+ genetic diseases and 25+ traits | Some complaints that results take a month or longer |
| Screens for 70+ breeds and populations (results show breed breakdown to 1%) | Results aren't as detailed as Basepaws |
| Includes free phone consultation with licensed vet | |
| Get results within 3 weeks | |
| Charitable partnerships with animal rights groups | |
Price
Third Place: EasyDNA CatCheck Genetic Disease Test Review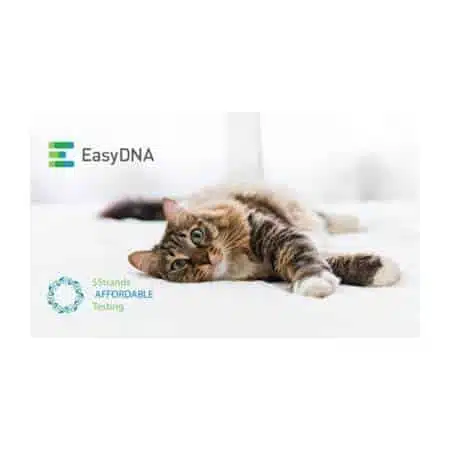 EasyDNA is a well-respected company that offers a huge variety of human and animal DNA tests. Their CatCheck Genetic Disease Test screens your kitty for 54 genetic conditions (more than other tests we've reviewed here), blood type, and 14 physical traits. Results tell you if your feline friend is at risk, a carrier, or clear of each genetic health mutation.
EasyDNA also offers the Feline PKD (polycystic kidney disease) DNA test and their Cat Intolerance (Allergy) Test, which may help identify any food or environmental allergens that are causing your cat digestive problems or skin irritations. They test for 148 food and 52 non-food items. We've tested and reviewed EasyDNA's Dog Allergy Test and found the results helpful.
| Pros | Cons |
| --- | --- |
| Screens for more genetic conditions than our top 2 picks | Pricey compared to other health/trait tests (but it tests for more health conditions) |
| Also test for genetic traits and blood type | Doesn't include breed identification or ancestry |
| Get results in 10-15 days | |
| Discounts for multiple tests | |
| Company supports many charitable organizations | |
Price
What Are My Other Options?
We've reviewed a couple of other options in case you're looking for less expensive health tests or you're a cat breeder.
Optimal Selection (By Wisdom Panel) Review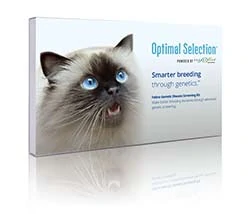 Wisdom Panel's Optimal Selection cat DNA test is designed for both pedigreed and mixed-breed cats. Its primary benefit is to help breeders develop breeding programs, but if you're a pet parent, you can still discover health and trait information. Just keep in mind that this kit doesn't include breed identification.
It requires a mouth swab test from your cat to test for diseases, traits, and genetic diversity. Traits tested include blood type, coat colors, coat types, morphology, coat patterns, and more.
| Pros | Cons |
| --- | --- |
| Most affordable cat DNA test we've reviewed | Doesn't include breed identification or ancestry |
| Tests for 40+ genetic diseases and 20+ traits | We can't find enough customer feedback on this test to gauge reliability, customer service, etc. |
| Results in approximately 2-3 weeks | |
| Phone and email customer service for any questions | |
Price
Orivet Cat DNA Health Screen Review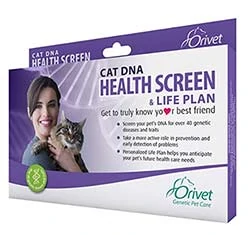 If our top picks are too expensive for you, Orivet's test could be a good option if you only want health results. Orivet tests for more than 40 genetic diseases and traits, including blood type. All you have to do is swab the inside of your cat's cheek and mail the kit.
You will receive your results back via email within three weeks. You'll learn about any health risks that may present in your cat, as well as any physical traits in your cat's genes.
| Pros | Cons |
| --- | --- |
| More affordable than our top picks | Test is only designed for purebred and domestic short and long hair cats |
| Tests more than 40 diseases and traits | Doesn't include a breed breakdown |
| Results also include details about inherited traits and a customized wellness plan | Some complaints that the Orivet website is confusing and hard to navigate |
| Get results within 3 weeks | |
Price
Be Sure To Consult With Your Vet
You shouldn't make any major medical decisions solely based on at-home DNA test results. If the test finds that your cat has a genetic mutation and is at a higher risk for developing a certain disease, it doesn't mean that she will. We strongly recommend sharing the health results you receive from your cat's DNA test with your veterinarian.
Have You Considered Cat Insurance?
If you want to learn more about your cat through feline DNA testing to give her the best care possible, you may want to consider cat insurance. And if you have dogs in your life, you can conduct a dog DNA test for them as well.
Tagged With: Cats, Comparison, DNA