Your family's warm-weather fun isn't complete until your canine buddy joins in. Dogs enjoy nothing more than being part of all of your activities. And that includes cooling off on a relaxing raft in the pool, floating or boating around a lake, or riding ocean waves on a floaty.
But canine claws can clash with rafts designed for humans. Fortunately, you have some super durable options made with materials that can withstand your pup's nails and bouncy personality. We give you our recommendations for the best dog floaties, water safety tips, and more.
At A Glance: Our Top Picks
Pool Floats For Dogs: A Buyer's Guide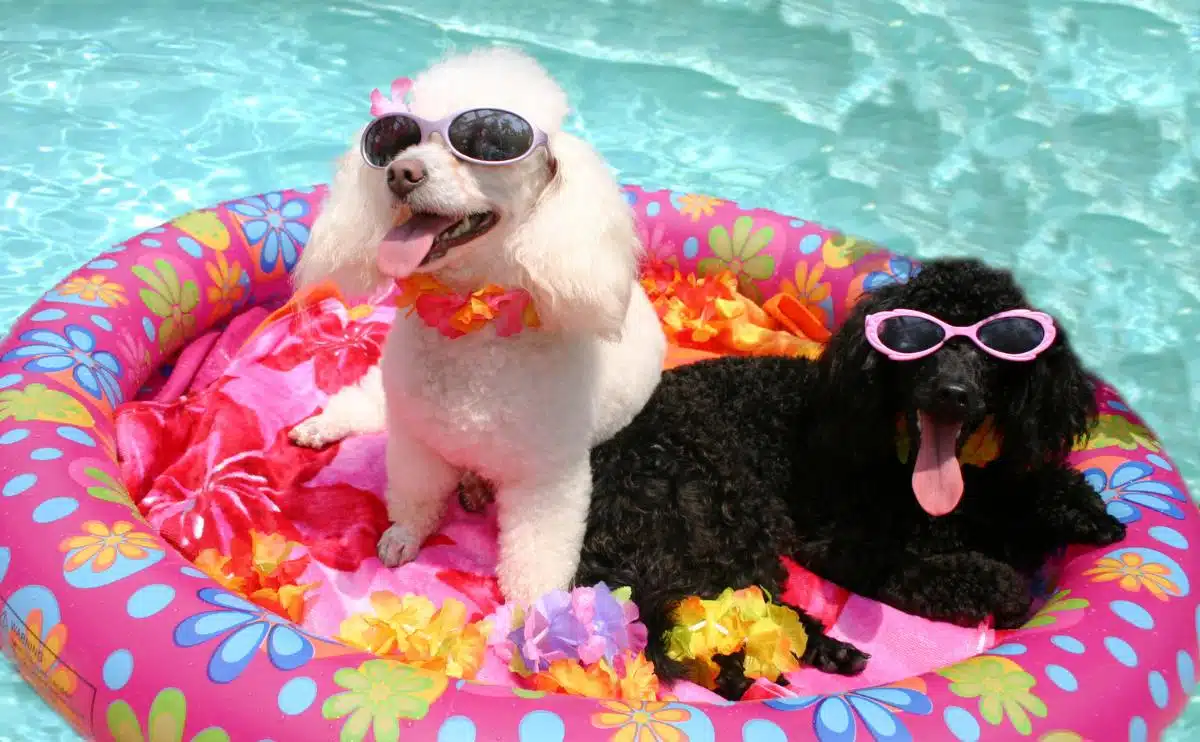 There are a surprising number of dog floaties on the market, and the best ones aren't cheap. So it's important to purchase the right raft for your specific needs. Here are some of the things to consider when choosing a float for a dog.
Best Dog Floaties
We've based our top picks and reviews on several factors, including durable materials, stability, performance, customer feedback, pricing, and more.
Winner: SwimWays Spring Float Paddle Paws Review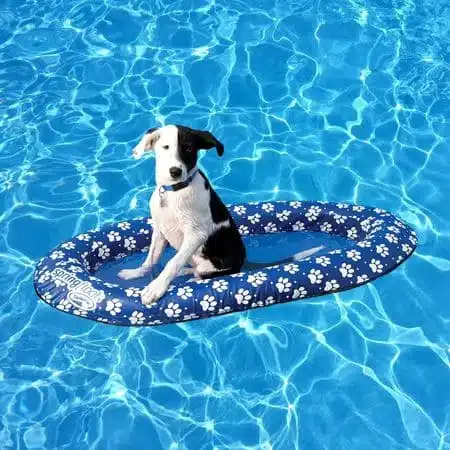 We give this doggy raft two enthusiastic paws up for its durability, stability, and ease of use. It's constructed with claw-friendly materials and has an inner-spring design around the outside edge to keep it from tipping over easily. The puncture-resistant inflatable ring surrounds a sturdy mesh base, which lets in a bit of water to keep your pup cool on sweltering summer days.
This floaty comes in two sizes: small/medium for pups up to 65 pounds (48″ x 27″) and large/extra-large (64.5″ x 43.25″) for dogs weighing 65 to over 200 pounds. And it folds down flat into three compact circles for easy portability and storage in the included carry bag.
| Pros | Cons |
| --- | --- |
| Puncture-resistant materials | Some pups may not like water pooling in the base |
| Large size is wide and long and can hold 200+ pounds | Some complaints that one side folds over when dogs get in |
| Very stable | |
| Easy to inflate and deflate (with a pump) | |
| Comes with a carry bag | |
Price
Runner-Up: Paws Aboard Doggy Lazy Raft Review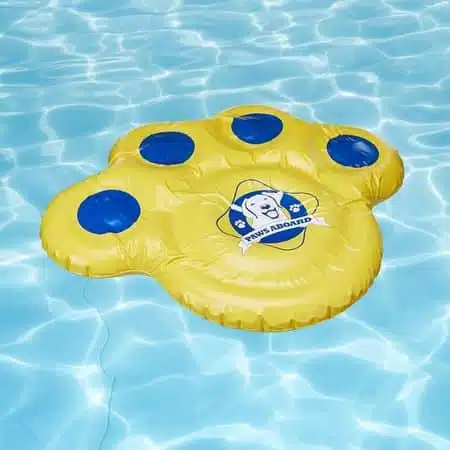 If you're looking for an incredibly heavy-duty, above-the-water float, you should consider this Paws Aboard Doggy Raft. It's made of thick, puncture-resistant vinyl that holds up even with the most rambunctious pups (according to customer reviews). And it's an excellent choice for dogs who'd rather stay on the dry side when floating in the pool with you.
It comes in three sizes: small for little ones up to 30 pounds (30″ x 23″), large for pups up to 90 pounds (50″ x 40″), and extra large for dogs over 90 pounds (70″ x 55″). They have plenty of room for your furry friend to fully stretch out and relax. A few customers advise going up a size for maximum stability.
| Pros | Cons |
| --- | --- |
| Made of heavy-duty, puncture-proof, and UV-resistant vinyl | Some dogs may feel insecure without raised sides |
| Largest size is extremely spacious | A few complaints that it gets a ball of air in the middle so it's not completely flat |
| Excellent stability | |
| Quick and easy to inflate with a pump | |
Price
Third Place: PoolCandy Inflatable Pet Float Review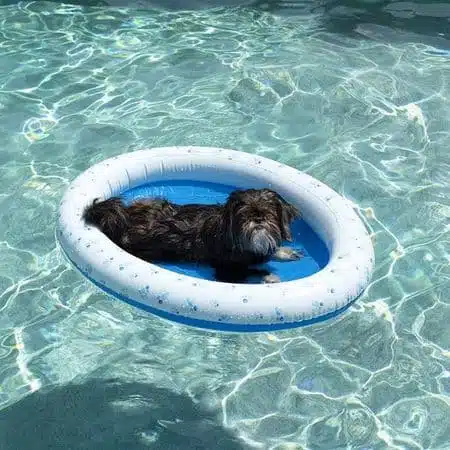 Although this floaty comes in two sizes, we recommend the smaller size. It's an extremely popular pick for its compact design, which owners say their little buddies love. It's similar to the SwimWays float in that it has a raised side with small holes in the base to let water in. But with this PoolCandy float, you have the option of closing the holes if your pup prefers to stay dry.
The side and base are made of inflatable, heavy-duty PVC, which stands up to most dog claws. And the base is well-cushioned for your pup's comfort. The small size accommodates dogs up to 35 pounds (34.5″ x 27″), while the larger size can hold up to 100 pounds (54″ x 40″). However, several owners of medium to large-sized dogs said it's not durable and sturdy enough. So we recommend the small size.
| Pros | Cons |
| --- | --- |
| Ideal for smaller dogs | May not be durable or stable enough for larger dogs |
| Made of heavy-duty PVC | Some complaints that it leaks air |
| Option to have water enter the base or keep it dry | |
| Comfy, cushioned base | |
Price
What About Milliard & Rupert's Dog Floaties?
Although the following dog pool floats didn't make our top cut, you may find the perfect solution to while away the dog days of summer with your furry sidekick.
Milliard Dog Float Review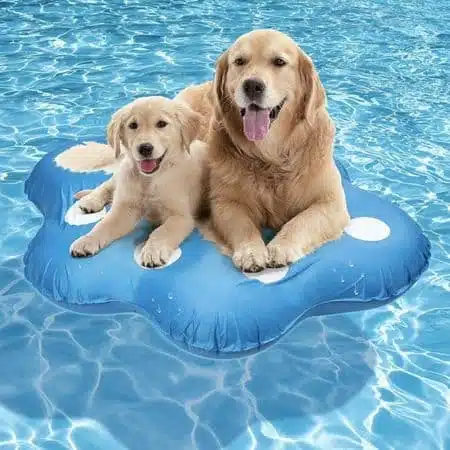 Looking for a dog floaty with a tether? This extra-large raft is equipped with a built-in hook and included rope to keep your big buddy safe when she's on open water with you. Ideal for large breeds, it can accommodate dogs weighing up to 220 pounds (60″ x 45″) and is made of UV and puncture-resistant vinyl.
It sits nine inches above the water and is stable enough to support two medium or large-sized dogs. A bonus, it doubles as a floating drink holder when you flip it over (as long as your pup agrees). It also comes in a slightly smaller size that's 50″ x 45″ (without the tether).
| Pros | Cons |
| --- | --- |
| Ideal for medium and large dogs | Some complaints that it doesn't hold air well |
| Made of heavy-duty, puncture-proof, and UV-resistant vinyl | Owners of giant breeds say it's too small |
| Built-in hook and rope included | |
| Easy to inflate with a pump | |
| Can flip it over to use as a floating drink holder | |
Price
Rupert's Float Dog Pool Float Review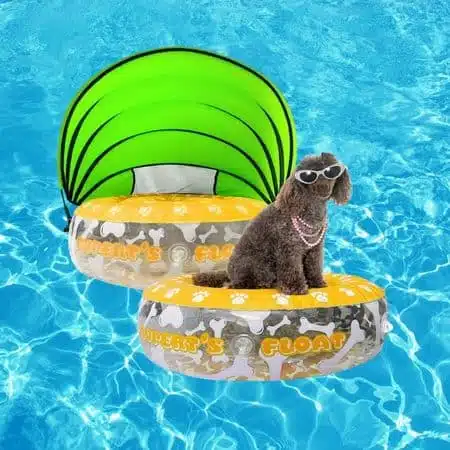 Many small breed owners love this cozy little dog floaty, which has an attachable canopy to keep pups shaded from the bright summer sun. It has thick inflated sides that are excellent for pups anxious about being on a float. The product description says it fits medium-sized dogs, but most customers say that it would be a very tight squeeze for dogs over 20-ish pounds.
| Pros | Cons |
| --- | --- |
| Ideal for small dogs | Likely won't fit dogs over 20 pounds |
| Made of durable PVC | |
| Has an attachable sun canopy to keep your dog cool | |
Price
Water Safety Tips For Your Dog
Following these expert safety tips can give you peace of mind when your furry friend's having a splashing good time in a pool, lake, or any body of water.
Protecting Your Pup For Summer Fun
Whether your warm-weather adventures with your dog involve water rafting, hiking, spending time at the park, or merely long strolls through your neighborhood, you want to ensure your pup is protected. Check out our reviews for the best dog sunscreen as well as booties to keep her pads from burning on the scorching pavement. And don't forget to give your pup a flea and tick preventative to keep these common pests at bay.
Tagged With: Comparison, Outdoors