Some dogs love water, but not all dogs are natural swimmers. Even in shallow ponds or creeks, dogs can fall victim to drowning. Don't risk losing your beloved pet when you're having fun in the sun. A dog flotation vest can comfort you, knowing that your dog is safe if an accident occurs in the water. Learn the reasons why you should use a life jacket for your dog and some of our top picks. It's also critical to make sure your dog's vest fits properly. We'll share some tips on how to measure and select the size you need for your dog.
| Winner | Runner-Up | Third Place |
| --- | --- | --- |
| | | |
| Outward Hound | Vivaglory | Paws Aboard |
| | | |
| | | |
Why Your Dog Needs A Life Jacket
Do dogs need life jackets? Dogs should wear life jackets in any situation where they could potentially drown. Here are just a few reasons why a life jacket can come in handy for your dog.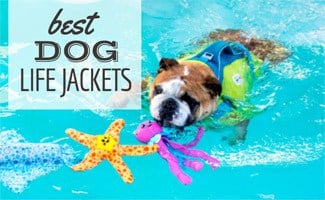 If you plan on going kayaking, paddle boarding, boating, or swimming with your dog, you should seriously consider getting your dog a life jacket.
Using a life jacket to test out the waters (pun intended) can give you peace of mind and allow you to see how your dog likes the water.
Dogs get tired after exercise just like humans do. The last thing you want is for your pup to become exhausted in the middle of a pond or lake and struggle to get back to shore. A life jacket can help keep your dog safe in these instances and allow him to take any needed breaks.
If you're wondering, "can a dog wear a human life jacket?" the answer is no. They are not designed for dogs. Only humans should wear them. While dog floaties are fun, they don't provide nearly the protection your dog needs.
What To Look For In A Dog Life Jacket
Not all pet life jackets are the same. There are a few key things owners should look for.
A strong, durable handle. This is very important for any dog, especially small ones around large bodies of water and moving water like rivers.
Brightly colored life vests are more visible than darker colors or those made to blend in.
A leash attachment. This will help keep pets safe and gives another place to connect pups with a leash.
Proper body coverage is especially important for weak swimmers. Some jackets come with additional floatation pads or offer extra coverage for those pups that have trouble swimming or have short snouts and need more floatation.
Life jackets are not the same as life vests. Life jackets cover more of a dog's body, Life jackets cover more of a dog's body, and offer more buoyancy as well, as they are easier to see.
Our Personal Experience
I have taken my dogs, of differing sizes on and near water for many years. In my spare time I like to kayak, and spend a lot of time in rivers and lakes. I bring my dogs along, but must take precautions. I own both large and small dogs, and know that it is important to keep both safe while in the water. When I would take my small, 5 pound Chihuahua Cookie on the kayak, she always had a life jacket on. Because she was so small, it was always a priority to make sure she had a life vest with a handle, and one that was very bright. She was an excellent swimmer, but moving water can be tricky, and that handle comes in very handy. For my larger dogs who love the water, a vest works better.

I would also suggest allowing your dog some time practice in the jacket before going on the open water. Filling up the bathtub and letting them spash about, and get accustomed to the feeling of floating in the jacket is helpful, and can prevent some anxiety and fear when you are outside in nature.

– Danielle D. , Canine Journal
Best Dog Life Vests
Now that you know why you need a life jacket for your dog, here are our best dog life jackets to keep your pup safe while swimming.
Winner: Outward Hound Dog Life Jacket Review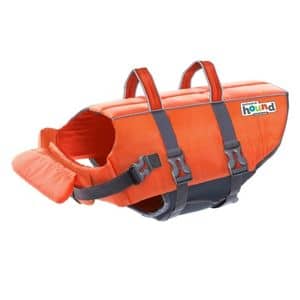 Outward Hound offers three different life jackets for dogs:
Granby: for all-around use
Dawson: for beginner swimmers
Standley: for experienced swimmers
With Outward Hound, you can pick the life jacket that fits your dog's skill level. One feature customers rave about is the two rescue handles, which make it easy to pick your dog up out of the water and put him in the canoe or whatever you're floating around on. The jackets for more advanced swimmers have added mobility and slightly less flotation assistance than the Granby jacket for beginners.
Since the Granby is a starter vest, it has a little extra padding in front. It comes in five sizes and fits most dogs using adjustable straps (we linked to medium jackets below). The color varies depending on which jacket you go with, but all are colorful, so you can easily see your dog in the water.
| Pros | Cons |
| --- | --- |
| 2 rescue handles | None found (but as with all life jackets, choose the correct flotation and style for your dog's swim experience level and make sure it's fit properly) |
| Reflective piping | |
| Fits nearly every size dog (XS to XL) | |
| Bright colors so you can spot your dog easily | |
| Easy to adjust to your dog's size | |
| Not bulky | |
| 30-day warranty | |
Pricing
Our Personal Experience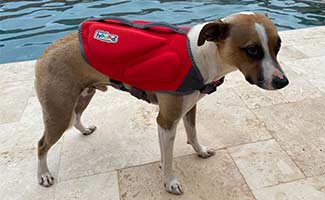 The material is very sturdy, and the two handles on top make it very easy to pick our dog up or save him if he is struggling in the water. The added buoyancy also makes it easier for him to swim.

– Michelle S., Canine Journal
Runner-Up: Vivaglory Dog Life Jacket Review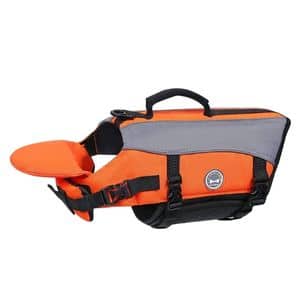 Vivaglory offers five different life jackets for dogs:
Ripstop With Extra Padding for Dogs (pictured)
Sports Style Ripstop Dog Life Jacket with Superior Buoyancy
Ripstop With Enhanced Buoyancy
Premium Neoprene Dog Life Jacket
Neoprene Sports Style Snug Jacket
There doesn't seem to be much of a difference between these life preservers that we can see other than the material (three are ripstop, and two are neoprene). The neoprene is softer and thinner, which might be more comfortable for dogs. The appearance and material are the apparent differences we notice, so it's up to you which style you like the look of best.
The most significant difference is the jacket with extra padding (pictured) comes with a removable front float for their chin to rest on that releases neck pressure while in the water. It comes in 10 colors and patterns, including camo.
| Pros | Cons |
| --- | --- |
| 1 rescue handle | Some complaints about them not keeping the dog upright |
| Reflective material | |
| Available in XS to XL | |
| Bright colors and patterns so you can spot your dog easily | |
| Claims to have up to 50% more flotation than the competition | |
| 90-day warranty | |
Pricing
Third Place: Paws Aboard Dog Life Jacket Vest Review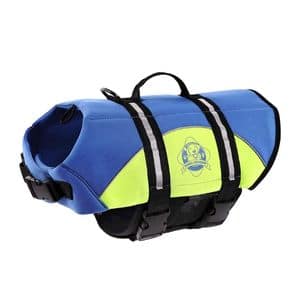 Paws Aboard also has three life jackets: 1 nylon vest and two made with Neoprene. The Paws Aboard is similar to the other two in our top picks. The only major difference is this vest doesn't come with a warranty. However, one unique feature of the Paws Aboard jackets is that most styles come with a spot to write your dog's name and phone number on the jacket as an extra safety measure (in case they get lost).
| Pros | Cons |
| --- | --- |
| 1 rescue handle | Complaints about quality and durability |
| Reflective strips | No warranty |
| Available in XXS to XL | |
| Bright colors and patterns so you can spot your dog easily | |
Pricing
Nylon Vest (Medium): $31.99
Neoprene Doggy Life Jacket With Nylon Strap (Extra Small): $28.99
Neoprene Doggy Red Life Jacket (Extra Small): $28.99
What Are My Other Options?
Queenmore Dog Shark Life Jacket Review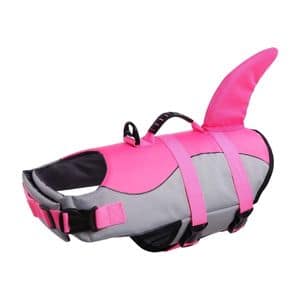 The Queenmore dog life jacket is made from ripstop and comes in six sizes. What's unique about this vest is the shark fin on top (or mermaid tail). Not only is it a cute feature for fun, but it also helps you identify your dog (similar to a shark). The shark fin comes in three colors (pink, green, or grey), and there's a pink fish scale mermaid option. The only downside is it claims to have reflective accents, but it's not as prominent as the other top jackets we review, which have actual reflective strips.
| Pros | Cons |
| --- | --- |
| 1 rubber rescue handle | Complaints about quality and durability |
| Available in XS to XXL | No reflective strips |
| Bright colors and shark fin feature so you can spot your dog easily | |
| Money-back guarantee | |
Pricing
How To Find The Correct Size Life Jacket For Your Dog (Video)
The most important thing when buying a life preserver for your dog is to make sure you get the appropriate size. A life jacket that's too big or too small won't save your dog and could be more of a hazard than helpful. How to measure a dog for a life vest?
The video below shows how to size your dog for an Outward Hound jacket. Be sure to research how to size your dog for other life jackets on the market since these instructions are specific to this company.
Caution: For Dogs Who Swim In Lakes, Streams, Or Ponds
Every year, particularly in summer, reports indicate that dogs across the U.S. are suddenly dying after swimming in or coming in contact with natural bodies of water (i.e., lakes, streams, ponds) that contain blue algae. According to the North Carolina Department of Health and Human Services, toxic algae blooms are more likely to infest freshwater when the water is warmer and more stagnant.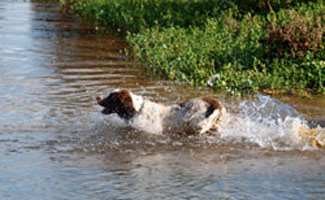 Algae can leave a greenish film on the surface of the water, but if the blooms are beneath the surface, it's not as easy to detect. As a precaution, we recommend checking with your local government or environmental protection group to see if there are any advisories. In general, it's best to avoid water that appears to be murky or has a foul odor. Blue algae is known to be potentially fatal for dogs, with tragic results in as few as 15 minutes.
Protect Your Pup While Having Fun Outdoors
We all love bringing our dogs with us on our outdoor adventures, but sometimes they can bring unwanted critters home with them. Make sure you're helping your dog keep fleas and ticks at bay by using the best flea and tick preventative. Dogs might also try to drink lake or pond water, but it could be contaminated with bacteria and cause Leptospirosis, so we recommend keeping dogs hydrated with a doggy water bottle while on the go.
Tagged With: Clothing, Comparison