| | |
| --- | --- |
| 1st | |
| 2nd | |
| 3rd | |
| Honorable Mention | |
Pregnant, elderly or suffer from back pain? Have a dog that can't or won't jump into the car? Thanks to dog ramps, pups have an easy way to enter and exit vehicles safely without injuring themselves or their owners.
Article Overview
How To Pick A Dog Ramp For SUVs
Here are some things we think you should know about car ramps for dogs.
Safety First – Remember that a ramp for your dog is not only to ensure their safety into your SUV but also keep you safe. Many owners pick their dogs up and end up injuring themselves because the dog is too heavy or the dog started wailing in the owner's arms.
Measurements Matter – Measure your vehicle's access point ahead of time, so you get the proper size. Depending on the ramp you are looking at and your vehicle, the access point may be the top of the bumper, the floor of the trunk or the floor of the backseat. Measure the height of the access point and use a tape measure to estimate a comfortable angle you think your dog can handle. Look for a ramp with those specifications. Don't push the abilities of a ramp beyond its limits. Dogs need a comfortable incline that is sturdy for their weight.
Gripping Surface – Make sure the ramp has a walking surface that your dog can grip. You may be able to add your own material to a ramp if you purchase one that doesn't have proper material for your dog.
Ramp Weight – Keep the weight of the ramp in mind. It's ideal to have something lightweight that's manageable for you to lift, but you don't want to sacrifice quality, sturdiness or durability. Know what you're capable of lifting and find a happy medium.
Watch Your Fingers – Some of these pet ramps have some weight to them, and we'd hate for you to get your finger caught or broken so please be careful when using these.
Comparison Table
| | 1st: Solvit PetSafe Happy Ride | 2nd: Pet Gear | 3rd: PetStep | Honorable Mention: Gen7Pets |
| --- | --- | --- | --- | --- |
| Price | $59.95 | $51.98 | $124.09 | $112.99 |
| Maximum Weight Capacity | 150 Pounds | 200 Pounds | 500 Pounds | 250 Pounds |
| Maximum Height | 24" | 32" | 32" | 32" |
| Dimensions | 62″L x 16″W x 4″H | 71″L x 19.5″W x 4″H | 70″L x 17″W x 2.5″H | 72″L x 16″W x 1.5″H |
| Ramp Weight | 10 Pounds | 25 Pounds | 18.5 Pounds | 17 Pounds |
| Warranty | Limited Lifetime | Unconditional Lifetime | 5 Years | Not Listed |
| Fold Design | Bi-fold | Tri-fold | Bi-fold | Bi-fold |
Best Dog Ramp For Cars & SUVs
We chose the best dog ramps based on technical specifications, price, customer reviews and performance. Below are our winners. We also put together a helpful summary of our best complimentary product recommendations for your reduced-mobility dog.
Solvit PetSafe Happy Ride Review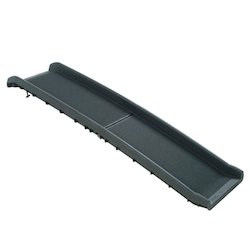 #1
The Solvit PetSafe Happy Ride foldable pet ramp can reach up to 24 inches high and is made of plastic. It has four rubber feet to provide a sturdy support for the ramp. The sandpaper-like walking surface gives this runway excellent traction. Some buyers complain that this ramp is flimsy or doesn't have enough traction.
However, we recommend making sure you only use this up to 24 inches high. It will be safer for your pet, and you'll notice it is easier for them to use.
Pros

Cons

Supports 150 pounds
Can reach up to 24″ high
Bi-fold design
Made in USA
Easy to clean
Lightweight
Pricing & Tech Specs
Dimensions: 62″L x 16″W x 4″H
Weight: 10 pounds
Warranty: Limited lifetime
Pet Gear Review
#2
Our #2 pick for best dog ramp for cars is this Pet Gear amp. It has a tri-fold design and folds up easily and fast. It folds into a small, manageable size that can easily fit in your vehicle.
The tread on the ramp is skid-resistant whether it's wet or dry and it's removable for cleaning. The bottom of the ramp has rubber grippers to help keep it in place. So, what's the downside? This ramp tends to be slightly more expensive and heavier than our #1 pick.
Pros

Cons

Supports up to 200 pounds
Can reach around 32″ high
Tri-fold design
Sturdy

Complaints of the ramp being heavy
Pricing & Tech Specs
Dimensions: 71″L x 19.5″W x 4″H
Weight: 25 pounds
Warranty: Unconditional lifetime
PetStep Review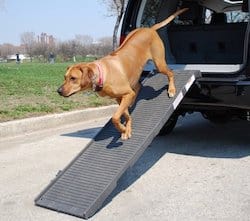 #3
Rounding out our top three is this PetStep folding pet ramp. It has a bi-fold design and can hold up to 500 pounds, which is the highest in our top three. In addition, the walking surface is made of a non-slip rubber material and works well, whether it's wet or dry.
It has cut out handles to help you carry the ramp and has heavy-duty rubber grips on the bottom to hold the ramp in place. If the ramp gets dirty, it's easy to wash with soap and water. The main reasons it's not higher in our rankings is because it's more expensive than our top picks and many customers complained of it being heavy and difficult to maneuver.
Pros

Cons

Supports up to 500 pounds
Can reach around 32″ high
Bi-fold design
Made in the USA
Easy to clean

Expensive
Not as compact as our #2 pick
Complaints of it being heavy
Pricing & Tech Specs
Dimensions: 70″L x 17″W x 2.5″H
Weight: 18.5 pounds
Warranty: 5 years
Honorable Mention: Gen7Pets Review
View on Amazon
The Gen7Pets didn't make our top three, but it's still a great dog car ramp. It works for dogs up to 250 pounds and locks closed when you fold it up so it's easier to put away (since it won't come unfolded). Customers state it is sturdy and has good traction for dogs.
One unique feature is that it has a safety strap that clips to a recessed bar to help hold the ramp in place. Overall this is a solid ramp, but we feel there are others that are better.
Pros

Cons

Supports up to 250 pounds
Can reach about 32″ high
Bi-fold design

Fewer reviews than our top picks
Pricing & Tech Specs
Dimensions: 72″L x 16″W x 1.5″H
Weight: 17 pounds
Warranty: Not listed
Additional Road Trip Tools To Aid Your Traveling Pup
If your dog uses a ramp to get in and out of the car, then they likely spend a fair amount of time riding in the car. For that reason, we put together a quick list of some of our top recommendations of similar products that road-tripping pups and their owners can benefit from.
A cargo liner can help protect your vehicle from muddy paws and excessive dog hair from shedding.
If you are sick of Fido ending up in your lap rather than staying safely in the cargo space of your vehicle, you might want to add an easy to install dog barrier.
If your dog's mobility is limited from injury, arthritis or old age, a dog sling might be a nice solution to add stability and reduce pain. Some find that their dog enjoys a more comfortable walk thanks to this product.
A Vehicle Dedicated To Dogs
If you want to rig your vehicle out for your dog, you may find the Nissan X-Trail interesting. It's got everything you may need for your dog. Check out the short video below.
More Tips
Read more tips for traveling with dogs, including taking safety a step further with a dog seatbelt. You may also be interested in dog seat covers for cars.
What's do you feel is the most important factor when choosing a dog ramp for car, truck or SUV?