Does your dog like to explore the vehicle while driving down the road? Your pup probably starts in the back seat, then meanders to the front seat with you (making sure to whack you in the face with his tail), then wanders to the back and continues this pattern until you reach your destination. Even though it's nice to have your pet play co-pilot, it isn't safe for either of you.
We know your dog doesn't mean any harm and that he's just so excited to be on the road with you. However, this constant movement can be dangerous for you, your pup, and other drivers on the road because you could get distracted. A car pet barrier could be the solution you've been looking for to help keep everyone safe.
At A Glance: Best Dog Car Barrier For…
| Front Seats | Sedans & Midsize Cars | Best Pet Barrier For SUV | Trucks | Trunks & Cargo Area |
| --- | --- | --- | --- | --- |
| | Jumbl Pet | | | |
| | | | | |
| | | | | |
Why Do I Need A Car Pet Barrier?
Dogs are curious and want to be in the middle of the action. A car pet barrier or dog net for cars puts a divider between you and your pup to keep you both safe. Here are some of the reasons you might need a dog gate for your car:
Keep your pup from entering the front seat of the vehicle
Reduce distracted driving
Increase safety for your dog
Keep your car cleaner by limiting dog-friendly areas of your vehicle
Dog Travel Safety Statistics
To reiterate how important it is to restrain your dog in the vehicle so you can safely get to your destination, we found these statistics on traveling with dogs.
Nearly 65% of dog owners admit to driving distracted at least once while driving with their dog. Of those, 23% use their hands or arms to restrict their dog's movement or hold the dog in place, and 19% use their hands or arms to keep their pup from climbing from the back seat to the front seat.
That's a lot of distracted drivers and a lot of owners trying to hold their dogs back.
Best Dog Barrier For Cars (By Type)
Now that you know the importance of why you need a dog car barrier, here are our top picks for the best options for each type of car and the pros and cons of each in these categories:
Best For Front Seats: High Road Dog Barrier Gate Review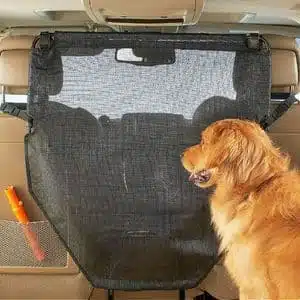 The High Road pet barrier is our top pick for the best car divider for dogs between the front seats. What's nice about this is doesn't go across the entire vehicle or potentially obstruct your view in any way.
Keep in mind that the mesh material doesn't hold back dogs as well as other barriers. If your dog is generally well-behaved, this may be a nice option for you. However, dogs who are more rambunctious and don't mind pushing through things may move this barrier around some. The coverage area is 32.5″W x 37″H.
| Pros | Cons |
| --- | --- |
| Strong metal frame | Mesh material isn't the best at holding dogs back |
| Connects to the headrests | Not adjustable |
| Covers the center console area in the front seat well | Complaints of instructions being unclear or none at all |
| 90-day warranty | |
Pricing
Best For Sedans & Mid-Sized Cars: Jumbl Pet Dog Barrier Review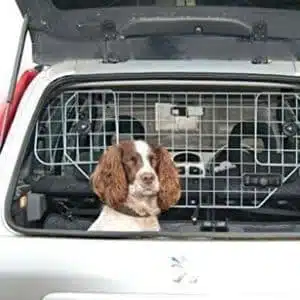 If you're looking for a sturdy dog gate for your car, the Jumbl Pet dog barrier is our number one choice. This barrier is all metal and can adjust to go across the back of the seats in your sedan or mid-sized car. Assembly is tool-free and simple. However, some customers complain that installation can be difficult and some of the mounting hardware is flimsy.
The coverage area is 35.5″ W x 16.5″ H, and the adjustable side panels are 12″ W x 10.5″ H. This barrier is slightly smaller than some others that we review and won't work well if used in a larger vehicle than a mid-sized car or sedan.
| Pros | Cons |
| --- | --- |
| Adjustable | Only big enough for a mid-sized sedan |
| No tools needed for assembly | Some users say the mounting hooks are flimsy |
| Sturdy metal frame and mesh | Some complaints about difficult installation |
| Lifetime warranty | |
Pricing
Best For SUVs: MidWest Pet Barrier Wire Mesh Car Barrier Review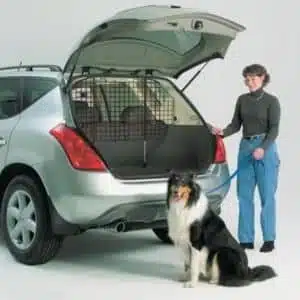 The MidWest car dog barrier is made of wire mesh and fits most SUVs, vans, and hatchbacks. However, we think this one is the top choice for the best SUV dog barrier. What makes this an ideal pet barrier for an SUV? This barrier is adjustable and is made of strong metal mesh. The coverage area is 27.88″ W x 23.5″ H at a minimum, but it can expand to 70″ W and 50″ H.
The downside is that some people have spent close to an hour installing this barrier, so it's not as easy to install as the other barriers in this article. Some customers have also used zip ties to secure the barrier and pipe insulation to protect the vehicle's interior.
| Pros | Cons |
| --- | --- |
| Adjustable | Installation takes longer for some |
| Covers a large area | Rattles |
| Made of strong metal mesh | Some customers have used zip ties, pipe insulation, or other materials to help secure the barrier |
| 1-year warranty | |
Pricing
Best For Trucks: Bushwacker Deluxe Dog Barrier Review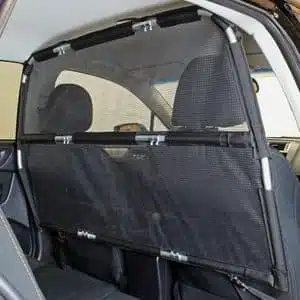 This Bushwacker car dog barrier has metal tubing around it to maintain its barrier shape. The tubing connects to a scratch and tear-resistant pet screen.
The barrier attaches to the front seat headrest and either the car seat frame or seat belt mount. Its coverage area is 56″ W x 23″ H, and is best for trucks and large SUVs. To determine your car's width, measure the interior of your car just below the headrests. As long as the width is greater than 56 inches, this barrier will work. However, there is also a 50-inch model available if this is too big.
It's important to note that this product goes between the front and back seats only, and it may block airflow depending on where your vents are.
| Pros | Cons |
| --- | --- |
| Driver's and passenger's seat don't need to be aligned perfectly | Not adjustable |
| Sturdy | Made to go between the front and back seats only |
| Easy to install | Blocks air vent flow in the vehicle |
| Connects to the headrests | Doesn't fit all vehicles; be sure to measure beforehand |
| 1-year warranty | |
Pricing
Best For Trunks & Cargo Areas: Rabbitgoo Dog Car Barrier Review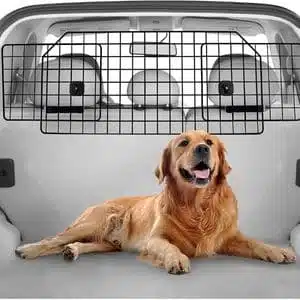 When your dogs ride in the back of your hatchback or SUV, a barrier that works best for trunks and cargo areas, like the Rabbitgoo Dog Car Barrier, is an excellent choice.
This adjustable car pet barrier is sturdy and easy to install. One unique feature is an upgraded knob design made to increase security. The coverage area is 35.8" W x 15.9" H, and adjustable side panels are 16.5" W x 11.8" H with a full extension equal to 61.4″.
The biggest complaint from customers is that the straps may be too short, and some animals can get around it because it isn't tall enough to block them.
| Pros | Cons |
| --- | --- |
| Adjustable | Straps may be too short |
| Sturdy metal design | Not tall enough for some dogs |
| Easy toolless installation | |
| 3-month warranty | |
Pricing
Dogs & Distracted Driving (Video)
This two-minute video from KGUN9 in Tucson, AZ, talks about the danger for pets and people when dogs cause a distraction in the car.
Safe Travels With Your Pup
Wondering how to secure your dog in the cargo area of your SUV or how to keep your dog in the backseat of your car safely? You can choose one of the barriers in this article or consider other restraints like seatbelts. And if you let your dog ride in the passenger seat, you might want to consider car seat covers to keep them clean from hair and mud. You can even keep them safe on a bike. As long as you're staying safe and your dog is not distracting you, that is all that matters. We also recommend you read our tips for your dog when traveling in a vehicle before you hit the road.
Tagged With: Cars, Comparison