If you want to take your dog on as many outings as possible, biking is an excellent way to enjoy an exhilarating adventure with your pup. But is biking with your furry friend safe and easy? Most certainly — with the ideal gear. We found a surprising number of dog carriers for bikes on the market, and some are much safer and easier to use than others. See which products we've uncovered from our thorough research to help you find your best options.
At A Glance: Our Top Picks
Best Dog Carrier For Bikes
We chose our top picks for the best bike dog carrier based on several factors, including safety, ease of use, comfort for your pup, customer feedback, pricing, and more. And we broke them down into specific categories to help you decide what's best for your biking needs.
Best Dog Basket For Bikes: BABEYER Dog Bike Basket Review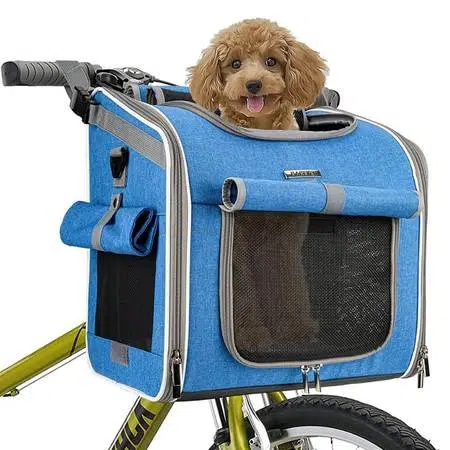 This BABEYER dog bike basket is a multi-functional product that's easy to install, fits securely on your bike's handlebars, and has many fantastic features that make it an excellent value. And it comes in two sizes to fit dogs 6-18 pounds. Your dog can stay safe and comfortable with the inner tether that clips to her collar or harness, four ventilation mesh windows for ideal airflow, and an inner pad that's fleece on one side and suede on the other. It also has reflective strips and covers to shield your pup from rain.
With four different openings, it's easy to place your pup inside however you choose. And you can store treats, poop bags, and other necessities in the zippered side pouch. Another huge plus, you can also use this product as a car booster seat, dog backpack, or pet shoulder bag. It gets overall fantastic customer reviews.
| Pros | Cons |
| --- | --- |
| Adjustable safety tether | Requires at least 13″ to fit above the wheel, so it doesn't work with some bikes |
| Easy to install and remove | Storage pouch is fairly small |
| Spacious for dogs 6-18 pounds | |
| Excellent ventilation | |
| Also useful as a pet backpack, shoulder bag, and car seat | |
| Has an exandable side | |
| Folds up for easy storage | |
Price
Best Rear-Mounted Dog Carrier For Bikes: Snoozer Lookout Dog Rear Rider Review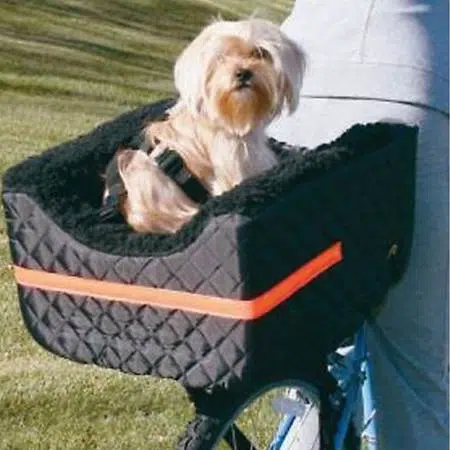 If you'd prefer your dog to ride behind you or have a slightly larger dog (up to 24 pounds), this Snoozer rear-mounted dog bike carrier could be your best solution. It fits on top of a standard rear bike rack (not included), and the multiple buckles attach easily and tightly to the bike frame.
This carrier has a foam-form plywood base to keep it sturdy and secure, and the quilted/fleece cover is removable, machine washable, and can even go in your dryer. The adjustable three-point safety strap keeps dogs safe from jumping out, and large reflective strips make biking with your pup at night safer.
| Pros | Cons |
| --- | --- |
| Adjustable 3-point safety strap | Safety strap may not adjust short enough for very small dogs who are prone to jumping out |
| Easy to install and remove | Pricey for a dog bike basket |
| Fits dogs up to 24 pounds | |
| Roomy and airy | |
| Cover is machine washable | |
Price
Best Large Dog Carrier For Bikes: Schwinn Rascal Bike Pet Trailer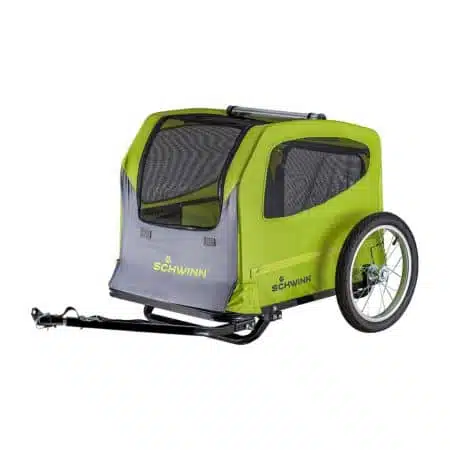 Don't leave your medium-sized or large furry friend out of all your biking adventures. This Schwinn Rascal Bike Pet Trailer holds dogs up to 100 pounds. It connects easily to almost any bike's rear wheel hub. Safety features include a non-slip surface inside, an adjustable leash to prevent leaping out of the trailer, and 20″ air-filled tires to ensure a smooth ride.
With plenty of mesh windows so, your dog will have more than enough ventilation and a great view. The front panel has a zippered weather and bug shield screen to protect them from the elements. The top is also zippered, giving you the option of protecting your dog from the sun or inclement weather exposure or letting your pup ride with the breeze in her face. It also has a folding frame for compact storage when not in use.
| Pros | Cons |
| --- | --- |
| Excellent for large dogs and those with joint problems (low-to-the-ground entrance) | On the pricey side for a dog trailer |
| Adjustable safety tether | Requires assembly |
| Easy to connect and disconnect from bike | More difficult to attach to bike than other options |
| Two sizes fit dogs up to 100 pounds | |
| Plenty of ventilation | |
| Solid waterproof floorboard with a removable cushion mat | |
| Folding frame for compact storage | |
Price
Best Dog Backpack For Biking: K9 Sport Sack Air 2 Review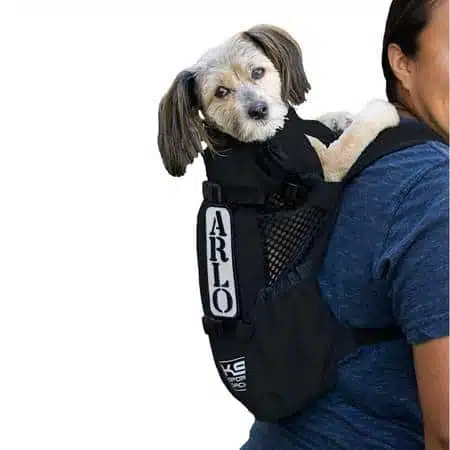 The combination of quality materials and comfort and safety features make the K9 Sport Sack Air 2 backpack a favorite among pet parents for hiking, bike rides, and other outdoor adventures. Your dog sits snugly on a thick rest pad surrounded by well-ventilated fabric, but her head and front paws are free from constraint. It has a built-in safety D-ring you hook to your dog's collar for added safety and two storage pockets for essentials.
The long, well-constructed zipper has a fur flap to keep your pup's hair from getting snagged. And a clip fits around your dog's body to keep her secure. It's also comfortable for bikers, with its compact design and padded, adjustable chest and shoulder straps. It comes in four sizes to accommodate dogs from four to 30 pounds.
| Pros | Cons |
| --- | --- |
| Sturdy, comfortable design for dogs and owners | On the pricey side |
| Built-in D ring for collar hookup | Doesn't have a waist strap |
| Good side ventilation | |
| 4 sizes for dogs 4-30 pounds | |
| Veterinarian-approved design | |
Price
What About Petsfit, PetSafe Happy Ride & RuffLyfe?
Although these front and rear-mounted bike carrier dog baskets didn't make our top picks, you may find one of these products a better fit for your pup.
Petsfit Dog Bike Basket Review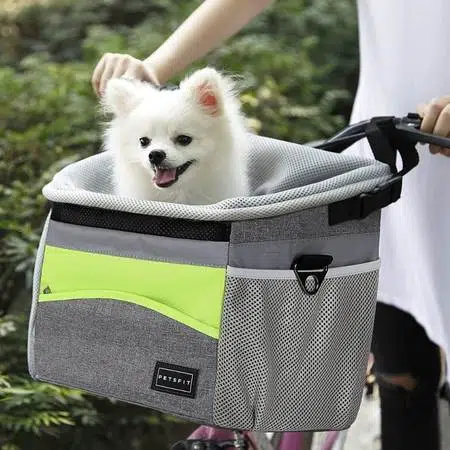 The Petsfit front bike basket could be a good option if your dog is on the smaller side (up to 10 pounds). With solid bottom and side panels and a built-in safety tether, your pup can stay secure and happy. The mesh top has a drawstring design, so you can just let your pet's head poke out. Some owners find this feature a safer option than an open-topped basket.
It also doesn't require as much room above the wheel to fit as the BABEYER dog bike basket; however, some customers complained that the basket isn't deep enough. You can also use it as a shoulder bag or a car seat.
| Pros | Cons |
| --- | --- |
| Adjustable safety tether | Only fits dogs up to 10 pounds |
| Easy to install and remove | Lacks side and front ventilation |
| Sturdy side and bottom panels | Some complaints that the safety tether broke |
| Drawstring top | |
| Also useful as a pet shoulder bag and car seat | |
Price
PetSafe Happy Ride Wicker Basket Review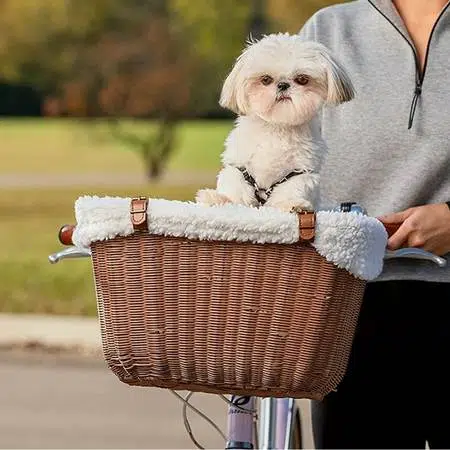 Are you looking for a classic and stylish dog bike basket? The traditional look of this wicker doggie bike carrier could be a perfect fit. The wicker basket is weather-resistant and sturdy and can hold dogs up to 13 pounds. The soft faux sheepskin liner is super comfy for dogs, and it's machine washable. It also has a safety tether clip, and customers say the basket is sturdy when attached to the handlebars and bike frame.
| Pros | Cons |
| --- | --- |
| Classicly stylish design | Only fits dogs under 13 pounds |
| Safety tether strap | A few complaints that the straps that secure it to the bike frame broke after a few uses |
| Easy to install | |
| Weather-resistant resin wicker | |
| Machine-washable liner | |
| Removable sunshade | |
Price
RuffLyfe CrateMate Review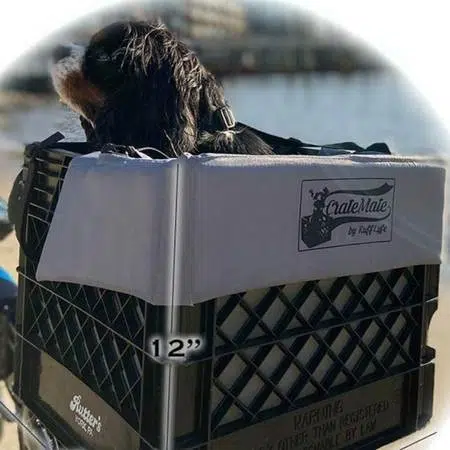 This innovative kit is amazingly cool. In just a few easy steps, you can transform an ordinary 16 or 24-quart milk crate (not included) into a fully functional rear or front-mounted dog carrier on your bike rack (also not included). And it supports dogs up to 45 pounds; however, dogs over 20 pounds should be rear-mounted. This DIY kit includes 20 heavy-duty fasteners to secure the crate to your bike's frame, a four-point safety harness, and a water-resistant seat and side cushion. Customers say that installation was simple, with no tools needed.
| Pros | Cons |
| --- | --- |
| 4-point safety harness | Not intended for dogs under 15 pounds |
| Easy installation with no tools required | A bit pricey for what you get in the kit |
| Fits dogs up to 45 pounds | |
| Airy and roomy | |
| 100% satisfaction guarantee | |
Price
Personal Experience With Dog Bike Trailers
"I have used a rear attaching bike trailer for my dogs similar to the PetSafe Happy Ride Trailer. Mine was originally a trailer for me to tow my kids around in. While they loved it, the dogs also took a liking to it. This was a great fit for my senior Chihuahua Cookie, who often grew tired and could not walk long distances. We would load the trailer up with a soft blanket, and water bowl, and go off for a great adventure. This trailer was also helpful when my larger dog, Bear, injured his paw by stepping on a cactus. He was heavy, about 85 pounds, and I was able to transport him home safely without any trouble in the trailer.

Using a trailer allowed me to cover longer distances, and because it was attached to my bike, it was less strain on my back when walking my bigger dogs. I would definitely recommend using one for any dog owner that has back trouble or wants to go on longer adventures with a dog than has mobility issues."

Danielle DeGroot, Poodle Mix Parent, And Pet Care Expert
Safety Tips To Bike With Your Dog
Whenever you carry a dog on a bike, you should follow some basic safety measures, even if you think the doggie bike carrier you have is safe and secure. First, keep in mind that biking isn't ideal for every dog. Anxious or highly active dogs may not do well on bike rides. All dogs are at risk of injuries on a bike ride gone wrong.
The safest and best way to carry a small dog on a bike is by using a basket with a safety clip. Although a backpack is another method, having your dog attached to your back can make some bike riders unstable, so make sure you're confident with your ability to control your bike. Other tips:
Keeping Your Pup Safe On Outings
If you enjoy taking your dog on all your adventures, ensure you have a safe car space for your pup. Our reviews of the best dog seat belts, car seats, and vehicle harnesses can help you narrow down the safest options for your needs. And if you take your pup on outdoor outings, check out our ultimate guide on hiking, camping, or backpacking with your dog.
Tagged With: Comparison