I've driven by many vehicles where I've seen a dog sitting on the driver's lap, obstructing their view. And while it's adorable to see the dog enjoying the ride with their head out the window, it's quite dangerous. A dog seat belt, harness, or car seat can help.
When we adopted our dog, we made sure to get her a seat belt to keep her safe. We knew she'd be going everywhere with us and wanted to make sure she was safe in the vehicle, so we purchased a dog car restraint. We feel much safer knowing our Sally has a seat belt and is safe if we get in an accident. Hopefully, our dog car harness reviews can help you find the right pick for your pet. Learn more in our dog seat belt for cars reviews.
| Dog Car Harness | Dog Seat Belt | Dog Car Seat | Car Seat + Carrier Combo |
| --- | --- | --- | --- |
| | | | |
| PetSafe Deluxe | Vastar | Snoozer Lookout | Funny Fuzzy |
| | | | Visit Website |
| | | | Read Review |
Best Dog Car Harness: PetSafe Happy Ride Deluxe Review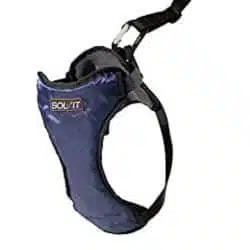 If your dog stays in the backseat but flops around when stopping and starting, a car harness for dogs can create a safer, more comfortable ride for your pup. Our top pick for the best dog seat belt harness is from PetSafe.
To use the PetSafe Deluxe Car Safety Harness, put the harness on your dog, then attach the strap to the cross strap of the car seat belt. Make sure the seat belt clicks into the buckle.
The other end of the strap has a spring-loaded D-ring closure, which goes through the nylon straps on the top of the vest. After your dog is safely in position, they can stand, sit, lay, or peak their head up front for a quick petting from you.
| Pros | Cons |
| --- | --- |
| Crash test certified | Some people struggle with fitting it to their dog |
| Lifetime warranty | Only comes in one color |
| High quality for the low price | |
| Dogs can stand, sit, lay | |
| Easy to use | |
Pricing
Best Seat Belt For Dogs: Vastar Dog Seat Belt Harness Review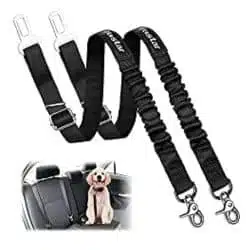 Our best dog seat belt pick has a clip that latches directly into your car seat belt buckle. The clip is 2 cm wide, so you'll want to make sure it is compatible with your car's buckles. It's adjustable from 21 to 36 inches so that it can accommodate small and large dogs. And the latest version has an elastic nylon bungee to help buffer the shock if you were to stop suddenly.
This dog seat belt allows your dog to sit, stand, or lay down. The best part is that it's a two-pack of seat belts for dogs for one. So, if you have two dogs, this is great, or if you're like my family and have two vehicles, it's nice to have one in each car. It's super easy to use, buckle the pet's seat belt into the car buckle and clip the other end to your pet's harness or collar.
Our First Hand Experience
"Our family has similar style seatbelts that we use for our dog, Sally. We have them attached to harnesses because, to us, it feels like it's safer than having it attached to her collar. The seatbelts help keep her in the backseat so she can ride comfortably, and we don't have to worry about her getting up in our faces while driving with her."

– Kimberly A., Canine Journal
| Pros | Cons |
| --- | --- |
| 18-month warranty | It might not fit in all car types |
| Dogs can stand, sit, lay | |
| Promises to get back to you within 24 hours if you have any questions | |
| Sturdy, durable | |
| Great customer service | |
Pricing
Best Car Seat For Dogs: Snoozer Lookout Review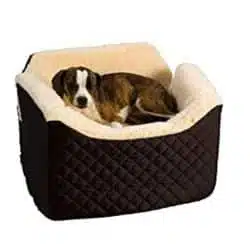 If you have a smaller dog, a car seat may be a good idea, so your dog can see out the window. Being able to see out the window also helps reduce car sickness. Your dog will be very comfortable in this car seat. It has a foam form and simulated lamb's wool interior, which stays cool in the summer and keeps your dog warm during the winter.
The quilted nylon cover repels hair and is washable and dryable. There are multiple fabric color options for you to choose from, so your dog will ride in style.
| Pros | Cons |
| --- | --- |
| Different color options | A little expensive |
| Comfortable during the winter and summer | |
| Washable/dryable | |
| Cover repels hair | |
Pricing
Best Car Seat + Carrier Combo: Funny Fuzzy Leather Fort
If you are looking for a convenient and luxurious way to carry your canine and transport them in your car, this leather fort from Funny Fuzzy could be a good solution. It buckles into your car's seatbelt, but when you arrive at the destination, simply fold up and use the handles to turn the seat into a carrier. It has a fold-down flap so your dog can see when laying down or keep it snapped up so they stay snug and safe.
| Pros | Cons |
| --- | --- |
| Made of tear-resistant, durable PU leather | For smaller dogs only |
| 2 in 1 functionality (carrier and car seat) | Not machine washable |
| Easy to clean fabric | |
| 14 day free returns | |
Pricing
Our First Hand Experience with Funny Fuzzy Leather Fort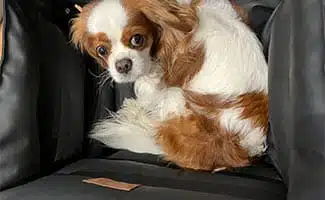 "We got the opportunity to try the Funny Fuzzy leather fort in exchange for an honest review. The leather is high-quality, durable, and soft, plus easy to clean since the fur doesn't stick to the material. It has a flap that folds down in the front, and it has three straps that secure the seat into place and double as a carrying handle. We put it together, and our dog immediately curled up into the seat and didn't want to get out. This will make car rides so much more enjoyable for both Georgie and us knowing he's safe and secure (and comfortable)."

– Sadie C., Canine Journal
Frequently Asked Questions
Here are some frequently asked questions we get when traveling with pets in cars.
Do Dogs Need Seat Belts?
If an accident occurs and your dog is not buckled up, the dog could be seriously injured or worse, not to mention the people involved. It's a good idea to have your dog secured just like you buckle up yourself and your kiddos when in the car.
Do Dogs Have To Wear Harness In Car?
Car restraint laws vary by state. At the time of publishing, only six states have restrictions for dogs being buckled up (Connecticut, Maine, Massachusetts, Minnesota, New Hampshire, and Rhode Island). If you live (or pass through) one of these places with your pup, you might want to check what's legal. Several states proposed legislation for dog transportation laws. And while all other states might not have laws, they could encourage or not allow dogs to be unsecured in the flatbed of pickup trucks.
How Does A Dog Car Harness Work?
Are you wondering how do dog seat belts work? Car harnesses and seatbelts work like seat belts for humans in that they help keep dogs from being injured in the event of an accident. Like children and babies, dogs cannot secure themselves properly and are more prone to sliding around in the seat at sudden stops.
How To Use A Dog Seat Belt?
It depends on what product you use. Some dog seatbelts snap into your car's seat belt directly, while others secure around the existing seatbelt that snaps into the buckle.
How To Fit A Dog Car Harness?
You fit a car harness according to the recommendations for the specific type you get. In general, it should be tight across their body, so they don't slip out, but not so tight that it's uncomfortable.
Do Dog Car Seats Help With Car Sickness?
Being able to see out the window can reduce the chances of your dog having motion sickness. Check out our article dedicated to dealing with dogs with car sickness.
Are Dog Car Harnesses Safe?
Any type of harness in a car is safer than a dog that is unrestrained. Ensure you read the instructions and properly use your dog harness for maximum safety.
Does Your Dog Get Anxious In The Car?
Doggy Dan, the dog trainer, has some tips for calming your dog down if they get anxious in the car.
Tips For Traveling With Dogs
Having some type of dog seat belt or restraint for your dog in the car can save their life. Dog barriers may be another option you'd like to consider using in your vehicle. There are other things you should consider when traveling with your dog too. It's essential to know your dog and provide what they need for safety and comfort both in a car (check out our dog car seat cover reviews) or in a bike. Read our article about traveling with dogs in vehicles so you've thought of everything before your trip. If your dog has difficulties getting into the vehicle, look into dog car ramps.
Tagged With: Cars, Comparison