Are you having trouble finding the perfect harness for your Dachshund? Barrel-shaped dogs are some of the trickiest to fit. Due to their sausage physique, they're masters at escaping the harness. Luckily for you, you've come to the right place. We review five of the best Dachshund harnesses that suit their unique bodies perfectly and provide some key tips on what to look for.
Best Harnesses For Dachshunds
To find the best Dachshund harnesses, we compared quality, features, and user reviews, ensuring that all our recommendations are up to par. So let's dive into it.
Winner: Chai's Choice 3M Reflective Dog Harness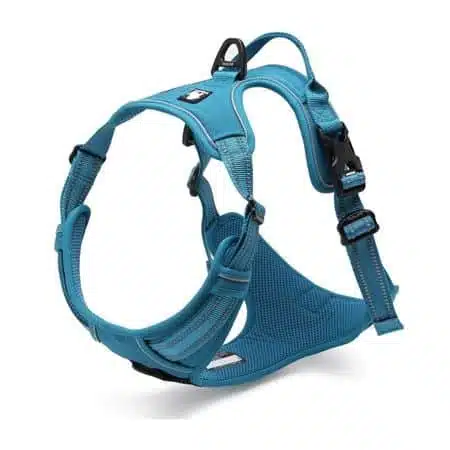 One of the best Dachshund harnesses is the Chai's Choice 3M reflective dog harness. Our top pick for a sausage-shaped pup who likes to march and wiggle. You can adapt the fit in several places, creating a custom size for your pup. Additionally, this is a dual-clip harness, but it's fantastic for pullers. It features a fully padded chest piece designed to disperse the pressure from the neck around the chest and shoulders instead.
The front padding consists of lightweight, breathable mesh, making it comfy for various weather. This also prevents the straps from digging into your dog's skin when they pull. You can use this to increase your control, but it also works like a seat belt strap. The interwoven reflective pipeline is another great feature if you enjoy early or late walks. It enables cars and cyclists to spot your dog from a distance, regardless of the time of day. Lastly, it's available in nine colors, so there's a look for every owner and pup.
Pros
Cons

Clips and top handle
Reflective materials
Can adjust the straps
Seat belt strap
Versatile
Comes in 9 colors

Some reviews of it being too elastic and not holding up over time
Pricing
Runner Up: RUFFWEAR Web Master Dog Harness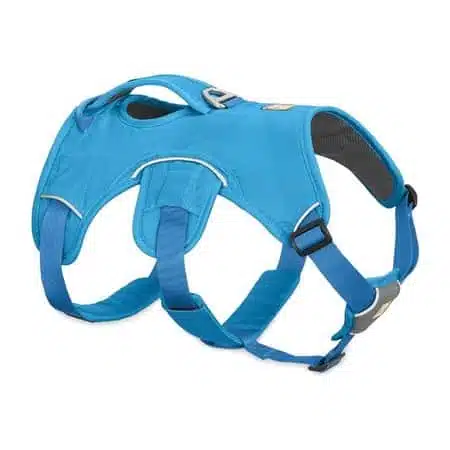 If you're an active soul and like having your Dachshund with you, we recommend the Ruffwear Web-Master harness. Ruffwear's super-secure, anatomically designed harness is suitable for adventures and leisure walks. The sturdy reinforced handle sitting on the top to help your dog over obstacles and into cars is a notable feature—an excellent feature for older pups. The harness allows for adjustments in five spots, enabling you to fine-tune the fit.
We also appreciate the durability. It consists of sturdy material, an anodized aluminum V-ring for the leash, and a reflective trim, enabling people to see your dog after dark. Additionally, all straps are padded, enhancing comfort without restricting those short little legs. The harness may be too bulky for a very small dog, which could be a problem for some Dachshunds. For active owners, the Ruffwear Web-Master is an excellent choice.
Pros
Cons

Five adjustment points.
Durable materials and padded straps make it comfortable and long-lasting
Reflective trim
Suitable for quick assist lifts

Could be too bulky for small dogs
Pricing
Third Place: Voyager Step-In Air Dog Harness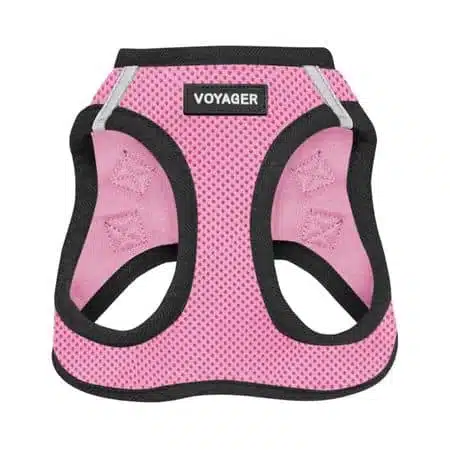 Rounding out our top three harnesses is the Voyager Step-in Air. This is a vest-style harness, excellent for sausage-shaped pups. The lightweight material consists of all-weather mesh, delivering a soft, breathable shell, perfect for everyday walks. It also has a triple security system with a hook and loop fastener, a buckle, and double metal D-rings. This provides complete protection—should one thing fail, you have two remaining reinforcements.
The Voyager step-in is an easy-to-use style. All you do is place your dog's legs in the openings, bring the harness up, and fasten it. The reflective bands on the side of the shoulders allow motorists to spot your pup in low-light conditions. However, it doesn't offer as much adjustability as our other top picks, so be sure to measure to get the size correct. If it's too loose or tight, it could rub and chafe the front legs.
Pros
Cons

You can choose between 20+ colorful options
Multiple colors to choose from
Lightweight, breathable materials
The step-in design is effortless to put on and take off
Triple security fastener prevents potential escapes

Isn't as adjustable as the other options, so a wrong fit could lead to chafing and discomfort
Might feel bulky on tiny dogs
Pricing
What About Gooby Or Ruffwear Doubleback?
Gooby Comfort X Step-In Harness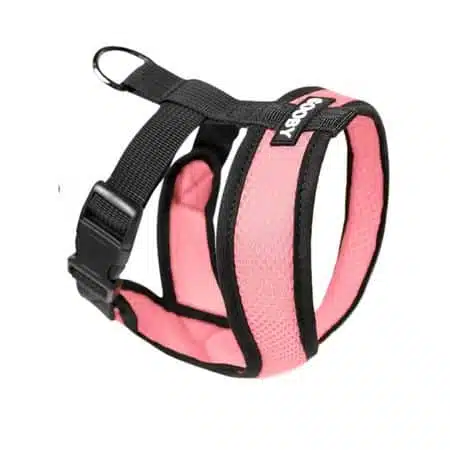 While not a top pick, one of our favorite Dachshund harnesses is the Gooby Comfort X. The unique choke-free design is produced specifically for small dogs. What makes this a choke-free harness is the patented X-frame design. It places the straps just below the sensitive neck, distributing the force across the shoulders and chest instead.
A unique feature is the step-in design. It's straightforward to put on, even if your pup is excited. Then, you can adjust it in four spots—two by the neck and two around the chest. A durable quick-release buckle sits at the top of the harness, keeping it in place. Then for your leash, you have double metal rings, ensuring complete security. However, it isn't escape-proof if you have a determined Houdini. Your dog might be able to back out of it.
Pros
Cons

Easy step-in, choke-free design
Quick-release buckle
Machine washable
Lightweight fabric
Durable D-ring

Smaller dogs might be able to escape out of it
Pricing
RUFFWEAR Doubleback Belay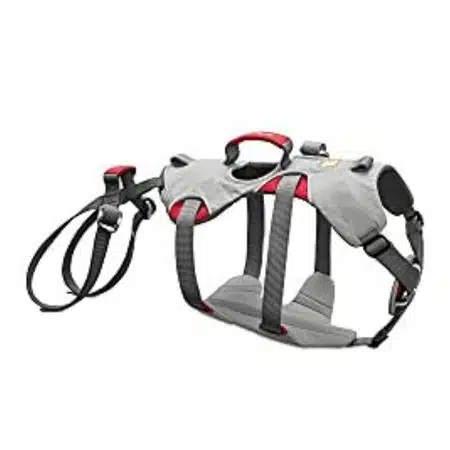 Suitable for active, adventure-seeking souls is the RUFFWEAR Doubleback Belay Harness. This option is cleverly designed to allow you to bring your pup with you no matter the trip. Featured on the harness are durable buckles made from anodized aluminum. The Doubleback Belay allows for easy rope attachments thanks to its tie-in point at the back. There are loops along the sides to increase your dog's stability—you can even attach a carabiner here.
It offers a reinforced lift-and-assist handle. Then under the belly is padded support and leg loops for even weight distribution—leg loops are removable. Although this harness is fantastic, it isn't suitable for everyday leisure walks. It's a bit bulky and perhaps too much for a stroll around the neighborhood. Another potential drawback is that it's tricky to adjust.
Pros
Cons

Anodized aluminum hardware
Reinforced handle
Removable leg loops
Carabiner attachments
Pricing
What Will Your Weiner Wear?
Dachshunds are fun little dogs. Because they were originally hunting dogs, they have a strong urge to chase small critters. To protect your pup, ensure that the harness you choose discourages pulling. Because of their long bodies and short stubby legs, they can easily slip out of harnesses. The best Dachshund harnesses should fit right and have adjustable buckles to fine-tune the size. See other possible options for your Dachshund in our review of the best harnesses for small dogs and our best overall dog harness article.
Tagged With: Collars, Comparison