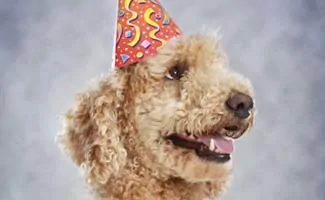 It is not uncommon for people to refer to their pets as their children. We see evidence of this in the market of pet-related products from fashionable clothing and high-end accessories to pet insurance and pet cemeteries. It is no wonder that people also want to include their pets in family celebrations complete with party favors and cakes.
Cakes For Dogs
It would be cruel to get a human cake for Fido's birthday party and either not let them partake or let them indulge and then suffer the inevitable belly ache (not to mention the messes…).
But dog owners now have viable options available to provide healthy and beautiful cakes (and ice cream) made especially for doggie bellies. You can either order a cake for your pup or, if feeling adventurous, you can even make one yourself.
Make Your Own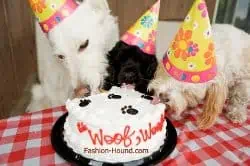 If you like to bake, you can have unlimited creative freedom in designing your dog's cake. You can also decorate it to fit any holiday or festivity. However, we strongly suggest that you don't give the whole cake to your dog at one time. Cut it into small pieces and share it with other dogs in the neighborhood.
Box Dog Cake Mixes
The more cost-effective and easiest method is to bake up a pre-made box dog cake. There are many to choose from but here are a few of our favorites.
You can even get fun, dog-themed cupcake molds to create treats for each dog who attends your pup's birthday party.
Double Layer Meat Cake Recipe
Ingredients
3 cups flour
1 tablespoon baking powder
½ cup softened margarine
6 eggs
½ cup vegetable oil
5 oz. chicken baby food
2 cups grated carrots
1 large container of plain yogurt
4 strips of bacon
Steps
Preheat oven to 325F.
Grease two round cake pans (8"). You may also want to flour the pans as well, though this is optional.
In a small bowl, combine the flour and baking powder and set aside.
In a medium bowl, beat the eggs until well blended.
In a large mixing bowl, beat the margarine; add the eggs and oil until all is well blended.
Add the chicken and carrots. Continue beating.
Slowly add the flour mixture until it is all well blended.
Pour half the batter into each of the baking pans.
Bake for approximately one hour. Test the doneness by sticking a toothpick into the center of the cakes and if it comes out clean, the cakes are ready to be taken out of the oven.
Let the cakes cool for at least 10 minutes before turning them out to cool completely on wire racks.
While the cakes are cooling, fry the bacon so that it is very crisp. Drain, cool, then chop into small pieces.
To ice and decorate the cake, place one layer on a serving plate and cover it with 1/3 of the yogurt. Place the second layer on top of that and cover it with the remaining yogurt. Be sure to ice the sides as well. Sprinkle the crumbled bacon over the top.
Serving size: 1 cake
Tip: You can place "candles" on the cake by using thin snack treat sticks.
Where To Buy Canine Celebration Cakes And Treats
If you don't feel like making your own dog cakes, here are some sites that are user-friendly, have attractive products with nutritional information and customer reviews.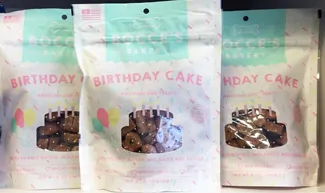 Birthday Cake Biscuits – If you want something that won't spoil as quickly and can treat your dog the entire month, consider these Birthday Cake Biscuits. Bocce's Bakery sent us these treats to try out in exchange for an unbiased review. They smell exactly like birthday cake, have few ingredients, and are wheat-free.
The Barkery Online – This site has all kinds of bakery items for dogs and they specialize in dog birthday cakes. With four main flavors and four shapes, you can specially design the cake to meet the needs of your special occasion. You can even get a photo of your dog put onto the cake's decorations for an additional five dollars.
Posh Pet Glamour Boutique – Although the Posh Pet Glamour Boutique specialized in designer clothes and accessories, they have a bakery section that has a really nice selection of cupcakes and cakes. This is a fun site to browse and get some great ideas for pampering your pup.
Bonne et Filou Macarons – If luxury is what you're searching for, try these handmade gourmet macarons. We were sent a sample in exchange for an unbiased review.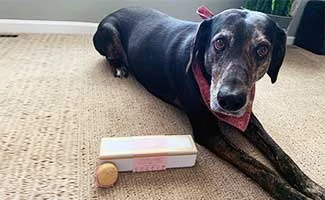 These macarons smell and look good enough for humans to eat. The treats are exquisite, from their packaging to their aroma. They have all-natural ingredients and are wheat and corn-free, so I felt totally comfortable giving them to my dog. My son loved giving our dog these after dinner, and my dog was a huge fan. These would make for a special treat for your dog's birthday, and they're available in multiple flavors. –

Kimberly A., Canine Journal
Dog Ice Cream
No party is complete without doggy ice cream. You can just add water using the doggy ice cream from Smart Scoops, or try making your own with this easy recipe. There's only three ingredients and it's relatively healthy (compared to ice cream for pup parents).
Ingredients
1 Quart of Fat-Free Greek Yogurt
2 Bananas
1 Cup of Natural Peanut Butter
Steps
Peel and slice bananas
Put all ingredients in blender and mix until smooth
Put in air-tight container and freeze
Serve by the scoop or let them lick out from the container
Tagged With: Recipes