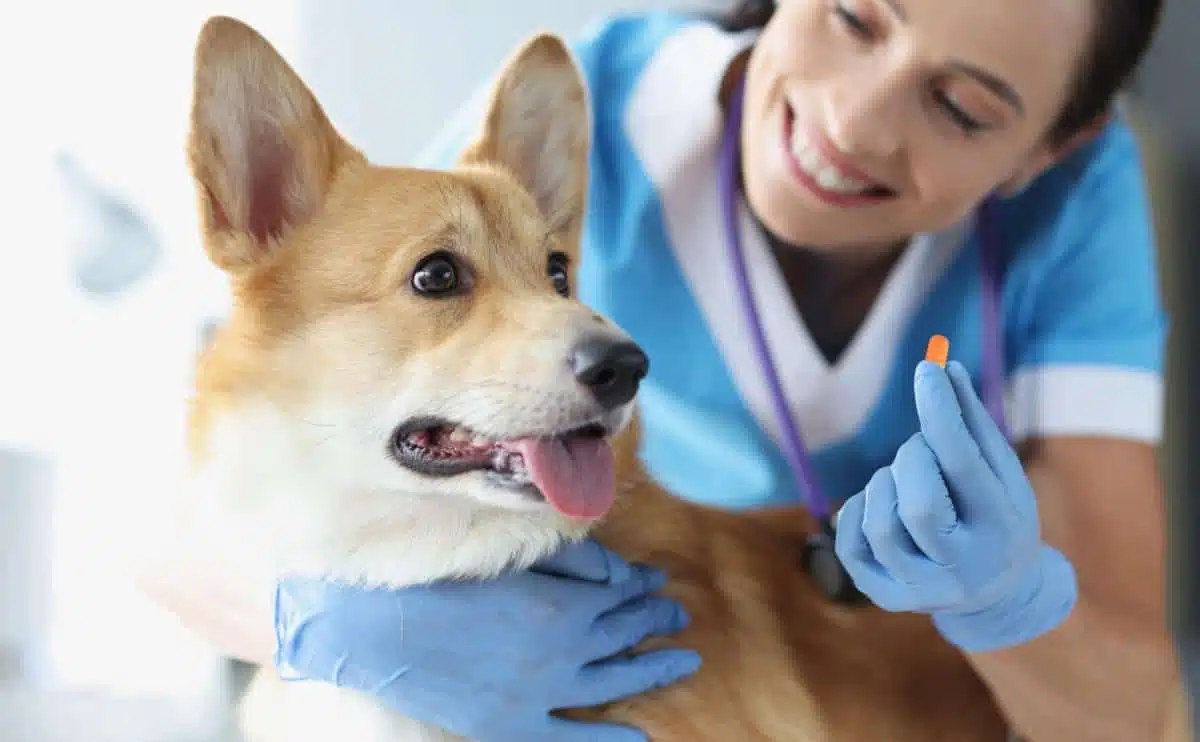 Whenever a pet is sick, it can be stressful for pet parents. When we're stressed, we don't take in information so well, and we might forget to ask questions at the time or think of questions we wish we'd asked early. This means that you might leave the veterinary clinic with medication, and you're uncertain what it is or what it's for. Remember, in this situation, any veterinary staff would be happy for you to call with any questions or concerns you have. So, what if your dog has been prescribed cefpodoxime? Let's find out all about cefpodoxime proxetil for dogs.
What Is Cefpodoxime For Dogs?
Cefpodoxime is an antibiotic that is licensed to treat skin infections in dogs. Its full name is cefpodoxime proxetil, but it's sold under the trade names Simplicef, Vantin, and Cefpoderm.
Simplicef for dogs, as well as the other brands, is a third-generation cephalosporin antibiotic, meaning it should be used responsibly and only when indicated to protect against antibiotic resistance. It's available in tablet form but also as an oral liquid for smaller patients.
What Is Cefpodoxime Used For In Dogs?
Cefpodoxime is effective at treating bacterial infections caused by Staphylococcus, Streptococcus, E. coli, and Pasteurella. Since many of these bacteria are involved in skin infections, cefpodoxime is licensed for this use.
Cefpodoxime can also be effective at treating respiratory and urinary tract infections (UTIs). So, if your dog has an oozy, itchy, sore area of pyoderma (bacterial skin infection), blood in their urine caused by a UTI, or a cough caused by susceptible bacteria, your vet may prescribe this antibiotic.
What Is Cefpodoxime Dosage For Dogs?
The dose of cefpodoxime prescribed by your vet will depend on your dog's symptoms, weight, and any risk factors they have. Like other medications, there is an effective dose range for cefpodoxime, so the dose your veterinarian chooses will fall within this range. This range allows for easy dosing with tablets so the amount can be rounded up or down to the nearest half or quarter tablet.
If you miss a dose or fail to give the entire dose of cefpodoxime, it won't be harmful to give it when you remember. However, it's a good idea to speak to your veterinarian for their advice, as they may need to supply more tablets to ensure the course is still complete.
What If My Dog Overdoses On Cefpodoxime?
If your dog accidentally ingests more than the prescribed amount of cefpodoxime, they may experience symptoms like vomiting, diarrhea, lethargy, and poor appetite. These signs are usually mild and improve on their own, but if your dog seems unwell or has ingested a large amount of cefpodoxime, it's important to call your veterinarian for advice.
What Are Cefpodoxime Side Effects In Dogs?
Any medication has the potential to cause side effects, but with cefpodoxime, these are usually mild. You might notice signs of digestive upset like vomiting and diarrhea, mild lethargy, or a reduced appetite. Because your dog's body will recognize the drug as foreign, there is a small risk of an allergic reaction, as with any medication. You may notice hives, swelling, rashes, or in very rare cases, anaphylaxis.
Is Cefpodoxime Safe For Dogs?
Rest assured, your veterinarian will have assessed the safety of cefpodoxime in your dog before prescribing it. Although very safe for the majority of animals, cefpodoxime should be avoided in dogs who are allergic to penicillin (or similar drugs) and used with care in dogs who are pregnant, lactating, or have kidney disease.
Should I Give Cefpodoxime For Dogs With Or Without Food?
It's often easier to give your dog a tablet when it's hidden in a cocktail sausage, a small piece of cheese, or a tasty dog treat. However, some medications shouldn't be given with food because it interferes with their absorption. Thankfully, cefpodoxime can be given with or without food, so you can find a way to administer the medication that suits you and your canine companion best.
How Much Does Cefpodoxime For Dogs Cost?
The price of cefpodoxime depends on the amount and size of tablets that your dog needs, as well as where you live, the veterinary practice that you use, and the brand of the medication. Below are some prices we found online through Chewy.
Does Pet Insurance Cover Cefpodoxime?
Yes, prescriptions like cefpodoxime are generally eligible for coverage through pet insurance policies as long as the health condition is new, included in coverage, and any applicable waiting periods have passed.
Summary
As a pet parent, it's not easy to take in information when our furry loved ones are sick. If you find yourself with questions or concerns about your pet's condition or treatment, speak to your veterinarian. They'll be able to reassure you of why the medication was prescribed and give you advice on how to give it.
You can learn about other over-the-counter medications for dogs and how you can save money by buying prescriptions online.
Tagged With: Medication