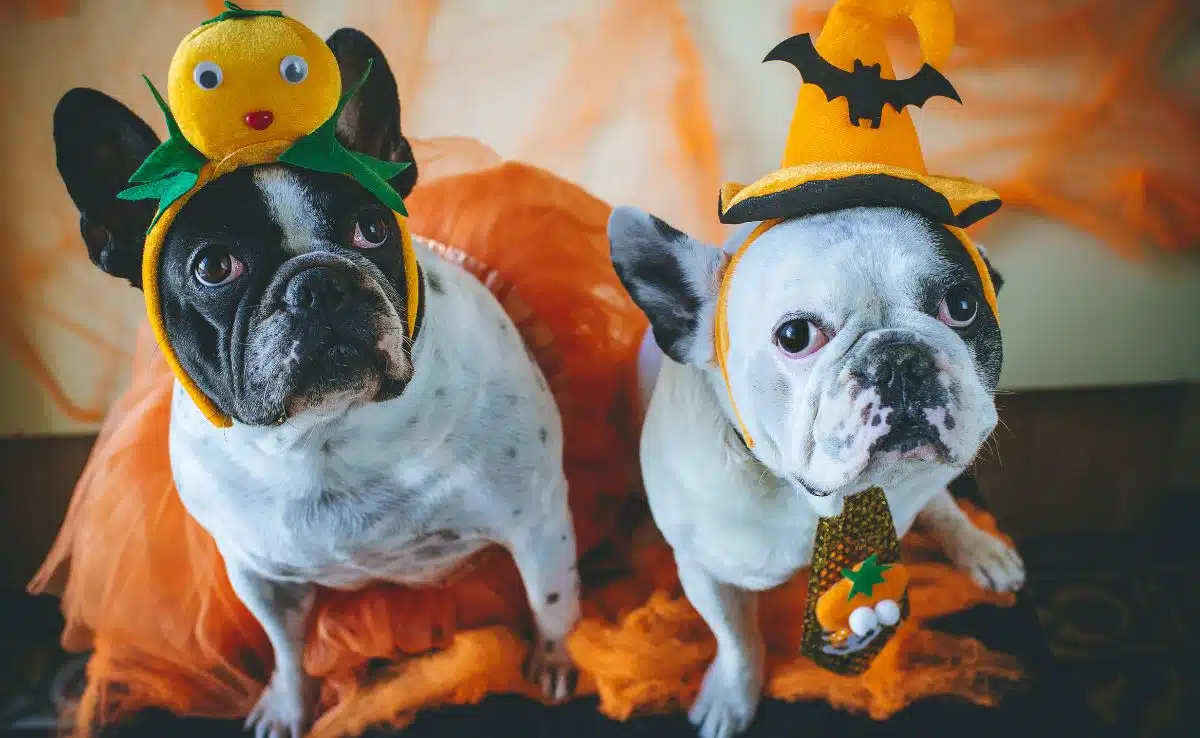 Over half a billion dollars is spent in the U.S. each year on Halloween costumes for pets, and 20% of owners plan to dress their pets up in 2023.
If you're one of the Americans who loves humiliating their pets (and a good chuckle), you'll enjoy our report that names the states most likely to dress up their pups and the most popular costumes this year.
Pet Halloween Costumes Trends For 2023
Pet costume sales are predicted to be $700 million in 2023 (same as 2021 and up from .5 billion in 2018-2020)
Pumpkins and hot dogs are a consistent fan favorite, year over year
Pet lovers also love bats, bumbleebees and spiders
Fan favorites: Witch and walking Lion
California and Texas are most likely to dress up their pets, followed by New York, Florida, and Pennsylvania
Fun Fact: Pet lovers will pick secondary or even tertiary characters for their pets! That might be because they are rounding out their collection or because these characters are unique and fun.
10 Most Popular Pet Halloween Costumes For 2023
According to those surveyed by the National Retail Federation (NRF), there's a good chance you'll see a lot of doggies (and kitties?) pumpkins waddling around this year (6th straight year as the #1 trending pet costume, with 11% of votes in 2022 (up from 9% and 10% in 2021 and 2020). Hot Dog was #2 again this year. Bat flew up the rankings to #3 again in 2023 and 2022 (#6 in 2021 and up from #10 in 2020), and Lion roared into the top 10 for the first time. Spider crawled back into the top 5 after dipping to #7 in 2022.
Here are the top 10 costumes that people expect to dress their pets up as in 2023.
#1 Pumpkin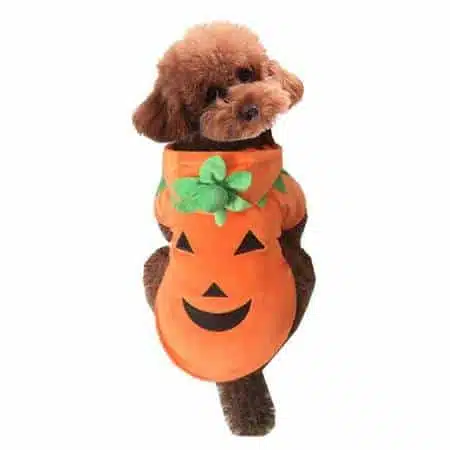 Your pumpkin will be the cutest pet on the block with this festive jack-o-lantern jacket. Made from high-quality microfiber and velvet, it's soft and breathable, keeping your pup warm while trick or treating.
The bright orange is also attention-grabbing at night. You can wash with water and mild soap, then air dry. It has four button closures and elastic, making it easy to put on and take off. It even comes with a pumpkin hat!
#2 Hot Dog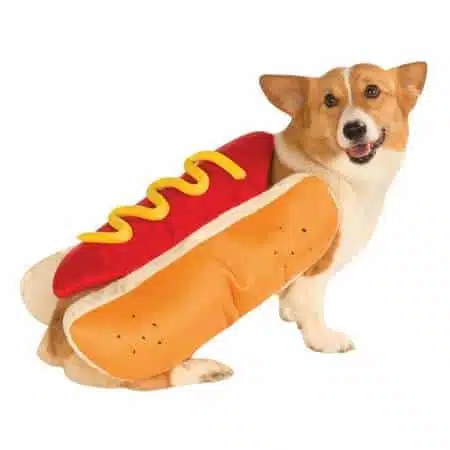 What could be cuter than a dog dressed as a hot dog? Their long bodies are the perfect shape for waddling down the street as a sausage. This costume can be repurposed in the summertime for backyard BBQs and ball games too!
This particular costume is a plush, soft pullover bodysuit. It comes in four sizes and has a mustard relish on top. Warning, your dog might want to eat themselves for looking so yummy!
#3 Bat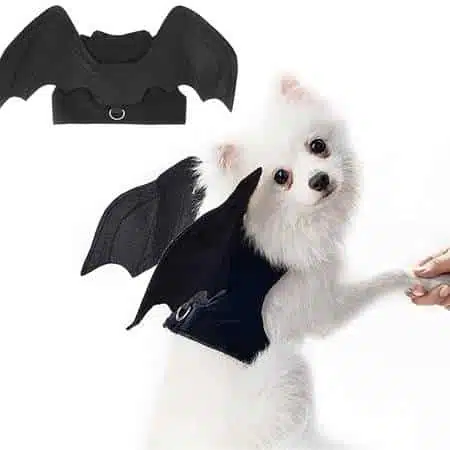 Even lazy Lassies will get a kick out of having this apparatus on their backs. The wings are lightweight, so they don't require any heavy lifting from your little guy.
It has a D-Ring on the back so you can lock them in and prevent them from actually flying away into the night. This costume would look particularly good on a black or other dark-furred dog.
#4 Bumblebee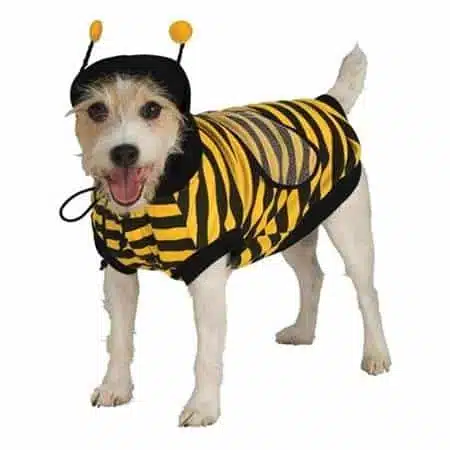 Does your Beagle love to chase bees? Your dog will send the message to "bug off" when dressed as a Bumblebee for Halloween.
This cute costume is a yellow and black bee-striped shirt with a yellow pom-pom antennae headband. It even has mesh wings, adding to the bee-like effect. Nothing is sweeter than having your hound as your honey bee.
#5 Spider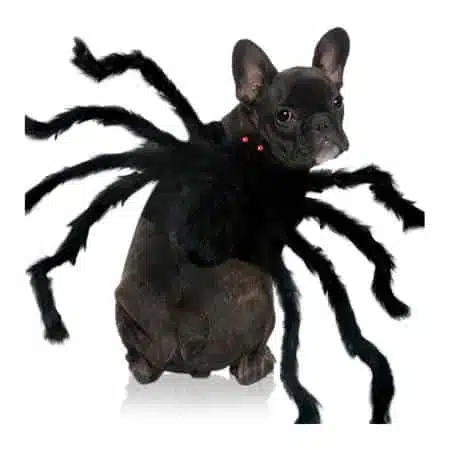 New to the list for the first time in five years is a spider! This would look extra creepy (and realistic) on a black-colored dog. Now your four-legged friend can be 8-legged! (Well, more like 10). Should your canine (or kitty) dress up as a spider, make sure they don't trip over the extra appendages. It's lightweight so hopefully, they won't even notice they're carrying a few extra feet on their back.
#6 Devil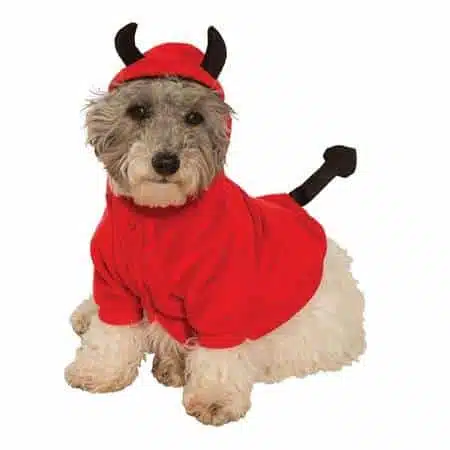 Is your dog a troublemaker? Why not turn them into a little Devil? The bright red color makes it easy to spot Fido in the dark. The hoodie slips over their head and has horns built into the hat. An adorable devil's tail is attached to the back and will wag when they walk. The polyester will keep them warm at night too.
#7 Cat
Dressing a dog as a cat for Halloween can be a lighthearted and humorous idea because it plays on the playful rivalry and differences between cats and dogs. Especially if they're a black cat, synonymous with Halloween. We personally have never seen this costume before, so it's a mystery why it always makes the top 10 list.
#8 Lion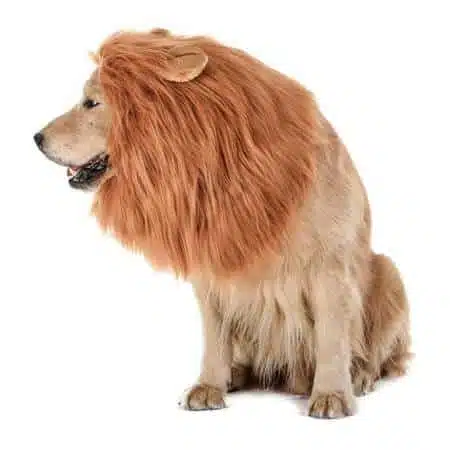 Have a Tiger King or Lion King fans in the family? This lion's mane transforms your dog into a shockingly realistic jungle animal. It's made for larger dogs with neck sizes ranging from 60 cm to 80 cm.
This high-quality Polyester fiber costume makes it durable and easy to breathe. It even comes with a little tail to put on their tail. Your dog will be roaring to go with this lion costume. Dress up as a zookeeper or in a safari jacket to make it a parent-pet combo.
#9 Ghost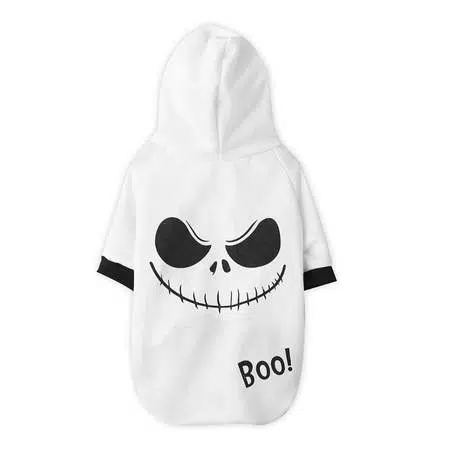 Boo! Spook your neighbors with a dog dressed as a ghost. This classic costume is a show-stopper for dogs of all sizes. You can try the old-fashioned sheet with holes in it, but they probably won't see well and could trip on the fabric. This white hoodie has a ghost face on the backside, so they'll seem just as scary from both sides.
#10 Witch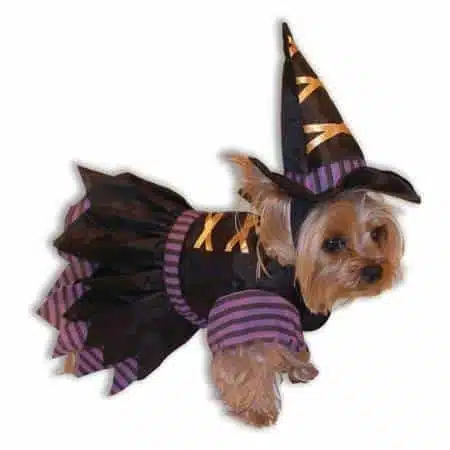 Turn your canine into a spellcaster with a witch dress and hat. This detailed purple and black outfit with gold accents is made for small dogs and just screams scary. The dress slides on, and the hat has a strap.
Get the whole family in on the action and wear matching witch outfits. Or go as complimentary characters from The Wizard of Oz and be the Scarecrow, Dorothy, Tin Man, or Lion (see above). Like the Wicked Witch of the West says, "I'll get you, my pretty, and your little dog, too!"
Honorable Mention: Superhero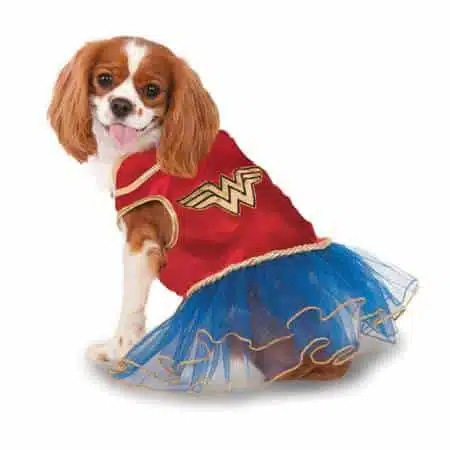 Not all dog heroes wear capes! Even if you're not a fan of comics, all dogs deserve to be superheroes. Why not dress up your wonderful Westie as Wonder Woman or silly Shih Tzu as Superman (or dog)?
This shiny outfit comes in a wide range of sizes, from tiny to extra-large, and has a crown! No matter what size doggo, they are sure to be a show-stopper. Now, if only it could make them do superhero tricks too!
Our First-Hand Experience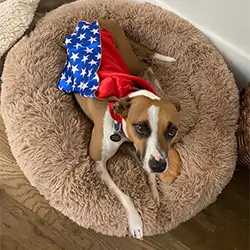 "Costumes.com sent us a costume to try out and here's our review of their Pet's Justice League Wonder Woman cape. This costume was the best tolerated of all the ones I have put on our dogs over the years. Barley ran around, playing with toys like he did not have a cape flowing out behind him. Haha! And, he looks so cute with a cape."

– Michelle Schenker, rescue dog mom
3 Dog Halloween Tips
Dressing your dog up for Halloween can be entertaining for everyone. But remember, pet safety is paramount.
1. Make It Enjoyable For You And Your Pup
Make sure your dog is comfortable wearing a costume – for Halloween or any time of year. You want to make sure your pup is well-trained and won't mind getting into an outfit.
Try out some dog clothing beforehand. Once you (and your pup) feel comfortable playing dress-up, go ahead and try out a costume. Be sure to give Fido a treat while putting on the clothes to keep him calm.
2. Safety First
If you decide to take your dog trick-or-treating, be sure that the costume is comfortable and safe. You don't want anything to cause your dog to choke, block its vision, or distract it.
If you don't plan to take your dog out and instead show it off to trick-or-treaters, make sure Fido is comfortable with people and won't become frightened or escape from the house.
It may also be helpful to warn trick-or-treaters that you have a dog before they ring the doorbell (sadly, not everyone loves dogs as much as you do). Consider posting a sign at the end of your walkway to alert visitors. We have an entire article on Halloween safety tips if you want to learn more!
3. Tricks & Treats (But Not Candy)
Last but not least, make sure your dog doesn't get a hold of the candy! Yes, it is Halloween, and everyone is joining in on the fun, but candy can be harmful to dogs. You don't want your pup to choke or accidentally swallow any wrappers.
Note: chocolate is toxic for dogs, so don't let it run off with any Hershey's or Snickers!
If you'd like to treat your dog to a special Halloween treat, consider Blue Buffalo Boo Bits and Boo Bars. The Boo Bars are a pumpkin and cinnamon crunchy dog treat, and the Boo Bits are chicken flavored and have a smaller, chewy texture.
Happy Howl-O-Ween
It is time to put together an unforgettable costume. Then, get ready to celebrate a cautious yet fun Halloween with your canine this year!
Tagged With: Comparison, Holidays