To sustain this free service, we receive affiliate commissions via some of our links. This doesn't affect rankings. Our review process.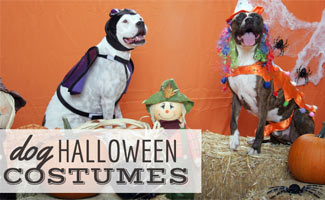 Has your dog always dreamed of dressing up as Elvis or a Bad to the Bone Biker? What pooch wouldn't?!? Just as there is no limit to outfit ideas for humans, everything imaginable is available for dogs too. Dressing your dog up for Halloween can be fun and entertaining for everyone. Here are some ideas and ways to get your furry friend to join in on the festivities this fall.
Tips For Choosing Dog Halloween Costumes
Now exactly what can I dress my pup up as, you may ask? Just about anything you can think of! A lot of the more popular costume ideas are based on the latest movies, cartoon characters, super heroes and even pop stars. You can even do something a little more traditional like dressing your dog up as a witch, bumblebee, princess, or even a hotdog.
Batman Superhero Outfit – View on Amazon
According to an article published by The Denver Post, consumers spent $330 million on Halloween pet outfits in 2013. Don't want to go all out and spend too much on a costume? Design something on your own! Visit your favorite craft store or use supplies that you already have. You can grab an old sheet, poke some holes for eyes and, voila, your pet is a "ghost" (if they will put up with it)!
Make It Enjoyable For You And Your Pup
Visit the Howl-o-ween Shop for Dogs on Amazon
First and foremost, it is important to understand that the dog must be comfortable with wearing any type of costume – for Halloween or anytime of year. You want to make sure your pup is well-trained and won't mind getting into a costume. To get him familiar with the process, it may be helpful to try out some dog clothing beforehand. Once you (and he) feel comfortable with playing dress up, go ahead and try out a costume. It will also be helpful to give him a little treat while you are putting on his clothes to keep him calm and get him ready.
Dapper Dog Tuxedo – View on Amazon
Video: Dogs Wearing Costumes
For some great ideas, check out this video of funny dog Halloween costumes.
Safety First
Now that you costume is ready, you can prepare for the night out. If you decide to take your dog trick-or-treating, be sure that his costume is comfortable and safe. You don't want anything to cause him to choke, block his vision or distract him. If you don't really plan on taking your dog out, and would rather just show him off to trick-or-treaters, make sure he is comfortable with people and won't become frightened or escape from your house. It may also be helpful to warn trick-or-treaters that you have a dog before they ring the doorbell (sadly, not everyone loves dogs as much as you do). Consider posting a sign at the end of your walkway to the door to alert visitors. We have an entire article on Halloween safety tips if you want to learn more!
Holy Hound Pet Costume – View on Amazon
Tricks & Treats (But Not Candy)
Last but not least, make sure your dog doesn't get a hold of the candy! Yes, it is Halloween and he is joining in on the fun, but candy is still harmful for him. You don't want him to choke or accidentally swallow any wrappers. And chocolate is toxic for dogs so be extra careful to not let him run off with any Hershey's or Snickers! Pet safety is just as important as keeping your children safe during Halloween. So put together an unforgettable costume, and get ready to celebrate Halloween with your canine this year! And while your pup is dressed up cute, you might be eager to snap some pictures, so check out these pet photography tips.
What are your favorite dog Halloween costumes?
We are a participant in the Amazon Services LLC Associates Program, an affiliate advertising program designed to provide a means for us to earn fees by linking to Amazon.com and affiliated sites.