To sustain this free service, we receive affiliate commissions via some of our links. This doesn't affect rankings. Our review process.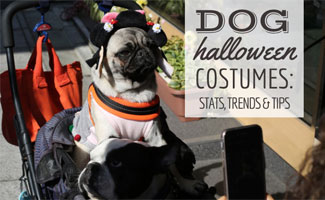 Nearly half a billion dollars is spent in the U.S. each year on Halloween costumes for pets. 1 and 29 million people plan to dress their pets up in costumes in 2019.
If you're one of the Americans who loves humiliating their pets (and a good chuckle), you'll enjoy our study that names the states most likely to dress up their pups and the most popular costumes this year.
10 Most Popular Pet Halloween Costumes For 2019
So now that you have confirmed your desire to dress up your dog, it's time to find the most popular pet Halloween costumes!
Well, this year's trends are yet to be known until we see what dogs hit the streets, but according to those surveyed by the NRF, there's a good chance you'll see a lot of doggy (and kitty?) pumpkins waddling around.
Super Hero costumes seem to be the fastest-growing trend for pets this year, up 4.5% over last year. And there are also some new addition to the top ten pet costumes list for 2019, with Witch debuting as the sixth most popular and Shark biting off the last spot.
Top 10 Halloween Costumes For Pets In 2019
Here are the top 10 costumes that people expect to dress their pets up as this year.1
#3: Super Hero – 7.2% (up 4.5% since 2018)
#5: Cat – 3.2% (Dogs as cats?)
#6: Witch – 2.5% (new since 2018)
#7: Lion – 2.2%
#8: Dog – 2.1% (cats as dogs?)
#9: Devil – 2.0%
#10: Shark – 1.7% (new since 2018)

States Most Likely To Dress Their Dog For Halloween 2018
Source: States Most Likely To Dress Their Dog For Halloween In 2018
To share this infographic on your site, simply copy and paste the code below:
20 Top States For Dog Costumes Last Year
Our findings show that the East Coast and South are much more interested in dressing their pets up for this spooky holiday, while the West Coast and Midwest are not exactly wagging their tails at this idea. The New England area has the biggest fans of dressing up their dogs for Halloween in 2018.
Here are the top 20 in order of most likely to dress their dog up for Halloween in 2018:
New Jersey
Massachusetts
Virginia
Wisconsin
Indiana
New York
Missouri & North Carolina (TIE)
Pennsylvania
Alabama
Colorado & Ohio (TIE)
South Carolina
Texas
Illinois
Connecticut
Tennessee
Maryland
Arizona & Florida (TIE)
Georgia
Minnesota
California
Methodology
We used Google Trends to search "halloween costumes for dogs" and determine the states that had the most interest in this topic from late July – late October 2018.
Google Trends analyzes the popularity of search queries performed over time via Google Search. This analysis provides directional data of what people in a specific geographic region are searching for most and, thus, may be most concerning for citizens.
Dog Halloween Costume Tips
Dressing your dog up for Halloween can be fun and entertaining for everyone. But remember, pet safety is paramount.
1. Make It Enjoyable For You And Your Pup
Make sure your dog is comfortable with wearing a costume – for Halloween or any time of year. You want to make sure your pup is well-trained and won't mind getting into an outfit.
Try out some dog clothing beforehand. Once you (and your dog) feel comfortable with playing dress-up, go ahead and try out a costume. Give it a treat while you are putting on the clothes to keep your canine calm.
2. Safety First
If you decide to take your dog trick-or-treating, be sure that the costume is comfortable and safe. You don't want anything to cause your dog to choke, block its vision or distract it.
If you don't plan on taking your dog out and would rather show it off to trick-or-treaters, make sure Fido is comfortable with people and won't become frightened or escape from your house.
It may also be helpful to warn trick-or-treaters that you have a dog before they ring the doorbell (sadly, not everyone loves dogs as much as you do). Consider posting a sign at the end of your walkway to alert visitors. We have an entire article on Halloween safety tips if you want to learn more!
3. Tricks & Treats (But Not Candy)
Last but not least, make sure your dog doesn't get a hold of the candy! Yes, it is Halloween, and everyone is joining in on the fun, but candy is still harmful to dogs. You don't want your pup to choke or accidentally swallow any wrappers.
Note chocolate is toxic for dogs, so don't let it run off with any Hershey's or Snickers!
Happy Howl-o-ween
It is time to put together an unforgettable costume. Then, get ready to celebrate a cautious yet fun Halloween with your canine this year!
What is your favorite dog Halloween costume?
[1] National Retail Federation; Google Trends: "halloween costumes for dogs" (7/26/18-10/24/18)
We are a participant in the Amazon Services LLC Associates Program, an affiliate advertising program designed to provide a means for us to earn fees by linking to Amazon.com and affiliated sites.
Disclaimer: This website contains reviews, opinions and information regarding products and services manufactured or provided by third parties. We are not responsible in any way for such products and services, and nothing contained here should be construed as a guarantee of the functionality, utility, safety or reliability of any product or services reviewed or discussed. Please follow the directions provided by the manufacturer or service provider when using any product or service reviewed or discussed on this website.