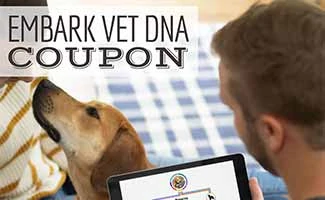 Do you want to learn more about your dog from a DNA test? Embark offers the most accurate at-home dog DNA test on the market, not only for breed identification but also for genetic health risks.
Before you purchase a test, you might look for an Embark DNA coupon to make sure you're getting the best deal. Well, you're in luck. We've got the latest Embark discount for you.
Bookmark This Page To Find The Latest Embark DNA Test Coupon When They're Released
We update this page regularly with the latest Embark dog DNA test coupons, including discount amounts, details, eligible products, expiration dates, and more. So check back often to see the latest offers.
Current Promo
Get up to $60 off plus free shipping no code needed. Use this link to take advantage of this offer.
Have multiple pets? Bundle and save when you buy additional Embark Kits (not combinable with other offers):
Save 10% when you buy 2 Breed + Health kits with Coupon Code: MULTIPACK
Save 15% when you buy 3 Breed + Health kits with Coupon Code: MULTIPACK3
Save 20% when you buy 4+ Breed + Health kits with Coupon Code: MULTIPACK4
Why Is Embark The Best Choice?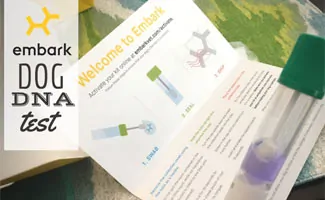 Embark is one of our top choices for the best dog DNA test. They screen for breed identification, 35+ physical traits, ancestry, and genetic disease risks (for 210 known canine genetic health problems).
Included in every kit are the genetic inbreeding coefficient and results for nearly all genetic mutation tests recommended by national breed clubs. You also get a relative finder, which matches your dog's DNA to possible family members.
Simply order a kit, swab your dog's mouth for saliva, and mail in your sample. Then get your results back in three to five weeks.
Read Our Full Review Of Embark
Trust Our Experts For The Latest Dog DNA News
Our team has more than 300 years of combined experience reviewing products and services for dogs, with dog DNA being one of our fastest growing categories. We continuously review, test, and update our dog DNA test articles as companies continue to expand their products, databases, and the science behind dog DNA.
If you're interested in learning more about Embark, check out our interview with its veterinary geneticist and read a Q&A with Embark's co-founder Ryan Boyko.
Tagged With: Discounts