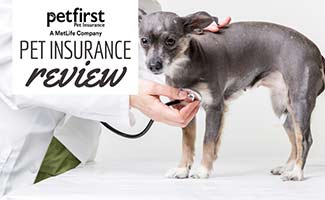 PetFirst was founded in 2004 and bought by MetLife in December 2019. Even though it's been in business for more than 15 years, customer reviews were difficult to find. It has a short waiting period for accidents (only one day after enrollment).
PetFirst is one of the few pet insurance companies to offer a $0 deductible. It also offers a 100% reimbursement, something only a few other pet insurance companies offer. We suggest you request a quote and read a sample policy to see if PetFirst is a good fit for you and your pup.
PetFirst Pet Insurance
Pros
Optional wellness plan (must purchase in conjunction with pet insurance)
No vet exam required for enrollment
No waiting period for accidents
BBB rating: A+
5% discount for second policy and 10% discount for three or more policies
Claim repayment averages 10-14 days
Cons
Doesn't cover all non-routine dental treatments
Must purchase routine care coverage for behavioral therapy coverage
Doesn't cover your pet if they travel outside the U.S. with you
PetFirst Pet Insurance Promo Code
Consider All Your Pet Insurance Options
When we ran some sample price quotes, PetFirst was consistently in the middle of the pack. However, price isn't everything. We rate the best pet insurance companies based on coverage, customer service and reputation, claim repayment, price, plan customizations, and more. Find out who we chose as our #1 pick in our pet insurance reviews.
Would you insure your pet with PetFirst?