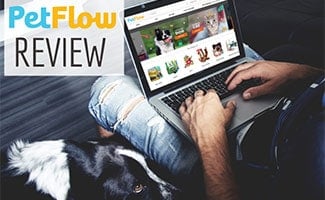 Don't have time to shop for your dog's food and other pet supplies? Or maybe you can't find your dog food brand of choice at your local stores. Ordering dog food, toys and accessories online is an easy solution.
One online store, PetFlow, may not have the big-name recognition of Chewy or Petco, but it's a good alternative. See why in our PetFlow review.
Article Overview
PetFlow
Pros
Offers grain-free, allergy-free, prescription diet food and more
Free auto-ship option that you can cancel anytime
Also carries pet treats, toys and accessories for one-stop shopping
Charitable giving to animals in need
Users report excellent customer service
Cons
Must call to cancel auto-ship
Several users complain that shipments arrive damaged (ripped bags and dented cans)
Key Features
Carries over 300 brands of dog and cat food, treats, toys and other pet supplies (popular brands include Blue Buffalo, Fromm, Hill's Science Diet, Natural Balance, etc.)
Auto-ship program: you can set delivery schedule (from 2-16 weeks), and it sends an email reminder a week before your next scheduled delivery
Daily Doorbusters: daily deals on a variety of products where you can save anywhere from 20% to 75%
For every purchase, PetFlow donates a bowl of food to animal shelters (these shelters also serve as pet food banks for families out of work due to COVID-19)
Referral program: earn $10 when you refer PetFlow to friends (and friends get $10 too)
Customer service via live chat, phone, text and email
Pricing
Flat-rate $5.95 shipping
Free shipping over $49
Coupon
What Do People Think Of PetFlow?
Positive Reviews
Customer Service is VERY helpful. They know their products and can offer assistance in selecting based on your pet's needs. The products arrived quickly and without damage. The auto-ship program is very convenient and can be easily navigated to accommodate your pet's requirements in a timely fashion. I feel that Petflow is a true competitor with quality service and great products in the Internet pet market. – Tracey, Trustpilot 6/7/2020
Love PetFlow! Great customer service. Prompt, friendly and accommodating. Thanks to all the customer service reps. Super fast delivery, as well. I'm a loyal customer and will remain so. – Patricia S., BBB 4/29/2020
Negative Reviews
My order of Orijen freeze-dried dog medallions (2) was pulverized by being packed in the same box with a 25lb bag of dried dog food. The medallions are meant to be crushed and mixed in with my dog's regular food (1 medallion per 2 cups of the dried). Because of the powdered product you delivered it was impossible to accurately measure what one medallion would look like. This is an expensive dog food. You should have done better – like separate boxes. – Patricia V., Trustpilot 6/7/2020
Upon ordering a bag of dog food, first I received a bag that was cut open. After going through support they sent a replacement, and that bag was expired. Contacted support again, they promised that the warehouse will thoroughly check the next replacement for damage and expiration. Still, the next replacement bag was also expired. Even though they kept saying to keep the bags / donate them, I wanted to return them because why would anybody give their dog expired / spoiled food. Finally they agreed that the bags can be returned, but they are holding on to my refund until that is done. So they ***** me over 3 times and now hold on to my money too. – Endre, BBB 1/26/2020
Frequently Asked Questions
Here are the top questions our readers ask about PetFlow.
What's PetFlow's Return Policy?
PetFlow accepts returns for any damaged products, and all returns must be made within 30 days of the order's ship date. Here are the restrictions:
No returns on products under $10
No returns on opened products
No returns on any prescription products
All returns are subject to a return shipping fee, depending on the retail price

$10-$49.99, return shipping fee of $5.95
$50-$99.99, return shipping fee of $10.95
$100+, return shipping fee of $14.95
Does PetFlow Ship To Canada?
PetFlow currently only ships to the 48 contiguous United States. It doesn't ship to Alaska, Hawaii, Puerto Rico or Canada.
Who Owns PetFlow?
PetFlow was founded in 2010 by Alex Zhardanovsky and Joe Speiser. In 2017, Phillips Pet Food & Supplies acquired PetFlow. The company is based in Las Vegas and New York City.
What Are Some PetFlow Alternatives?
PetFlow carries a wide variety of premium dog food brands and other supplies, and its pricing is on par with major competitors. It's definitely worth considering if you want easy auto shipping for food and treats. But it's not the only kid on the block.
See how PetFlow compares to other dog food delivery companies. Our reviews in that article also include some fresh food alternatives if you want to kick up your dog's diet a notch to all-natural, human-grade meals.
Do you have a favorite auto-ship dog food delivery service?