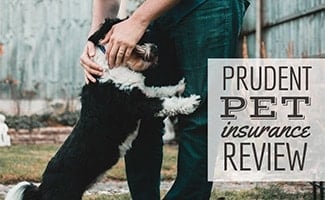 Prudent Pet Insurance is a relative newcomer to the industry. They launched in late 2018 but have a high-rated underwriter and administrator for their pet insurance products for both cats and dogs. With competitive coverage, they're a promising prospect for pet insurance. But how do their premiums and claim repayments stack up against some pretty stiff competition from well-established companies?
Prudent Pet Insurance
Pros
No lifetime payout limits on any plans
No upper age limits
BBB rating: A
Claim reimbursement averages 10-14 days
30-day money-back guarantee
10% multi-pet discount
Your pet is covered when they travel with you in the U.S., Canada, Puerto Rico, and other U.S. territories
Competitively priced wellness plans
Cons
Premiums were significantly higher than average when we ran quotes
5-day waiting period for accidents (some cover within 2-3 days)
If there's a knee injury prior to enrollment or during the waiting period, they won't cover the second leg if an injury occurs. It's considered a bilateral condition.
No mobile apps (but they say they're in the works for iOS and Android)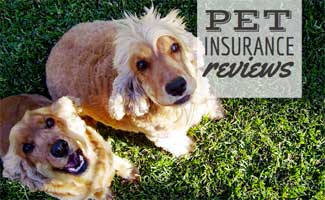 Alternatives To Prudent Pet
We don't include Prudent Pet (or any company with less than five years in the pet insurance industry) in our annual rankings because it takes time for providers to establish consistent pricing and customer experience. To find the best, our experts regularly analyze over a dozen established companies. Learn more about this year's top-ranked pet insurance companies.
Key Features
Underwriter: United States Fire Insurance Company (administered by C&F Insurance Agency, Inc., a Crum & Forster company)
Ligament and knee conditions are excluded if any ligament and knee condition occurred before the first effective date of the applicable coverage or during a waiting period
No exam required
30-day money-back guarantee (not available if claims have been paid and not available in NY)
Claims process:

Must submit claims within 90 days after the end of a policy period (via online, fax, or mail)
Claim repayment averages 10 business days, and direct deposit or check is an option

If medical records are on file, they promise repayment within 2-3 days

Referral program – If you refer a friend to Prudent Pet who applies for a policy, you'll receive a $15 Amazon eGift card. They'll also make a $5 donation to Best Friends Animal Society.
24/7 Vet Chat feature
Other discounts available for military and veterinarians and their staff
Pre-Existing Conditions
Pet insurance providers don't cover pre-existing conditions, but the specific definitions can vary by company. A pre-existing condition is defined by Prudent Pet in their policy as:
Illness, disease, injury, or change to your pet's health that first occurs or shows symptoms before coverage is effective or during a waiting period. This includes conditions that are related to, secondary, or resultant from a pre-existing condition.
If your pet's pre-existing condition is curable and has been cured and free from treatment and symptoms for a period of 180 days it is a new occurrence. This does not apply to ligament and knee conditions.
Customer Service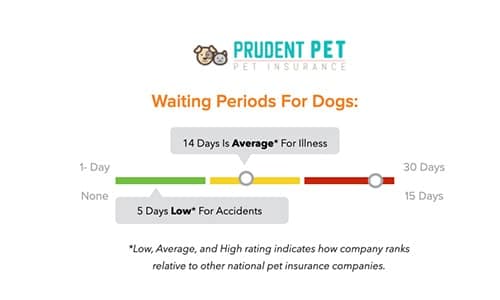 Email: PrudentPetTeam@prudent.com
Phone: 888‑820‑7739
FAQ and blog
Waiting Periods
These waiting periods begin on your policy's start date, and Prudent Pet will only consider reimbursement for your claim after the waiting period ends.
What Does Prudent Pet Cover?
Prudent Pet offers two different base policies: Accident & Illness or Accident Only. Below is what they cover under their Accident & Illness Plan.
Please know that none of the pet insurance providers in our comparison cover pre-existing conditions or cremation and burial costs. All of them cover the following items when deemed medically necessary: x-rays, blood tests, ultrasounds, cat scans, MRIs, rehabilitation, specialized exams, surgery, hospitalization, emergency care, specialty care, hydrotherapy, chronic conditions, cancer, diagnostic treatment, alternative/holistic therapy, and euthanasia. However, there may be limitations to this coverage, so please check your policy.
| Condition | Covered By Prudent Pet |
| --- | --- |
| Exam Required To Set Health Baseline | |
| Behavioral Therapies | |
| Exam Fees | |
| Wellness Care Available For An Extra Fee | |
| Non-Routine Dental Treatment | |
| Hereditary Conditions | |
| Congenital Conditions | |
| Prescription Medication | |
| Breed, Whelping, Pregnancy | |
| Cosmetic Procedures (e.g., Tail Docking, Ear Cropping, Dew Claw Removal) Unless Medically Necessary | |
Accident Only Plan
Prudent Pet's Accident Only Plan covers costs for all the items listed in the table above when related to injuries and accidents. This can include such incidents as:
Torn ligaments
Broken bones
Bite wounds
Cuts
Lodged foreign objects
Toxic ingestions
The Accident Only plan also covers the cost of microchipping your pet.
Preventative Care Add-On Plans
Once you choose your basic policy, you have the option to add one of two Preventative/Wellness Care plans shown in the table below. Included are the maximum amounts that Prudent Pet will pay each year for that specific routine care.
| | Prime Preventative Care | Basic Preventative Care |
| --- | --- | --- |
| Price Per Month | $24.95 | $9.95 |
| Dental Cleaning or Spay/Neuter | $150 | $100 (Dental Only) |
| Wellness Exam | $50 | $50 |
| Deworming | $25 | $20 |
| Health Certificate | $25 | N/A |
| Flea/Heartworm Prevention | $25 | N/A |
| DHLPP Vaccine/Titer or Feline FVRCP Vaccine/Titer | $25 | $20 |
| Rabies or Lyme Vaccine/Titer or Feline FIP Vaccine/Titer | $25 | $20 |
| Bordetella Vaccine/Titer | $25 | N/A |
| Fecal Test | $25 | $20 |
| Heartworm Test or Feline FELV Test | $25 | $20 |
| Blood Test | $25 | N/A |
| Urinalysis | $25 | N/A |
| Total Annual Benefits | $450 | $250 |
Pricing Quotes
We gathered some sample prices from Prudent Pet Insurance for its accident and illness coverage plan. You can choose from deductibles of $100, $250, or $500, and reimbursement options of 70%, 80%, or 90%. Prudent Pet offers annual payout limits of $10,000, $14,000, or unlimited, and there are no lifetime payout limits. Individual premium prices are based on age, breed, and location. Quotes are from November 2020.
| Breed | Labrador Retriever | Golden Retriever | Mixed Breed Dog (45 lbs) | Yorkshire Terrier | Mixed Breed Cat |
| --- | --- | --- | --- | --- | --- |
| Male or Female | Male | Male | Female | Male | Female |
| Age | 3 Years | 2 Years | 5 Years | 2 Months | 4 Years |
| Location | Virginia (22901) | California (90210) | Indiana (46201) | Florida (33601) | Illinois (60169) |
| Price Per Month | $82.64 | $67.23 | $89.21 | $50.33 | $27.03 |
| Reimbursement Level | 80% | 80% | 80% | 80% | 80% |
| Annual Deductible | $250 | $500 | $250 | $250 | $250 |
| Annual Payout Limit | Unlimited | Unlimited | Unlimited | Unlimited | Unlimited |
You should expect annual increases in your premiums from any pet insurance company. These rates and increases will vary based on your location, changes in vet costs, and more.
Coupon Code
Customer Opinions
Positive Reviews
We are new to Prudent Pet. After spending years at Embrace we changed over due to large increases in our coverage. We are happy with the change and Prudent Pet has been wonderful. Their payment is fair and very timely. Their customer service is wonderful too. – Lisa F., Trustpilot 10/31/2020
My dog had surgery for a skin cancer removal. I submitted the claim on Friday and was reimbursed by Tuesday of the next week. With my previous insurance, I would submit a claim and call back in a month or so and they still had not done anything with the claim. I was shocked when I received a reimbursement back so quickly. – Shefa, Trustpilot 10/24/2020
Negative Reviews
My claim shows processed but I have not received my refund. I have been calling Claims Dept since the past for 2 weeks but no person answers the phone only the recording. – cecinunezgo, Trustpilot 10/12/2020
Two issues: 1) There's no app to easily/efficiently submit a claim, 2) The process of reviewing and finally receiving my money took about 2 months. – Anonymous, Trustpilot 9/27/2020
What's Our Final Verdict?
While Prudent Pet has some impressive coverage, it comes at a higher price than the industry average, from what we found. We've also seen varying customer feedback about their reimbursement process — many say it's fast, but some complain about long wait times. And since Prudent Pet is a relatively new company, we'd like to see them establish more history before we consider them a top contender in our rankings.
If you're not sure if Prudent Pet is the best fit for your pet insurance needs, you've got lots of options. See our top picks for pet insurance to see how Prudent Pet compares. And you should always get multiple quotes to compare coverage and costs to find the best value for your family.
What features do you like or dislike about Prudent Pet Insurance?