To keep the lights on, we receive affiliate commissions via some of our links. Our review process.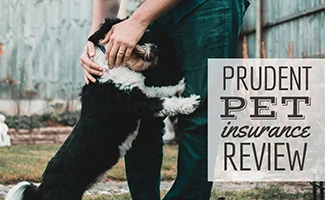 Prudent Pet Insurance is a relative newcomer to the industry. They launched in late 2018 but have a high-rated underwriter and administrator for their pet insurance products for both cats and dogs. With competitive coverage, they're a promising prospect for pet insurance. But how do their premiums and claim processing stack up against some pretty stiff competition from well-established companies?
Prudent Pet Insurance Review

Product Name: Prudent Pet Insurance
Product Description: Prudent Pet offers pet insurance for dogs and cats.
Summary
Prudent Pet has some impressive coverage, but it comes at a higher price than its competitors. Claim processing customer feedback is sporadic, with some saying it's speedy and others saying it's slow. However, it's showing some promise for being newer to the pet insurance industry.
Our pet insurance experts read through each pet insurance company's policy to provide detailed comparisons and information regarding how a provider fares against others in the industry. We also speak with customers, read online feedback, and communicate one-on-one with pet insurance companies to obtain a well-rounded, unbiased analysis of a company's standings.
Our team rates pet insurance companies based on several factors, including A.M. Best ratings (an indicator of financial stability), claim processing reputations, contract coverage, customer service, pricing, plan customizations, and more.
Pros
No lifetime payout limits on any plans
No upper age limits
60% of claims are processed within 1 day
Your pet is covered when they travel with you in the U.S., Canada, Puerto Rico, and other U.S. territories
Competitively priced wellness plans
Cons
Premiums were significantly higher than average when we ran quotes
5-day waiting period for accidents (some cover within 2-3 days)
If there's a knee injury prior to enrollment or during the waiting period, they won't cover the second leg if an injury occurs. It's considered a bilateral condition.
No mobile apps
$2 transaction fee
Alternatives To Prudent Pet
We don't include Prudent Pet (or any company with less than five years in the pet insurance industry) in our annual rankings because it takes time for providers to establish consistent pricing and customer experience. Our experts regularly analyze over a dozen established companies to find the best. Learn more about this year's top-ranked pet insurance companies and get multiple quotes for free below.
Key Features
Underwriter: Markel Insurance Company
Bilateral conditions excluded (a condition or disease that affects both sides of the body): Orthopedic conditions (e.g., ligaments and knee conditions)
30-day money-back guarantee (not available if claims have been paid and not available in NY)
Claims process:

Must submit claims within 90 days after the end of a policy period (via online, phone, or email)
60% of claims are processed within 1 day, and direct deposit or check is an option

Referral program – If you refer a friend to Prudent Pet who applies for a policy, you'll receive a $15 Amazon eGift card. They'll also make a $5 donation to Best Friends Animal Society.
Covers curable pre-existing conditions if they've been symptom-free for 1 year
Customer Service
Email: [email protected]
Phone: 888‑820‑7739

Monday – Friday: 8am-7pm CST
Saturday: 9am-5pm CST

24/7 Vet Chat
Waiting Periods*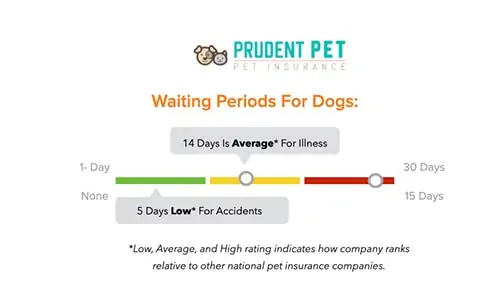 Illnesses: 14 days
Accidents: 5 days
Cruciate Ligament: 180 days
Hip Dysplasia: 14 days
*Waiting periods for California, Maine, and Mississippi are as follows:
Accidents - 0 days
Illnesses - 14 days
Cruciate Ligament Conditions - 30 days
Routine Care - 0 days
What Does Prudent Pet Cover?
Prudent Pet offers two different base policies: Accident & Illness or Accident Only. Below is what they cover under their Accident & Illness Plan.
None of the providers in our pet insurance comparison charts cover pre-existing conditions, cremation and burial costs, pregnancy and breeding, or unnecessary cosmetic procedures.
All of them cover the following items when deemed medically necessary: emergency care, surgery and hospitalization, specialized exams and specialty care, X-rays, blood tests, ultrasounds, cat scans, MRIs, rehabilitation, cancer, chronic conditions, euthanasia, hereditary conditions, congenital conditions, non-routine dental treatment, and prescription medications. However, this coverage may have limitations, so please check your policy.
| Condition | Covered By Prudent Pet |
| --- | --- |
| Behavioral Therapies | |
| Alternative/Holistic Therapies | |
| Exam Fees | |
| Wellness Care | Extra Fee |
Accident Only Plan
Prudent Pet's Accident Only Plan covers costs for all the items listed in the table above when related to injuries and accidents. This can include such incidents as:
Torn ligaments
Broken bones
Bite wounds
Cuts
Lodged foreign objects
Toxic ingestions
The Accident Only plan also covers the cost of microchipping your pet.
Preventative Care Add-On Plans
Once you choose your basic policy, you have the option to add one of two Preventative/Wellness Care plans shown in the table below. Included are the maximum amounts that Prudent Pet will pay each year for that specific routine care.
| | Prime Preventative Care | Basic Preventative Care |
| --- | --- | --- |
| Price Per Month | $24.95 | $9.95 |
| Dental Cleaning or Spay/Neuter | $150 | $100 (Dental Only) |
| Wellness Exam | $50 | $50 |
| Deworming | $25 | $20 |
| Health Certificate | $25 | N/A |
| Flea/Heartworm Prevention | $25 | N/A |
| DHLPP Vaccine/Titer or Feline FVRCP Vaccine/Titer | $25 | $20 |
| Rabies or Lyme Vaccine/Titer or Feline FIP Vaccine/Titer | $25 | $20 |
| Bordetella Vaccine/Titer | $25 | N/A |
| Fecal Test | $25 | $20 |
| Heartworm Test or Feline FELV Test | $25 | $20 |
| Blood Test | $25 | N/A |
| Urinalysis | $25 | N/A |
| Total Annual Benefits | $450 | $250 |
Pricing Quotes
From the options below, Prudent Pet lets you choose your deductible, annual payout, and reimbursement amount from the options listed in the table below. What you select helps determine your monthly cost.
Deductible Options
Payout Options
Reimbursement Options
$100
$250
$500
$1,000
$10,000
Unlimited
70%
80%
90%
Pricing is based on your pet's details. Visit Prudent Pet's website for a quote specific to your pet. Then use our pet insurance quote form to see how it compares against other providers.
Coupon Code
Looking for a Prudent Pet promo code? Prudent Pet offers discounts to military and veterinarians and their staff.
How Does The Claim & Reimbursement Process Work?
Prudent Pet uses a "copay then deductible" reimbursement method. This is calculated in the following way:
(Eligible vet expenses x Reimbursement percentage) – Remaining annual deductible = Reimbursement amount
What's Our Final Verdict?
While Prudent Pet has some impressive coverage, it comes at a higher price than the industry average, from what we found. We've also seen varying customer feedback about their reimbursement process — many say it's fast, but some complain about long wait times. And since Prudent Pet is a relatively new company, we'd like to see them establish more history before we consider them a top contender in our rankings.
If you're not sure if Prudent Pet is the best fit for your pet insurance needs, you've got lots of options. See our top picks for pet insurance to see how Prudent Pet compares.
Tagged With: Reviewed By Insurance Agent