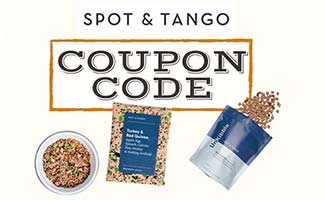 Spot & Tango offers both fresh and dehydrated dog food delivery options. While it can be a bit more expensive than other dog foods, their subscription service offers some savings. Luckily, we also have a coupon code for Spot & Tango. Check back often to find updated discount codes. Below is the latest offer we can find.
Article Overview
Spot & Tango Coupon
Looking for a Spot & Tango promo code? Our readers can
save 20% on their first order.
Click here
to take advantage of this offer.
Previous Spot & Tango Coupon Codes
The Spot & Tango coupon above is an ongoing deal, but if there are any previous promotions, we'll share them here too for comparison purposes.
Why Is Spot & Tango A Good Choice?
Spot & Tango uses human-grade ingredients, including real meats, vegetables, fruits, and more (with no fillers or additives). The plans are customizable for your pet and ship every four weeks, so you'll never run out of food.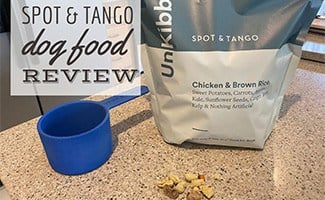 Spot & Tango's recipes include:
UnKibble (dehydrated whole food):
Beef & Barley
Chicken & Brown Rice
Duck & Salmon
Fresh Dog Food:
Turkey & Red Quinoa
Beef & Millet
Lamb & Brown Rice
Free shipping on all orders.
Our Experts Compare Spot & Tango To The Competition
Giving your pup Spot & Tango's premium dog food can give you confidence that you're feeding Fido the best. It's a healthy alternative that can go a long way in helping your dog live his best, healthiest life. Their two-week trial comes with a money-back guarantee, so you have nothing to lose if you want to see how your dog likes it first. We also have plenty of other best dog food delivery companies you can consider too.
Have you come across another discount code for Spot & Tango?