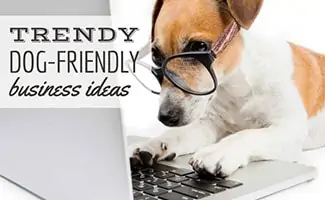 Perhaps inspired by the benefits of dogs in the workplace, some businesses have fully embraced dog-friendly products as their bread-and-butter offerings. Some of the top canine-focused industries may be familiar, like pet sitting or dog walking. Others, like subscription boxes, are a bit more trendy and fresh.
Dog-friendly businesses are typically met with mixed results. There's certainly a market for these companies that offer novelty or luxury services like canine ice cream and luxury pet massages. However, they sometimes fizzle due to limited interest or a lack of funding.
Other dog-friendly companies thrive in more permanent markets. These businesses include veterinary practices, pet insurance providers, dog collar manufacturers, and other enterprises that fulfill essential dog-related needs.
If you want to start a dog-friendly business, you can't go wrong with the following trendy options.
1. Dog Subscription Boxes
If you're looking to open a trendy, dog-friendly business, canine subscription boxes could be the answer. These boxes allow you to treat your dog to a variety of toys, clothes, and other accessories that help make them healthy and happy. You might already be familiar with dog subscription boxes like Pet Treater, BarkBox, and Pooch Perks.
Dog owners can often customize the contents of their box, so that they receive new treats or training tools with each new package. You can also choose a delivery frequency that works for you, allowing your dog time to use each item in the box before a new one arrives.
Dogs of different sizes and breeds will have different dietary needs, toy preferences, and training regimens. Before you launch your company, research the types of treats and tools that dogs enjoy most. To keep delivery costs low and inventory manageable, consider offering a limited box selection until business escalates. As long as your subscription boxes meet their needs, your business will have a chance to thrive.
2. Dog-Friendly Restaurants, Cafes, And Bars
Many dog-friendly restaurants were opened specifically with dogs in mind, offering entrees and dessert options for pups of any size. In other cases, restaurants are adopting policies that allow your pet to dine with you in an outdoor, dog-friendly space.
Some dog-friendly restaurants allow dogs to walk through the front doors; other eateries only allow pets in outdoor sections, or canine-friendly areas. Before you open your doors to the public, you might want to educate your community on the specifics of your business.
Use the internet, social media, or local news to publicize the opening. Take this opportunity to talk about the foods you serve, the ambiance you've created, and any restrictions on dog access. Your restaurant can yield strong returns as long as the general public remains aware of your presence and your reputation.
3. Dog-Focused Apps
Whether you're making calls, scheduling appointments, sending text messages, answering emails, or playing games, smartphones are often thought of as a must-have device. Today, many dog-friendly mobile applications help make life easier for you and your dog.
Some apps help you schedule dog-sitting or boarding appointments. They help you identify businesses or sitters in your area who can watch your dog for hours — or days — at a time. You can also use them to monitor your dog's daily workouts, regulate their diet, identify potentially hazardous ingredients, and teach them new commands.
Creating a dog-focused mobile application isn't an easy process. You'll need experience with app creation, or a partnership with an app programmer who understands coding and mobile optimization. After you launch your app, you'll also need to dedicate time toward customer support and further app improvements. To give your app the best chance for success, be sure to update its framework regularly and lean on the experience of your programmer to keep the app secure.
4. Dog Photography
You'll want to learn the benefits of general photography before you tackle the dog-photography industry. The key to effective dog photography is relatively simple: no matter the dog, capture the essence of their personality. Prioritize natural light and close-up angles to let their personality shine. Use props or background elements to add depth to any scene.
After your photography session concludes, you can use editing programs to help enhance lighting and remove blur. Include multiple image delivery options in your photography packages, to accommodate dog owners who prefer both digital and print copies of their pets.
Currently, dog photography is popular among owners. Business volume may depend on seasonal trends and overall interest.
5. Raw Food Packages
A raw food diet can help protect your dog's wellness at any age. Typically, raw dog food consists of uncooked meats, vegetables, fruits, and dairy items. The right raw food diet may help your dog achieve a shinier coat, cleaner teeth, and healthier skin, all while improving their energy retention throughout the day. But be sure to check with your vet before switching your dog's diet to make sure it meets their nutritional requirements.
The best raw dog food providers have at least one thing in common: they deliver to your door. If you're considering a dog-friendly business model that sells raw dog food, you'll need to settle on a formula of uncooked foods that satisfy a dog's dietary needs. Consider asking a veterinarian or certified canine nutritionist for help in achieving the right raw food mixture. As long as your raw food formula meets owners' standards, business should remain steady.
6. Dog Influencers And Dog-Influencer Managers
Many successful dog-friendly businesses succeed purely based on the popularity of a single dog. Dog influencers — dogs that have large followings on social media platforms — make money through endorsements, paid advertisements, and private product lines.
Of course, a dog cannot manage their own revenue stream. Dog-influencer managers help their dog, or dogs, interact with individuals online. Typically, they manage their dog's daily life, from routine veterinary appointments to vacations and dietary preferences.
If you want to help your dog become an influencer, you'll need to create a brand around their personality. Managers often leverage their dog's popularity to create professional partnerships with toy providers, food manufacturers, and training tools they use every day. This is often the first step toward expanding your following and fostering a successful business around your favorite pup.
Influencer business relies heavily on the popularity of mainstream social media platforms. Your marketing strategies will likely need to evolve, as generations change, and different social media programs grow or decline in overall users.
7. CBD Products For Dogs
With the right application, cannabidiol — better known as CBD — may help ease your stress or improve concentration. CBD oils for dogs can sometimes yield similar benefits, particularly when it comes to addressing anxiety.
Canine providers may make their products available through subscription boxes. You can choose the individual oils that you believe will benefit your dog's health, without paying for products your dog doesn't need. The best CBD subscription boxes for dogs offer affordable, organic products, with generous return policies if any product doesn't meet your standards.
To become a provider for dogs, you'll first need to familiarize yourself with the most popular canine CBD products. Once you learn how they can improve a dog's health and outlook, you can begin to build a business around the industry's top oils.
Anxiety, pain, and neurological disorders in dogs will all be consistent issues in the future. As long as it remains a trusted remedy to help ease a dog's symptoms, your CBD delivery business will have a chance for success. But it would be wise to consult a vet and do your research to understand the science behind the claims you plan to make.
Legal Considerations For Your Dog-Friendly Business
No matter the dog-friendly business idea you decide to pursue, remember to consider any legal issues. Depending on your business type, you may need to obtain certain operating licenses or take certain precautions to ensure success.
For example, you will need licensure before you can open your dog-friendly restaurant. If you're meeting with dog photography clients, you might consider asking for proof that dogs or owners are vaccinated against certain illnesses.
If you know that you'll be around dogs, you will need to set clear rules and policies to protect both human and canine health. You may also consider requiring or even assisting staff in acquiring pet health insurance if they will be bringing dogs to your business. It's also a good idea to require proof of vaccination status to ensure they are ready to safely interact with other dogs and roam in these shared spaces.
Tagged With: