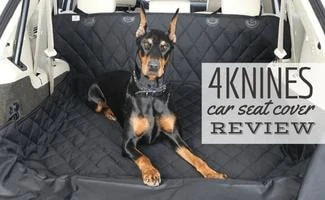 It's always fun to take your pup on outdoor adventures. One potential downside is that they can get filthy. Unfortunately, those dirty pups have to get home, and it might be at the expense of your clean car. Car seat covers are a great way to keep your vehicle clean while giving your pup a comfortable place to ride. Here's our 4Knines seat cover review to help you decide if one of their products could work best for your needs.
View 4Knines on Amazon | Visit 4Knines' Website
4Knines Seat Cover Review
Summary
4Knines produces a range of seat covers that enable you to keep your furry companion safe and cozy while simultaneously protecting your vehicle from damage. These seat covers are practical, long-lasting, and even somewhat stylish.
Our team determines the overall rating based on several factors, including ease of use, fit to vehicles, durability, comfort, price, and customer support.
Pros
Easy to install
Machine washable
Higher cost than some other options
Multiple options to fit different vehicles
Excellent customer service
Lifetime warranty
Cons
X-large size may not be wide enough for all vehicles
Higher cost than some other options
Higher cost than some other options
Some customers complain the material is slippery
Key Features
Heavy-duty, durable material
Waterproof
Non-slip backing
UV-protected straps
Padded for comfort
Company donates a percentage of every sale to animal advocacy groups (they support more than a dozen organizations)
Customer support via live chat, phone, and email
4Knines Car Seat Cover Options & Price
4Knines has several options to meet the needs of all pet parents and their different vehicles. All of 4Knines' products come with a lifetime warranty. Each product is available in black, gray, camo, or tan unless otherwise noted.
4Knines Seat Covers For Cars & SUVs
4Knines seat covers are made with lots of vehicles and needs in mind. There are five options.
4Knines Bucket/Front Seat Cover for Dogs
Need to cover a front seat or bucket seats in the rear? The 4Knines bucket/front seat cover can protect your seat from a messy pup. This seat cover comes in a 21-inch wide universal fit.
Price
4Knines Rear Seat Cover With Hammock
This 4Knines rear seat cover for cars and SUVs has a hammock to provide a safety net for your pup while also protecting your back seat. This product comes in black, gray, and tan.
Price
4Knines Rear Dog Seat Cover Without Hammock
This cover is the 4knines bench seat cover without the hammock feature. You can use this product to protect a rear bench-style seat in many vehicles, but it only comes in the regular size. Available in black, gray, and tan.
Price
4Knines Split Rear Seat Cover
This rear cover lets you fold down a center armrest or one of your back seats (60/40 or 50/50) without removing the cover. It also supports a middle seat belt. You can use this product to protect a rear bench-style seat in most vehicles. Comes in regular and x-large sizes. You can get it without or with a hammock (the price is the same for both styles).
Price
4Knines SUV Cargo Covers
Cargo spaces can be a go-to spot in an SUV for your pup. 4Knines offers two options.
4Knines SUV Cargo Liner
The SUV cargo liner by 4Knines covers the full cargo area of your SUV and includes a 22-inch bumper flap to protect your rear bumper from scratches and dirt. It comes in black, gray, and tan colors.
4Knines SUV Cargo Liner For Fold-Down Seats
This 4Knines split rear seat cover has a 60/40 split with the armrest pass-through option. You can you this when you configure your fold-down seats in multiple ways. It also features a 22″ bumper flap.
4Knines Crew Cab Truck Covers
4Knines even has a couple of protective cover options for owners of crew cab trucks.
4Knines Crew Cab Rear Bench Seat Cover With Hammock
This cover is designed specifically for crew cab trucks with fold-up split rear bench seats. It allows access to all three seat belts and 60/40 flip-up seats. The passenger side is compatible with Ford, Chevy, GMC, and Toyota, and the driver side is compatible with Nissan and Dodge.
Price
4Knines Floor Hammock for Crew Cab Trucks
This cover is specifically designed for full-size crew cab trucks that have fold-up rear seats. It covers the back of the front seats, the floor, and the folded-up seat bottoms for maximum protection. As with the rear truck seat cover above, it comes in splits for the passenger or driver side (truck brand compatibility is the same). Only available in black and camo.
Price
How Do I Install My 4Knines Seat Cover?
This two-minute video from 4Knines shows you how to install the rear seat cover. These instructions work for the 4Knines rear seat cover or the 4knines split rear seat cover.
Keep Your Car Clean And Safe For Your Pup
View 4Knines on Amazon | Visit 4Knines' Website
4Knines makes various seat covers to help you keep your pup safe and comfortable while keeping your car clean. These seat covers are functional, durable, and even a bit stylish. If you're concerned about keeping your car clean and safe, learn more about things like dog paw cleaners, dog seat belts, dog car seats, and harnesses to help keep the dirt out and your pup safe inside your car.
Tagged With: