Let's face it. Dogs' paws get dirty and not just when it rains or after being dragged through the mud. Everyday walks on the sidewalk and playing in the yard can cause your dog's paws to collect germs and dirt in her pads and paw fur. Over time, the buildup can lead to more serious health problems like yeast infections.
But what's the best way to clean dog paws, so you don't have to bathe your dog after every potty break? The best paw cleaner for dogs can help keep your dog's paws fresh so you can have guilt-free snuggles in bed and not have to worry about ruining your rugs. Let's check out some paw cleaner solutions.
Best Paw Cleaner For Dogs
You have several options for cleaning your dog's paws before coming inside. There are portable dog washers and dog paw wipes that are suitable to take with you on the go or to keep in the car. Dog paw cleaning doormats or other dog paw cleaning stations that use a dog paw cleaner spray might be better to keep at home by the front door. We picked the top three best dog paw washers, and then a few other options for cleaning their feet.
Winner: Dexas MudBuster Portable Dog Paw Washer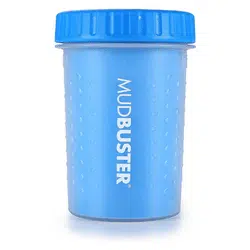 A dog paw washer cup is an affordable and easy way to keep dogs' paws clean. Our top pick is the MudBuster. Simply fill the cup with warm water (and optional soap), insert their paw into the cup, and rotate the cup back and forth so the rubber bristles inside can scrub their paws. Then remove paws and towel dry. For most dogs, a cup can clean at least one round of paws before you need to change the water. Bonus: the cup is clear, allowing you to see if the water is dirty and needs changing.
The MudBuster is a silicone dog paw cleaner, one of the most popular cleaning product types. Its patented, compact design is made from BPA-free plastic and is easy to throw in your purse or dog bag. The MudBuster comes in a variety of colors and three sizes for all dog types. We recommend getting one with a leak-proof lid so you pre-fill it, in case water isn't available where you take it with you. The cup disassembles for cleaning and is dishwasher safe.
Our Personal Experience
We use this at home when letting our dogs in from playing outdoors, especially on rainy, muddy days. The MudBuster does a great job of removing the pesky red clay from their paws (we live in NC, where there is lots of red clay in our soil), but we still use an old towel to dry their feet before they come in. The MudBuster is also dishwasher-safe, so it is easy to clean and reuse regularly. – Michelle S., Canine Journal
Price
Runner Up: Paw Plunger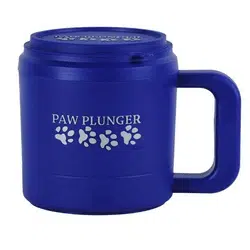 Our second pick for the best paw cleaner cup for dogs is the Paw Plunger. Similar to the MudBuster, it comes in three sizes and various color options. It uses the same technique to clean but is in the shape of a coffee mug with a handle so you can get a firm grip.
The Paw Plunger comes with a detachable lid (with a chain attached so you don't lose it). And the rubber top squeegees away excess water and prevents spills. It comes apart for handwashing between uses.
Price
Third Place: Doggie Dipper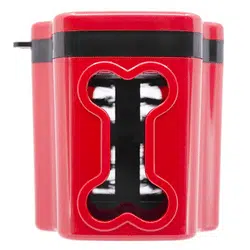 Rounding out our top three is the Doggie Dipper. It only comes in one size and color, but it's an ideal dog paw cleaner for extra-large pups. The handle on the side is in the shape of a bone, and we love that this cleaning cup has a clear window on the side so you can see how full it is (and how clean or dirty the water is).
The Doggie Dipper has silicone bristles that clean the paws and a soft, absorbent sponge that soaks up the excess water and dries the paws upon removal. There is a lid to keep it watertight, and it's dishwasher safe. The Doggie Dipper is a bit bulkier, so it's not as easy to take on the go.
Price
Other Top Picks For Cleaning Dog Paws
Here are some other effective options you may want to consider.
Best Wipes For Dog Paws: TrueBlue Super Fresh Body And Paw Wipes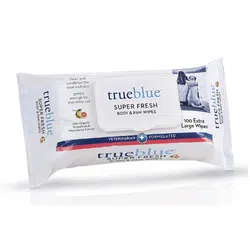 There are wipes for just about every part of your dog. But the best dog paw wipes are TrueBlue's super fresh wipes. These thick, large dog paw cleaning towels are intended for one use so you can wipe and toss. They're useful if you're in a hurry or your dog isn't in need of more intense cleaning.
TrueBlue uses natural cleaning ingredients, including coconut, grapefruit essential oil, lavender extract, and aloe vera for a fresh scent while providing moisturizing elements. The manufacturer works with veterinarians to develop safe, effective formulas that are tough on grime but easy on the environment. Wipes work for dogs of all shapes and sizes and are more gentle than other dog washers.
Price
Best Mat For Cleaning Dog Paws: SKI Innovations Paw Boss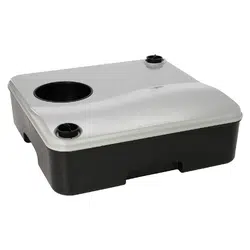 The Paw Boss mimics how humans wipe their feet on doormats. Similar to cleaning cups, you dunk their paws one by one in the hole. However, with the Paw Boss, you get a clean soak every time with separate reservoirs for clean and dirty water to refill without having to go back and forth to the sink.
It can wash up to eight paws in one filling and lies flat on the floor so it's more suitable for at-home use versus on-the-go (although it is portable). The Paw Boss only comes in one size and color and works for all dogs.
Price
Best DIY Solution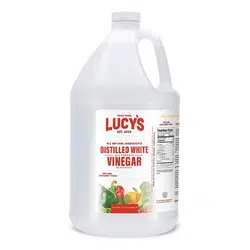 If you're looking for a do-it-yourself option, you might try cleaning dog paws with a vinegar-water mixture. Combine equal parts of warm water and distilled white vinegar in a refillable spray bottle and shake. For better results, use distilled water (which you can buy or boil your own). To enhance the smell and effectiveness, squeeze a bit of lemon juice into the mixture.
Spray on their paws, then wipe dry with a clean towel. It's not quite as powerful as the other products we feature above, but it does the trick in a pinch. Pro tip: put this mixture in a travel-sized spray bottle for paw cleaning on the go.
Price
Learn more about other pet-friendly cleaning products you can buy or make at home.
How To Clean Dog Paws After Walk (Video)
If your dog isn't used to having her paws touched, your post-walk cleaning routine might take some getting used to. Start slow and build up gradually to your cleaning method of choice. Be patient and have lots of treats on hand to reward good behavior.
Over time, your dog will adapt to the sensation of her paws being scrubbed and/or wiped (and some dogs even might look forward to it). This short video from our top pick MudBuster shows how easily you can clean your pup's paws using their product.
Shoes & Booties Help Keep Paws Protected
Other ways you can keep your dog's paws protected are with booties for winter snow and dog shoes for hot pavement. And you might also consider getting a pet-hair vacuum or even a robot vacuum to remove fur and other debris they might track through the door.
Tagged With: Comparison, Grooming, Paws