To keep the lights on, we receive affiliate commissions via some of our links. Our review process.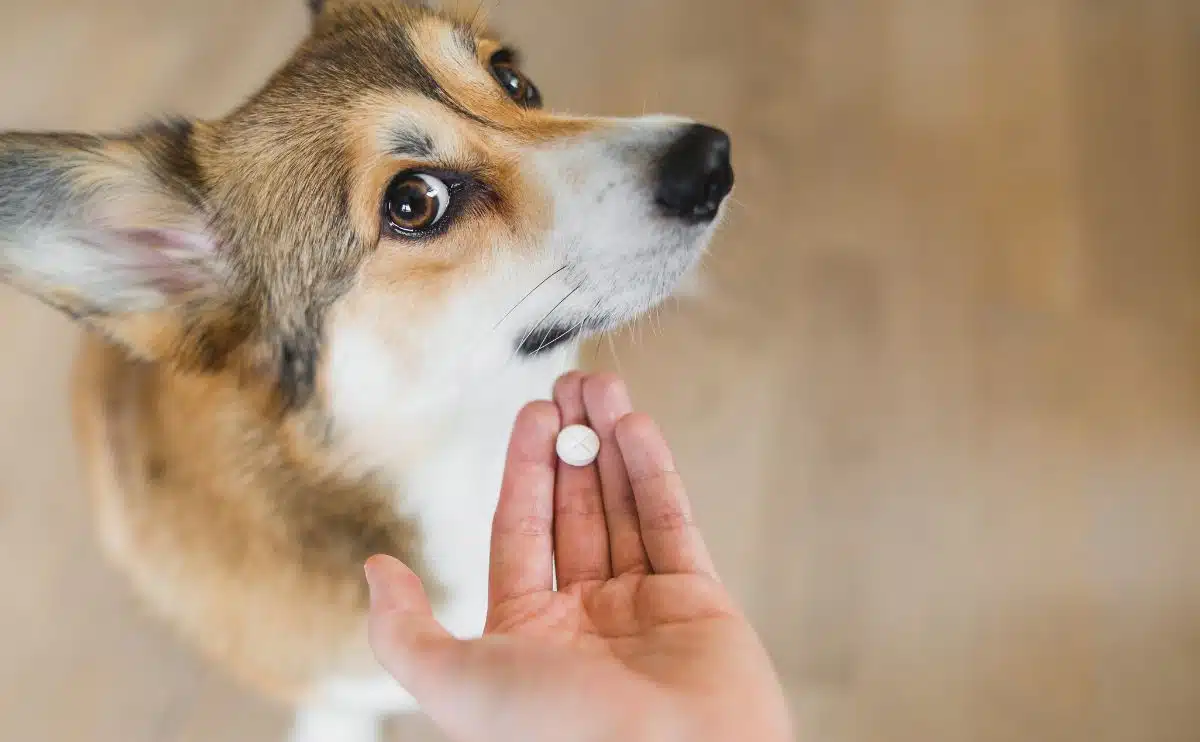 If your dog is suffering from allergies and needs relief for her itchy skin, you're likely wondering, what's the best allergy medicine for dogs? Canine allergies are best diagnosed by your veterinarian, who will recommend a treatment based on what your pup is allergic to (food, fleas, environmental factors, etc.).
One commonly vet-prescribed allergy medicine for your dog is Apoquel. But exactly what is Apoquel used for? Are there side effects? Is Apoquel safe for dogs? And is it the most effective anti-itch medicine? We give you the whole scoop on these popular canine allergy pills.
What Is Apoquel For Dogs?
Apoquel is the brand name for oclacitinib, an oral medication that veterinarians prescribe to manage itching associated with allergic dermatitis in dogs over one year of age. The FDA approved Apoquel for veterinary use in 2013, and it has become one of the most widely prescribed anti-itch medicines for dogs. It's manufactured by Zoetis, the world's largest producer of medicines and vaccinations for pets and livestock.
Apoquel effectively relieves itching associated with food allergies, flea allergies, contact allergies, and atopic dermatitis (atopy). Atopy is a common form of a dog skin allergy in which dogs are allergic to various environmental factors — typically by inhalation or direct contact.
How does Apoquel work? Apoquel is an immunosuppressant that works by inhibiting Janus kinase (JAK) enzymes (specifically JAK1 and JAK3 enzymes) in a dog's body. Blocking these enzymes suppresses the body's allergic reaction, including both itching and inflammation.
Apoquel can begin providing relief as soon as four hours after administration and can last up to 24 hours. So, it's typically given daily to manage symptoms.
Dogs under one year of age should not take Apoquel. Apoquel also isn't recommended for dogs who have serious infections or for dogs who weigh less than 6.6 pounds.
Apoquel For Dogs: Dosage
Apoquel comes in three tablet sizes: 3.6mg, 5.4mg, and 16mg. The dose of Apoquel tablets is 0.18-0.27 mg/lb (0.4-0.6 mg/kg). It's typically prescribed twice daily for up to 14 days and then once daily after that. It can be given with or without food.
Apoquel Dosing Chart For Dogs
The following Apoquel for dogs dosage chart tells you how many tablets to administer according to the weight of your dog.
| Weight Range | 3.6mg Tablets | 5.4mg Tablets | 16mg Tablets |
| --- | --- | --- | --- |
| 6.6-9.9 lbs | 0.5 | – | – |
| 10-14.9 lbs | – | 0.5 | – |
| 15-19.9 lbs | 1 | – | – |
| 20-29.9 lbs | – | 1 | – |
| 30-44.9 lbs | – | – | 0.5 |
| 45-53.9 lbs | 0.5 | – | 0.5 |
| 54-59.9 lbs | – | 0.5 | 0.5 |
| 60-89.9 lbs | – | – | 1 |
| 90-129.9 lbs | – | – | 1.5 |
| 130-175.9 lbs | – | – | 2 |
Apoquel For Dogs Side Effects
One of the major benefits of Apoquel versus more traditional steroid treatments for dog allergies is fewer and less severe side effects. Most dogs have no or very few side effects from Apoquel as long as you follow the dosing guidelines as prescribed by your vet.
The most common side effects include vomiting, diarrhea, lethargy, and decreased appetite. However, according to study results and veterinarian feedback on their clinical experience with the drug, these side effects are fairly rare. Even rarer side effects can include an increased risk of developing urinary tract infections, skin infections, and respiratory infections.
Apoquel Alternatives For Dogs
Is there an alternative to Apoquel for dogs? And how does Apoquel compare to other allergy meds for dogs? Dogs react differently to medications, so if your pup isn't responding well to Apoquel, your vet may try an alternative. We also have an entire article devoted to allergy medicine for dogs (including all-natural alternatives).
Prescription Medications
Atopica vs Apoquel For Dogs
Another oral immunosuppressant that vets commonly prescribe for allergy relief is Atopica (cyclosporine). However, it can take much longer (up to a month of daily dosing) to achieve maximum relief compared to fast-acting Apoquel. Also, gastrointestinal side effects, mainly vomiting, and diarrhea, are relatively common with Atopica. But Atopica can be a better option if your dog suffers from recurrent ear infections.
Cytopoint vs Apoquel For Dogs
Cytopoint (by Zoetis, the same drug manufacturer as Apoquel) is an antibody protein. It's administered as a subcutaneous injection at a veterinarian's office. One injection reduces itching within 24 hours and offers relief for four to eight weeks in most dogs. Unlike Apoquel, it can be used for dogs less than one-year-old.
Corticosteroids vs Apoquel For Dogs
Veterinarians have used corticosteroids, like prednisone and Temaril-P (trimeprazine with prednisolone), for years to control inflammation and itching in dogs. While corticosteroids are effective, they're not a good long-term solution because of the harsh side effects, such as behavior changes, immune system suppression, and Cushing's disease, after prolonged use.
Over-The-Counter Antihistamines
Apoquel vs Claritin For Dogs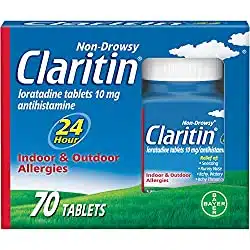 The human antihistamine Claritin (loratadine) is generally safe for dogs and can provide allergy relief. But you should always consult with your veterinarian before giving your dog any human medications. Also, Claritin and other human antihistamines aren't FDA-approved as an allergy treatment for dogs.
Apoquel vs Zyrtec For Dogs
Zyrtec (cetirizine), another popular human antihistamine, is similar to Claritin. Again, check with your vet first before giving it to your dog.
Frequently Asked Questions About Apoquel
Here are some of the most common questions we receive about Apoquel.
How Much Is Apoquel For Dogs?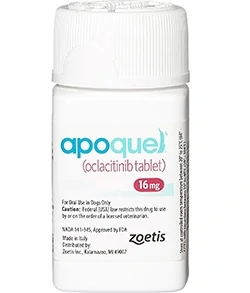 Apoquel for dogs costs $2.43 per tablet, regardless of the strength of the tablet. So if your vet prescribes it twice daily for the first 14 days and then once daily afterward, your first month of Apoquel will run you $102.06. Then subsequent months with one tablet daily will be $72.90. Yes, that's on the pricey side. Is there a cheap Apoquel for dogs in a generic version? Unfortunately, there is no generic version of Apoquel.
Can I Give My Dog Apoquel And Benadryl?
Is it safe to give Apoquel and Benadryl together for dogs? (Benadryl's generic name is diphenhydramine.) As we said above, dog allergy treatment is best managed by your veterinarian. It could be okay for your dog to take both medications together — but only with your vet's recommendation. There could be added side effects with both drugs working simultaneously. So don't give your pup both medications without consulting with your vet first.
Does Apoquel Make Dogs Sleepy?
In studies, a very small percentage of dogs experienced lethargy after taking Apoquel. But in a large majority of cases, Apoquel doesn't make dogs drowsy.
What To Expect: A Vet Visit For Itchy Skin
Thinking about visiting your vet for your dog's itchy skin? This brief video can give you a great idea of what your vet will ask you and look for in your dog and possible treatment therapies.
Learn More About Dog Allergies
The dog allergy medicine Apoquel is one of the best dog allergy meds on the market. But if you're unsure if your dog's itching is from allergies or another cause, check out our article about dog allergy symptoms. Our experts also tell you all about dog skin allergies.
If you suspect your dog has allergies, it's always best to visit your veterinarian for a proper diagnosis. But in the meantime, you can also give your dog an at-home allergy test. These at-home kits can test for many food and environmental sensitivities your dog may have. Once you get the results, you can share those with your vet to develop a proper treatment plan.
Tagged With: Allergies, Reviewed By Dr. Pendergrass, DVM