So, your vet has told you that your furry family member has diabetes mellitis. It can be a worrisome diagnosis for sure, but many diabetic dogs can have an excellent quality of life for many years as long as you're vigilant about keeping the disease under control. The key to managing diabetes is to keep your pet's blood sugar (glucose) near normal levels. For dogs, this requires daily insulin injections and a diet change in some cases — particularly for overweight dogs.
There's no one-size-fits-all when it comes to a diabetic canine's diet. That's because many factors affect each dog's unique needs, including age, activity level, whether he's overweight, the presence of any other health conditions, and more. But dog food ingredients can sometimes help keep a dog's glucose levels more steady. We'll explain some general diet guidelines and give your our reviews of some of the best food for dogs with diabetes.
At A Glance: Best Non-Prescription Diabetic Dog Food
What Is Diabetic Dog Food?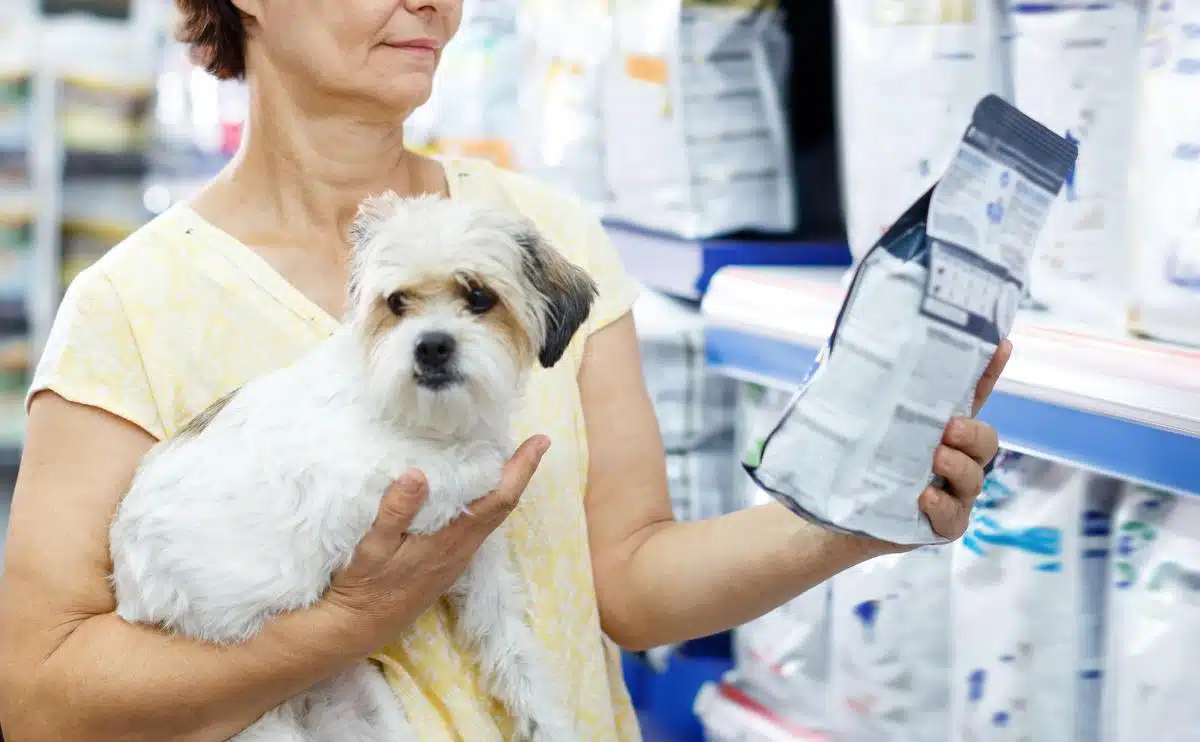 In some cases, vets will recommend a prescription diabetic dog food, which includes scientifically formulated ingredients to even out blood glucose levels and control fat intake. This makes it easier for your vet to keep your pup on a steady dose of insulin. But not all dogs with diabetes require prescription food or even a change in dog food.
If appropriate, your vet may recommend a non-prescription diabetic dog food that includes the necessary balance of ingredients to control his diabetes or a homemade diet designed by a veterinary nutritionist. Your vet will suggest the ideal diet options for your pup's specific needs.
Vet Diet Recommendations
Clinical veterinarians and veterinary experts typically follow these general guidelines for diabetic dog diets. However, it's important to keep in mind that every dog responds differently to the amounts of protein, fat, fiber, and carbohydrates.
Calories & Weight Control
Your vet will assess how many daily calories your pup needs based on his weight and activity level. Your vet will also determine if your dog needs to lose or gain some weight. Like humans, being at a healthy weight makes the body more efficient in using insulin (the hormone that keeps blood sugar under control).
High Fiber
The most recent research has shown that high-fiber dog food is an important aspect of a diabetic dog's diet. For dogs at a healthy weight, look for a diet with about 5-15% crude fiber on a dry matter (DM) basis. Overweight dogs may do better with 10-20% crude fiber content.
The crude fiber content on dog food labels reflects the amount of insoluble fiber, which is good for dogs with diabetes. Fiber helps food move more quickly through the digestive tract, which is beneficial for glucose regulation in diabetic dogs.
Lower Fat
Many dogs develop diabetes from being overweight. Also, in up to 30% of cases, dogs become diabetic secondary to pancreatitis. In both of these cases, a low-fat diet is important. Many vets recommend a fat content between 10-15% (or lower in severe cases of pancreatitis).
Your vet may also recommend supplementing your pup's diet with L-carnitine, which can help with fat metabolism. Healthy-weight diabetic dogs with no other health problems shouldn't get more than 25% fat.
Carbohydrates
Is low-carb dog food for diabetic dogs essential? Although it may seem counterintuitive based on our understanding of human diabetic needs, low carbs aren't as important in a dog's diet as high fiber. According to Tufts University veterinarian experts, treatment in diabetic canines doesn't typically focus on fewer carbohydrates because there's no solid research to prove that it's beneficial for dogs.
"The dog foods you'd want to carefully avoid are those that are semi-moist, as they often contain simple carbs in the form of sugar, corn syrup, or honey," say Tufts experts. These simple carbs are the ones that can spike a dog's blood sugar. Still, some veterinarians say carbohydrates are best limited to about 50% DM, and some diabetic dogs do better with fewer than 33% DM carbs.
What About Low Glycemic Dog Food?
Some experts suggest that the types of carbohydrates (where each falls on the glycemic index) sometimes can make a difference — but not always. The glycemic index (GI) measures the effects that every carbohydrate has on blood glucose levels (with a lower GI score being better for diabetics). Examples of low-GI foods include lentils, chickpeas, and sweet potatoes, while carbs like potato starch and rice have a high GI.
But the inclusion of high GI carbs doesn't necessarily mean you have to avoid dog food with that ingredient. Why? Other ingredients in that dog food, like the fat, fiber, and protein content, could help balance out foods with a high glycemic index (GI). Your vet is your best resource here if you're concerned about the types of carbs in your dog's diet. Every dog reacts differently to varying ingredients.
Lean High-Protein Content
Giving your diabetic pup higher lean protein content in his diet helps his body build lean muscles. This is particularly beneficial for many overweight diabetic dogs. A higher percentage of lean body mass contributes to better insulin control (and may even lead to needing a lower insulin dose). Look for dog food with at least 30% crude protein on a DM basis.
Timing Of Meals & Insulin Injections
Diabetic dogs need well-timed insulin injections and meals (no free-choice feeding). Insulin injections must occur in conjunction with a meal; otherwise, your dog can suffer from hypoglycemia (when blood sugar drops too low), which can be extremely serious and even life-threatening. Two meals per day about 10-12 hours apart are ideal for most diabetic dogs.
This makes it extremely important to find dog food that your pup likes. Not eating most of his meals or skipping meals can be dangerous for diabetic dogs. Warning: If your pup doesn't eat a meal, you should not give him his insulin injection.
Increase H20
Staying hydrated is particularly important for diabetic dogs because the high fiber they require depletes more water from their bodies. And many dogs with diabetes have increased thirst and urination. So, make sure you're giving your furball plenty of fresh water.
Regular Exercise
Finally, exercise is important for all dogs, but increasing your diabetic dog's activity level can help his body with glucose regulation. And if your diabetic dog is overweight, exercise can help him shed those extra pounds.
Best Non-Prescription Food For Dogs With Diabetes
We've chosen our top picks and our other recommended diabetic dog food based on the nutritional balance and quality of formulas, diabetic-friendly ingredients, customer feedback, pricing, and more. Before giving your diabetic dog any new food or a change in diet, it's crucial to consult your veterinarian.
Note: All of the dog foods we've included in our reviews are all-natural and meet or exceed Association of American Feed Control Officials (AAFCO) nutritional guidelines (unless otherwise noted). They contain no fillers, by-products, preservatives, or artificial ingredients.
Best Dry: Orijen Fit & Trim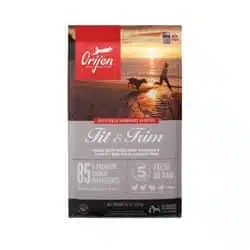 View on Amazon | View on Chewy
Orijen's philosophy is that our pets should eat the diet nature and evolution intended them to eat. Their dog food contains 85% premium animal ingredients, including highly nutritious meat, organs, and bones. This high-protein, grain-free formula features a mix of real chicken, turkey, and fish as the first six ingredients and low-glycemic carbs, such as lentils, chickpeas, pinto beans, and peas.
It's fortified with nutritious and fiber-rich whole fruits and veggies, including pumpkin, butternut squash, collard greens, apples, pears, and cranberries. It also includes glucosamine for your pup's joint health and prebiotics and probiotics for digestive support and a healthy gut.
Estimated DM nutrient content: 42% protein, 13% fat, 8% fiber, and 25% carbs (16% dietary starch)
| Pros | Cons |
| --- | --- |
| Real chicken, turkey, fish, and organ meats are the first 6 ingredients | Some dogs with allergies don't do well with multiple protein sources |
| High fiber and protein content; low dietary starch | On the pricey side |
| No corn, wheat, soy, potatoes, rice, or barley | |
| Fortified with prebiotics and probiotics | |
| Kibble is freeze-dried coated for enhanced nutrition and taste | |
| Made in the USA | |
Price
Best Wet: Nulo Freestyle Adult Trim Canned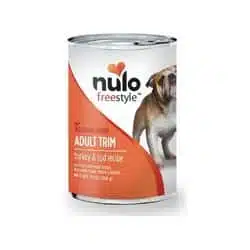 View on Amazon | View on Chewy
If your little buddy isn't into dry kibble, this grain-free Nulo wet food could be a good solution. It's lower in fat and higher in fiber than many other canned dog foods. It also features real turkey, turkey broth, salmon broth, turkey liver, and cod as the first five ingredients as well as low-GI carbs, such as chickpeas and peas.
The inclusion of L-carnitine is a bonus because it helps the body metabolize fat more efficiently. You can feed this tasty non-prescription diabetic dog food as a stand-alone meal or as a food topper to make kibble more appealing to your picky pooch.
Estimated DM nutrient content: 45.5% protein, 13.6% fat, 11.4% fiber, and 15% carbs
| Pros | Cons |
| --- | --- |
| Real turkey is the first ingredient | Expensive |
| High fiber and protein content | Some customers complain about the inclusion of whole chickpeas (instead of mashed) |
| No corn, wheat, soy, potatoes, rice, or barley | |
| Several customers say it keeps their dog's glucose levels steady | |
| Made in the USA | |
Price
Best Budget-Friendly Diabetic Dog Food: ACANA Light & Fit Grain-Free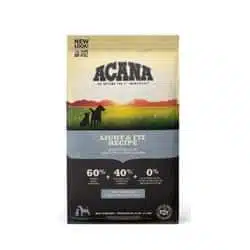 View on Amazon | View on Chewy
Unfortunately, the best food for diabetic dogs is all on the pricey side, but this non-prescription formula from ACANA pet food company is among the most affordable you can find for the level of quality. This high-protein, low-fat, and moderate-calorie dog food could be an excellent choice if your furry friend is slightly overweight or tends to gain weight easily.
This grain-free recipe includes low-glycemic carbs and 60% quality animal ingredients, including free-run chicken and turkey, cage-free eggs, and flounder. Whole fruits, vegetables, and legumes, such as pumpkin, collard greens, and chickpeas, are excellent sources of natural fiber, vitamins, minerals, and antioxidants. Most pup parents say their dogs love the taste. ACANA also offers beef, fish, chicken and turkey, and grain-inclusive formulas with higher fat content (15%).
Estimated DM nutrient content: 33% protein, 10% fat, 8% fiber, and 37% carbs (23% dietary starch)
| Pros | Cons |
| --- | --- |
| Real deboned chicken and turkey are the first 2 ingredients | Some dogs with allergies don't do well with multiple protein sources |
| High fiber and protein content | A few complaints that it caused diarrhea |
| No corn, wheat, soy, potatoes, rice, or barley | |
| Fortified with prebiotics and probiotics | |
| Kibble is coated with freeze-dried chicken and turkey for enhanced nutrition and taste | |
| Made in the USA with carefully sourced ingredients | |
Price
Best Budget-Friendly (Runner-Up): Wellness CORE Grain-Free Ocean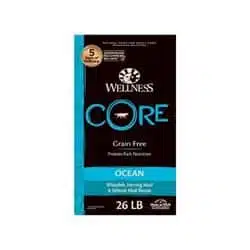 View on Amazon | View on Chewy
Wellness is a well-known pet food brand for its formulas that provide whole-body nutrition. This grain-free Ocean recipe features real fish as the sole animal protein, low-glycemic carbs, and fiber-rich, nutritious whole veggies and fruits, such as spinach, kale, broccoli, carrots, apples, and blueberries.
This formula is fortified with glucosamine and chondroitin for healthy joints, taurine for heart health, and prebiotics and probiotics for optimal digestion and a healthy gut. The inclusion of multiple fish ingredients and flaxseed also provides plenty of omega-3 and 6 fatty acids for multiple benefits, including skin and coat health.
Estimated DM nutrient content (turkey): 34% protein, 15% fat, 7% fiber, and 33% carbohydrates
| Pros | Cons |
| --- | --- |
| Real whitefish is the first ingredient | Fat content could be a bit high (15%) for some dogs |
| High fiber and protein content | Some customers said their dogs didn't like the taste |
| No corn, wheat, soy, rice, or barley | |
| Fortified with prebiotics, probiotics, and taurine | |
| Good for sensitive stomachs and allergies | |
| Made in the USA | |
Price
Best Low-Carb Dog Food For Diabetic Dogs: KetoNatural Ketona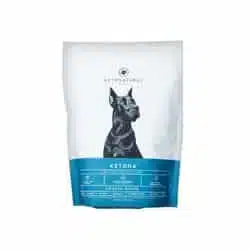 View on Amazon | View on Chewy
Ketona is an all-natural premium ketogenic formula that's effective in controlling blood sugar levels in some dogs. This non-prescription diabetic dog food comes in two recipes, chicken and salmon. Both are grain-free and feature 46% protein, 11% fiber, 0.5% sugar, and under 10% carbs. However, the salmon formula is likely a better choice if your pup is overweight or needs a lower fat content. It contains 11% crude fat with a caloric content of 330 kcal/cup, while the chicken recipe is 16% crude fat and 452 kcal/cup.
It's important to point out that it doesn't meet the nutritional needs for dogs over 70 pounds per AAFCO guidelines for complete and balanced dog food. But it is AAFCO-compliant for dogs under 70 pounds. The only other downside to Ketona is that it's very expensive.
Estimated DM nutrient content (chicken): 46% protein, 16% fat, 11% fiber, and 5% digestible carbs
| Pros | Cons |
| --- | --- |
| Real chicken (or salmon) is the first ingredient | Doesn't meet AAFCO nutritional guidelines for dogs over 70 pounds |
| High fiber and protein content | Expensive |
| Low carbs and sugars (no corn, wheat, soy, potatoes, rice, or barley) | |
| Several customers say it keeps their dog's glucose levels steady | |
| Kibble size is ideal for smaller dogs | |
| Made in the USA | |
Price
Prescription Diabetic Dog Food
Here are two frequently prescribed diabetic dog foods that your veterinarian may recommend. While they may be available at your vet's office, you can often save some money by ordering them online (requires your vet's approval).
Hill's Prescription Diet Multi-Benefit W/D Dog Food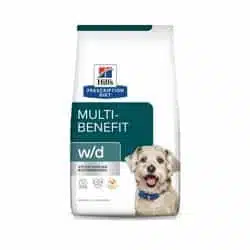 View on Amazon | View on Chewy
Hill's Prescription Diet w/d is a clinically tested formula available in both dry and wet recipes (both require your vet's authorization). This food is designed to help dogs maintain normal blood glucose levels as well as manage weight gain, metabolize fat more efficiently, and promote urinary tract and immune health.
It contains low protein and fat content (no whole proteins included) and a whopping 20% fiber. And the first ingredient is whole-grain wheat. However, many pup owners said it's very effective in managing their dog's diabetes.
Price
Royal Canin Glycobalance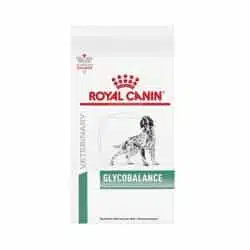 This low-glycemic prescription diabetic dog food is high in protein and fiber with moderate fat content and low dietary starch. This nutritional balance can help maintain blood glucose levels, help with weight control, and build and maintain lean muscle mass. The first ingredient is chicken by-product meal, but Royal Canin says their by-products don't contain anything that's not healthy for pets.
To boost your pup's overall well-being, it's fortified with taurine and fish oil for heart and joint support. Many pup parents say their dogs like the taste and it's effective in controlling blood sugar. However, a few owners of small dogs say the kibble size is too big for their little buddies.
Price
Dry food starting at: $45.99 (7.7-lb bag)
Risk Factors For Developing Diabetes
Being overweight or obese is the most influential lifestyle factor that contributes to the development of diabetes mellitis in dogs. However, genetic factors and breed type can also predispose some dogs to develop this condition. Breeds with a higher risk of developing diabetes mellitis include:
Australian Terriers
Beagles
Bichon Frise
Cairn Terriers
Dachshunds
Fox Terriers
Golden Retrievers
German Shepherds
Keeshonds
Poodles
Pugs
Samoyeds
Schnauzers
Signs Of Diabetes In Dogs
Increased appetite
Weight loss
Excessive urination
Frequent thirst
Cloudy eyes, cataracts
Chronic infections
Frequently Asked Questions
Here are some other questions pup owners ask most often about feeding diabetic dogs.
Can I Give My Pup Homemade Diabetic Dog Food?
Experts strongly advise against feeding your diabetic dog a homemade diet. Getting the right balance of fiber, carbs, fat, protein, and essential nutrients is extremely difficult with any homemade dog food. And it's even more challenging and potentially dangerous for diabetic dogs. The only exception is if you're strictly following a homemade diet recommended by your veterinarian that was designed by a vet nutritionist specifically for diabetes management.
Is Wet Or Dry Food Better For Diabetic Dogs?
The type of food doesn't usually matter for diabetic dogs as much as the balance of protein, fiber, fat, and carbohydrate content and the other nutritional content. While wet foods typically have lower carbs, they often have lower fiber and higher fat content. Fiber and fat content are more important than carb content for most diabetic dogs. But wet food (or a mixture of wet and dry food) could be better for your pup if he refuses to eat a kibble-only diet.
Can I Still Give My Dog Treats?
It's strongly advised to avoid feeding your diabetic dog anything not approved by your veterinarian, and that includes treats and table scraps. However, if you get the okay from your vet on the occasional diabetic friendly treat, low-calorie, protein-based treats with low carbs and no fillers, preservatives, or other junk are best.
Do Diabetic Dogs Need Low-Glycemic Dog Food?
Not necessarily. The pet food industry can be misleading in that it applies human health lingo to dog food. Products marketed as low-glycemic dog food may actually contain other ingredients that aren't beneficial to diabetic dogs. (There's also no scientific evidence that feeding dogs low glycemic food can prevent diabetes or obesity.)
It's more important to look at the entirety of a dog food's nutritional guaranteed analysis (protein, fat, fiber, etc.), the types of carbohydrates it includes, and whether it contains empty-calorie fillers. Again, consulting your vet is your best course of action when considering any food for your diabetic pup.
How Do I Give My Dog Insulin Shots? (Video)
Your vet will give you instructions and demonstrate this process for you at their office. But in case you want a visual refresher, watch this brief tutorial to ensure you're giving your dog his insulin injections correctly.
The Cost Of Diabetic Dog Care
Fortunately, diabetes is a manageable disease for your pup's long-term health, but you may be concerned about the financial impact of daily insulin requirements, more frequent vet visits and testing, and even prescription dog food. These costs can add up to $1,000 or much more every year.
Pet insurance can cover ongoing costs from diabetes and other chronic conditions, but your pup must already be covered before he's diagnosed (otherwise, it's considered a pre-existing condition). So, you may want to consider getting pet insurance while your dog is still young and healthy to cover unexpected illnesses and accidents.
Tagged With: Comparison