To keep the lights on, we receive affiliate commissions via some of our links. Our review process.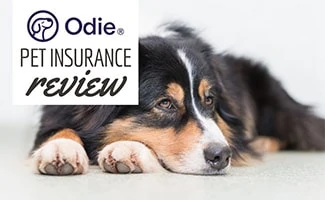 Odie is a newcomer to the pet insurance industry, which means there isn't much feedback yet from pet parents about its policies. But how does its coverage compare to other pet insurance companies, and can it fit into your budget? Find out what to expect with Odie in our review.
Odie Pet Insurance Review

Product Name: Odie Pet Insurance
Product Description: Odie offers pet insurance for dogs and cats.
Summary
Odie requires add-ons for basic coverage that competitors include in their policies (i.e., prescription medication, rehab, and more). Being newer to the industry, we hope to see more comprehensive coverage and customer feedback about their experience.
Our pet insurance experts read through each pet insurance company's policy to provide detailed comparisons and information regarding how a provider fares against others in the industry. We also speak with customers, read online feedback, and communicate one-on-one with pet insurance companies to obtain a well-rounded, unbiased analysis of a company's standings.
Our team rates pet insurance companies based on several factors, including A.M. Best ratings (an indicator of financial stability), claim processing reputations, contract coverage, customer service, pricing, plan customizations, and more.
Pros
Annual deductible (not per-incident)
Pricing is among the least expensive when compared to other companies
No age restrictions and coverage starts as early as 7 weeks old
Claim processing averages 4-5 business days
Wellness coverage available as an add-on
5% multi-pet discount
Your pet is covered when they travel with you in the U.S., Canada, or Puerto Rico
Cons
Must pay extra for office visits, prescription medication, rehab, acupuncture, and chiropractic care coverage
Behavioral conditions aren't covered
No unlimited payout limit option
Bilateral conditions are excluded
Not available in Alaska
$2 transaction fee
Alternatives To Odie
Don't like the cons or uncertainty of a new company? Our pet insurance experts have analyzed over a dozen established pet insurance providers. Check out our pet insurance reviews to learn more about this year's top-ranked companies or use the tool below to get multiple quotes instantly.
Key Features
Underwriters and A.M. Best ratings: PrimeOne Insurance Company (B+) and Clear Blue Insurance Company (A-)
Bilateral conditions excluded (a condition or disease that affects both sides of the body): luxating patellas, Cruciate Ligament Events, glaucoma, entropion, ectropion, hip dysplasia, elbow dysplasia, cataracts, cherry eye, and osteochondritis dissecans
Claims process:

Must submit claims within 180 days of vet visit
Submit claims via online member portal, email, mail, or fax
Claim processing averages 4-5 business days
Reimbursement is available via check

24/7 Televet chat with AskVet
Note: Wishbone Pet Insurance is a program managed by Odie Pet Insurance Marketing, Inc., and administered by Thorson Specialty Insurance Services, Inc. Underwriters include PrimeOne Insurance Company, Clear Blue Insurance Company, and Clear Blue Specialty Insurance Company.
Customer Service Options
Email, phone, and live chat:

Monday-Friday from 8am to 5pm CST

FAQs
Waiting Periods*
Illnesses: 14 days
Accidents: 3 days
Cruciate Ligament: 6 months
Hip Dysplasia: 14 days
Wellness: 1 day
*Waiting periods for California, Maine, and Mississippi are as follows:
Accidents - 0 days
Illnesses - 14 days
Cruciate Ligament Conditions - 30 days
Routine Care - 0 days
What Does Odie Cover?
Please know that none of the providers in our pet insurance comparison charts cover pre-existing conditions, cremation and burial costs, pregnancy and breeding, or unnecessary cosmetic procedures.
All of them cover the following items when deemed medically necessary: emergency care, surgery and hospitalization, specialized exams and specialty care, X-rays, blood tests, ultrasounds, cat scans, MRIs, rehabilitation, cancer, chronic conditions, euthanasia, hereditary conditions, congenital conditions, non-routine dental treatment, and prescription medications. However, this coverage may have limitations, so please check your policy.
| Condition | Covered By Odie |
| --- | --- |
| Behavioral Therapies | |
| Alternative/Holistic Therapies | Extra Fee |
| Prescription Medications | Extra Fee |
| Sick Exam Fees | Extra Fee |
| Wellness Care | Extra Fee |
Accident Only Plan
Odie offers an Accident Only plan with a $10,000 annual payout limit, $250 deductible, and 90% reimbursement. It only covers accidents (as its name suggests), so things like broken bones are covered.
How Much Does Odie Cost?
From the options below, Odie lets you choose your deductible, annual payout, and reimbursement amount. What you select will help determine your monthly cost.
Deductible Options
Payout Options
Reimbursement Options
$50-$1,000 (in $50 increments)
$5,000
$10,000
$40,000
70%
80%
90%
Pricing is based on your pet's details. Visit Odie's website for a quote specific to your pet. Then use our pet insurance quote form to see how it compares against other providers.
Optional Benefits
Below are some add-on options you can include in your policy for additional coverage (available for extra fees).
Office Visits & Exam Fees
Take Home Prescription Medications
Rehab, Acupuncture & Chiropractic Care
Routine Care Plans
Coupon
Looking for an Odie Pet Insurance promo code? Click here for the best deal we could find.
How Does The Claim & Reimbursement Process Work?
Odie uses a "deductible then copay" reimbursement method. This is calculated in the following way:
Actual vet bill amount – Remaining annual deductible – Copay = Reimbursement amount
Is Odie The Best Pet Insurance Provider?
Odie is relatively new to the pet insurance industry. Its website is less professional than its competitors, with spelling errors and a more outdated feel. And, while the company offers an impressive level of plan customization, our experience with their sign-up process was that it was not very user-friendly.
Odie isn't our top pick for pet insurance. Find out who is in our pet insurance reviews, where our experts rate and rank companies that have more industry experience than Odie.
Tagged With: Reviewed By Insurance Agent