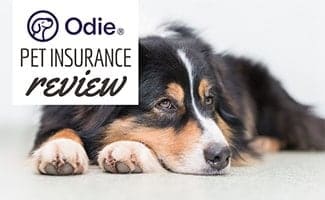 Odie is a newcomer to the pet insurance industry, which means there isn't much feedback yet from pet parents about its policies. But how does its coverage compare to other pet insurance companies, and can it fit into your budget? Find out what to expect with Odie in our review.
Odie
Pros
Annual deductible (not per-incident)
Pricing is among the least expensive when compared to other companies
No age restrictions and coverage starts as early as 7 weeks old
Claim repayment promised within 5 business days (direct deposit or check reimbursement)
Wellness coverage available as an add-on
5% multi-pet discount
Your pet is covered when they travel with you in the U.S., Canada, or Puerto Rico
Cons
Must pay extra for office visits, prescription medication, rehab, acupuncture, and chiropractic care coverage
No BBB rating
No unlimited payout limit option
Bilateral conditions are excluded
Not available in Alaska
$2 transaction fee
Behavioral conditions aren't covered
Alternatives To Odie
Don't like the cons or uncertainty of a new company? Our pet insurance experts have analyzed over a dozen established pet insurance providers. Check out our pet insurance reviews to learn more about this year's top-ranked companies.
Key Features
Underwriters and A.M. Best ratings: PrimeOne Insurance Company (B+), Clear Blue Insurance Company (A-), and Clear Blue Specialty Insurance Company (A-)
Bilateral conditions excluded (a condition or disease that affects both sides of the body)
Claims process:

Must submit claims within 180 days of vet visit
Submit claims via your Odie customer online account
Aims to process claims within 5 business days and have checks mailed in 1-2 weeks
Reimbursement is available via check

No mobile apps
24/7 Televet chat with AskVet
30-day money-back guarantee
Note: Wishbone Pet Insurance is a program managed by Odie Pet Insurance Marketing, Inc., and administered by Thorson Specialty Insurance Services, Inc. Underwriters include PrimeOne Insurance Company, Clear Blue Insurance Company, and Clear Blue Specialty Insurance Company.
Pre-Existing Conditions
Defined by Odie as:
In determining which Conditions are Pre-Existing, we look at the 18 months preceding the Policy Effective Date and exclude any Conditions that were Present during that period. Conditions that are Present during the policy Waiting Period described in 2.C. are also deemed to be Pre-Existing Conditions. Please note, the following Conditions are deemed Pre-Existing Conditions if they are Present at any time preceding the Policy Effective Date or the expiration of any Waiting Period:
Chronic Conditions.
Bilateral Conditions, if your Pet had at any time any Pre-Existing Conditions consistent with that same Bilateral Condition on either side of the body.
Intervertebral disc Conditions, if your Pet had at any time any Pre-Existing Conditions involving the intervertebral discs (due to either degeneration or trauma).
Customer Service Options
Email, phone, and live chat: Monday-Friday from 8am to 5pm CST
Live chat
FAQs
Waiting Periods
What Does Odie Cover?
Please know that none of the pet insurance providers in our comparison cover pre-existing conditions or cremation and burial costs. All of them cover the following items when deemed medically necessary: x-rays, blood tests, ultrasounds, CAT scans, MRIs, rehabilitation, specialized exams, surgery, hospitalization, emergency care, specialty care, hydrotherapy, chronic conditions, cancer, diagnostic treatment, and euthanasia. However, there may be limitations to this coverage, so please check your policy.
| Condition | Covered By Odie |
| --- | --- |
| Exam Required To Set Health Baseline | |
| Behavioral Therapies | |
| Exam Fees | Extra Fee |
| Wellness Care Available For An Extra Fee | |
| Non-Routine Dental Treatment | Limitations Apply* |
| Hereditary Conditions | |
| Congenital Conditions | |
| Prescription Medication | Extra Fee |
| Breed, Whelping, Pregnancy | |
| Cosmetic Procedures (e.g., Tail Docking, Ear Cropping, Dew Claw Removal) Unless Medically Necessary | |
| Alternative/Holistic Therapy | |
*To receive coverage for periodontal disease:
Beginning at 3 years old, your dog's teeth must be examined and cleaned under general anesthesia by a vet in the 13 months before a periodontal disease claim
Dogs younger than 3 years old have no cleaning or exam requirements to receive full coverage of periodontal disease (as long as no signs or symptoms were pre-existing)
Accident Only Plan
Odie offers an Accident Only plan, which has a $10,000 annual payout limit, $250 deductible, and 90% reimbursement. It only covers accidents (as its name suggests) so things like broken bones are covered.
How Much Does Odie Cost?
Odie offers a variety of deductible options (ranging from $40 to $1,000) as well as reimbursement selections (70%, 80%, and 90%). You can also choose your annual payout limit, ranging from $5,000 to $40,000. With so many adjustable variables, you can also adjust your price to meet your budget, depending on the level of risk you are willing to accept.
Below is a table showing examples of quotes from Odie. You can put your pet's information directly into its site to get a better estimate for your pet (use our link below for our best discount).
Breed
Labrador Retriever
English Cocker Spaniel
German Shepherd
Mixed Breed Cat
Male/Female
Female
Female
Male
Female
Age
2 years
8 years
4 years
2 years
Location
Florida
(zip code: 33134)
Illinois
(zip code: 60290)
California
(zip code: 90001)
Washington D.C.
(zip code: 20001)
Reimbursement Level
90%
70%
90%
80%
Annual Deductible
$500
$250
$500
$250
Annual Payout
$5,000
$10,000
$40,000
$25,000
Price Per Month
$20.86
$63.67
$52.83
$20.94
You can get personalized price quotes for your pet(s) from additional companies when you fill out our short form. You can also visit our pet insurance quotes page to see how Odie's competitors stack up against one another.
Optional Benefits
Below are some add-on options you can include in your policy for additional coverage (available for extra fees).
Office Visits & Exam Fees
Take Home Prescription Medications
Rehab, Acupuncture & Chiropractic Care
Routine Care Plans
Coupon
What Do People Think Of Odie?
Because Odie was founded in 2019, there is very little information online about its performance. We typically try to share a couple of positive and negative customer reviews with our readers, but we're unfortunately unable to do so with Odie.
Is Odie The Best Pet Insurance Provider?
Odie is relatively new to the pet insurance industry. Its website is less professional than its competitors, with spelling errors and a more outdated feel. And, while the company offers an impressive level of plan customization, our experience with their sign-up process was that it was not very user-friendly.
Odie isn't our top pick for pet insurance. Find out who is in our pet insurance reviews, where our experts rate and rank companies that have more industry experience than Odie. We've also ranked winners by "best of" categories such as value, special needs, and breeds in our best pet insurance article.
Would you cover your pet with Odie pet insurance?