To sustain this free service, we receive affiliate commissions via some of our links. This doesn't affect rankings. Our review process.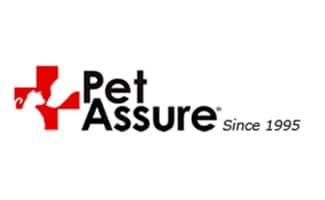 Pet Assure offers an across-the-board 25% discount on all of your dog or cat's vet bills at participating veterinarians. It can be used alone or in addition to your dog's insurance. There's no waiting period for Pet Assure (PA). The main selling point is that there are no exclusions; all pets are covered no matter their age, health or breed. However, a major drawback to Pet Assure is that it only covers a small portion of your pet's bill. Should your dog or cat need an expensive procedure, you're still likely to have a large vet bill, even after the 25% discount has been applied. So, read on to find out how the two products can be considered separately but may serve you better together.
Visit Website – Pet Assure
Pet Assure
Pros
45 day risk free trial
Used by about 150,000 customers
You won't be turned down due to your pet's age, breed or health condition
All medical services are covered
No annual limits
Preexisting conditions are covered
Honored by more than 4,800 vets
Can be used with pet insurance
Cons
Not all vets honor the plan, so finding a provider near you that you trust may be difficult
If your pet has an expensive procedure done you'll most likely have to pay a lot more than you would with insurance
Pet Assure Vs. Pet Insurance
Insurance is meant to protect you against major unexpected expenses. For example, car insurance responds when you have an accident and there are thousands of dollars of damage to your car. Pet insurance protects you when your animal gets injured or becomes ill unexpectedly. These types of things can be extremely expensive. With Pet Assure, if your animal has an $8,000 surgery, you're still out $6,000 because you only get a 25% discount; whereas with insurance, your vet bill is completely covered minus the deductible.
Pet Assure is cheaper than pet insurance at first glance, but if your dog or cat has a terrible accident or is diagnosed with a serious illness, you will likely have to fork over more money than you would with insurance. This downside might be one of the main reasons that they don't have very many customers – yet (another possible reason is the company and this sort of product is fairly new). However, there are certain circumstances where Pet Assure might be a better option than dog insurance; for example, if your dog or cat has a preexisting condition, then insurance may not cover related cases. This is especially true if that condition is chronic and will require many vet visits over a long period of time.
But asking whether you should get PetAssure or Pet Insurance is not really the right question. A better one is whether it makes sense to get them both: a 25% discount on all services with PA plus insurance in case of emergencies or serious illness. 
You Have Limited Vet Options With Pet Assure
If you wish to stay with your existing vet or choose from all the vets in your town, you may be out of luck with Pet Assure. Pet insurance will reimburse you (minus your deductible) for covered expenses no matter which vet performs the diagnosis and treatment. However, with Pet Assure, you are limited to their "in-network" providers, so you may not be able to receive the discount at "your" vet. This is a very important consideration for those that have a close relationship with a particular veterinarian.
How It Works
Visit their PetAssure website to see if your veterinarian has a relationship with them. If not, you must change vets to get the discount. Then, you visit an "in-network" vet, disclose you are a Pet Assure customer and they discount their fees accordingly.
It is also important to note that many new, less experienced or lesser known vets in the local market may join Pet Assure as a way to introduce themselves to new clients who otherwise may not choose them. This does not mean that the Pet Assure vets are not as good as the others in town but it may be worth doing research first to make sure you are comfortable with the provider who will care for your beloved animal. Also, some areas of the country do not have practicing vet for miles, so check on this for your location too before you sign up.
What Does Pet Assure Cover?
Below are the different packages available through Pet Assure including their price.
Single Dog Plan

Single Cat Plan

Family Plan

Included

Benefits your dog, horse
or other large animal.

Benefits your cat, rodent,
reptile or other small animal.

Includes up to 4 pets of any kind.

Price Per Month

$9.95 + $10 processing fee

$7.95 + $10 processing fee

$13.95 + $10 processing fee

Price Per Year

$99

$79

$149

25% Off Medical Services From Participating Veterinarians

Up To 35% Off Pet Products

24/7 Lost Pet Recovery Service*
*24/7 Lost Pet Recovery Service – Each animal is given an ID tag with a toll-free number and an identification number on it. If someone finds your pet they can call the phone number and read the ID number to them so you get your pet back.
Illustrations Of How These Services Might Work
Below is an example of how it might work, depending on which coverage you have.
Pet Assure Only Customer
There is a $1,000 vet bill for an accident or illness. The customer pays a $750 unless some of the services provided aren't discounted (the fee could be higher if the bill includes shots, blood work, etc.).
Pet Assure And Dog Insurance Customer
You receive a $1,000 vet bill for the same accident or illness and you, the customer, receive a $750 bills (because of the PA 25% off discount at the "in-network vet"). The pet insurance carrier would then apply the deductible (let's say $100 per your policy) once you submit your claim and then they would reimburse you the percentage outlined in your policy (let's say 100% for easy math). In this case, the customer only pays their deductible of $100 for the original $1,000 vet bill. $250 was discounted at the vet's office by PA and the remaining $650 is reimbursed by insurance.
My Customer Support Experience With Pet Assure
I spoke with Dylan via the live chat feature on they company's website. I have never experienced such great customer support. He wasn't being pushy or trying to sell me the entire time. He was polite and answered all of my questions. He never once asked me, "Would you like me to sign you up for a plan?" which is something that I always get asked no matter what type of company's service I'm researching via live chat. It was refreshing. At one point I asked, "What's the benefit for a vet to be in your network?" Dylan responded, "They get people to use their offices." Simple as that.
Visit Website – Pet Assure
Pet Assure Or Insurance Or Both?
Everything in our research for Pet Assure Reviews seems positive. They've been in business since 1995 and they seem to have their act together but choosing PetAssure over pet insurance is risky. In case of an emergency or an unexpected illness, you'll most likely end up paying a lot more out-of-pocket with PA. However, Pet Assure is an option to consider if you really can't afford pet insurance. It can also be a good supplement if your insurance has a lot of exclusions. To learn more, read our best pet insurance review.

Have you used this service? We'd love to hear about your experience.
Disclaimer: Information regarding insurance company offerings, pricing and other contract details are subject to change by the insurance company at any time and are not under the control of this website. Information published on this website is intended for reference use only. Please review your policy carefully before signing up for a new pet health insurance contract or any other contract as your unique circumstances will differ from those of others who may be used for example purposes in this article.
Disclaimer: The information provided through this website should not be used for diagnosing or treating a health problem or a disease. It is not a substitute for professional care. If you have or suspect you may have a health problem, you should consult your health care provider.
Disclaimer: This website contains reviews, opinions and information regarding products and services manufactured or provided by third parties. We are not responsible in any way for such products and services, and nothing contained here should be construed as a guarantee of the functionality, utility, safety or reliability of any product or services reviewed or discussed. Please follow the directions provided by the manufacturer or service provider when using any product or service reviewed or discussed on this website.