It's no secret that we're crazy about our pets. We write about every dog-related subject we can get our paws on, so we thought it would be fun to research pet ownership statistics and share them with you.
We give you verified stats about pet ownership concerning location, cost, and demographics of pet parents.
Article Overview
How Many Dogs Are In The World?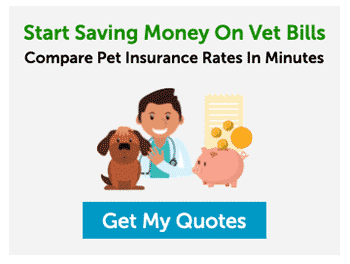 Unfortunately, this question is impossible to answer. Many countries have no registration process for animals. Not to mention the number of strays that populate the streets is unknown.
What we can share is that in 2018, there were an estimated 470 million pet dogs and 370 million pet cats worldwide.1 Keep in mind, this doesn't include all the stray pets that wander the streets, so the cat and dog population is most likely much more significant than this.
In 2020, there were an estimated 89.82 million pet dogs in Europe.2 And in 2017, there were an estimated 84.6 million pet dogs in China, with the population estimated to exceed 136 million by 2022.3
How does the United States compare to these other countries? In 2019, there were an estimated 90 million pet dogs in the U.S.9 The dog population in the U.S. is steadily increasing and is projected to reach 135 million by 2039.9
How Many U.S. Households Own A Pet?
Americans are fond of having furry (or scaly or feathery) pets in their homes. In 2019-2020, 67% of U.S. households owned a pet, which is an estimated 84.9 million homes. Dogs were by far the most common pet, with 63.4 million homes owning a dog, followed closely by cats with 42.7 million homes. Other common pets in U.S. households include freshwater fish, birds, small animals, reptiles, horses, and saltwater fish.5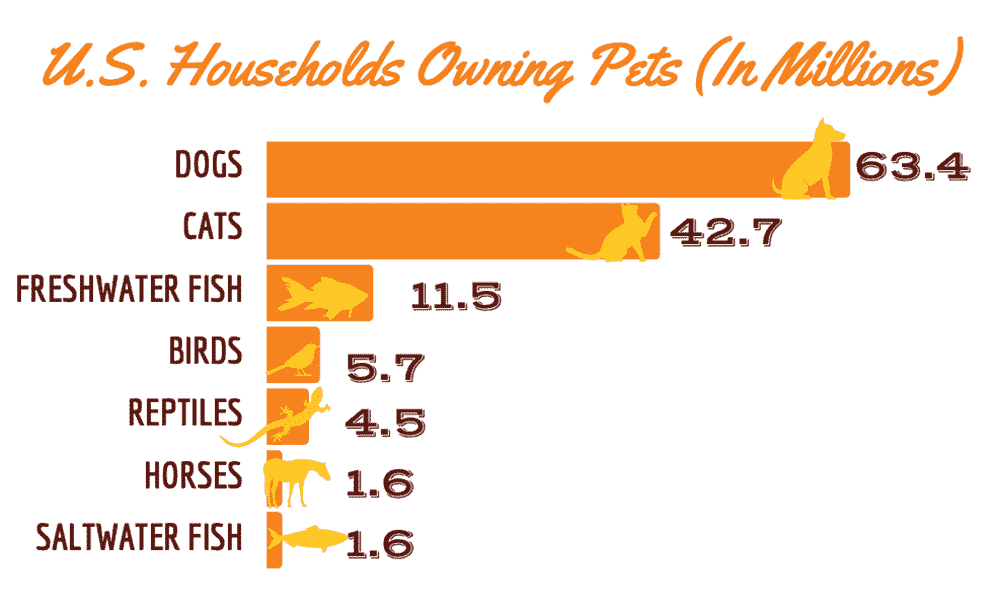 Fun Fact
With dogs being the most popular pets for Americans, Labrador Retrievers are the most popular breed in the U.S. for the 30th year in a row.6
Pet Ownership Statistics By State
Rural areas tend to have higher percentages of pet ownership than urban areas. Wyoming has the highest rate of pet ownership at 72%, followed by West Virginia (71%) and Idaho, Nebraska, and Vermont (70%). States with the lowest rate of pet ownership include Rhode Island (45%), South Dakota (46%), and New Jersey (47%).4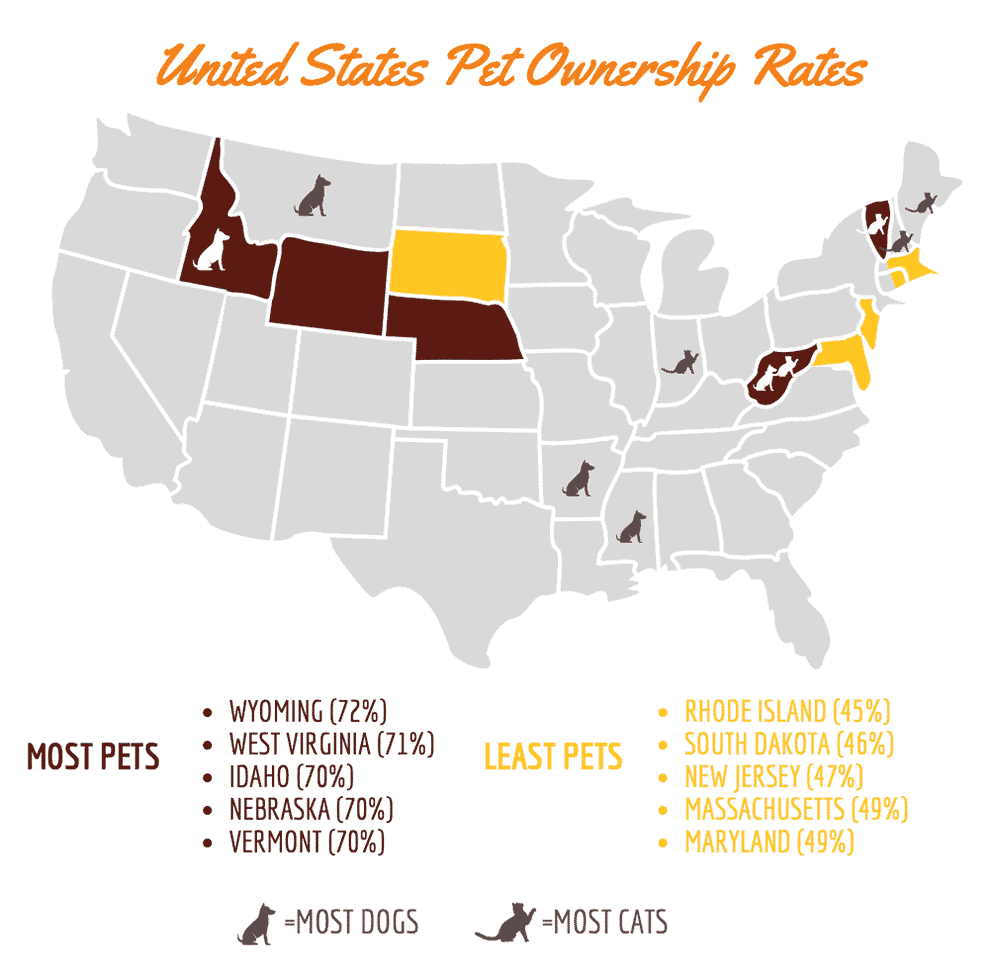 Which States Have More Dogs vs Cats?
Wondering which places you are most likely to see cats or dogs?4
Most Dog Ownership:
Idaho (58%)
Arkansas (52%)
Montana (52%)
Mississippi (51%)
West Virginia (50%)
Most Cat Ownership:
Vermont (45%)
Maine (44%)
Indiana (38%)
West Virginia (38%)
New Hampshire (36%)
How Much Do Americans Spend On Pets?
We love our pets dearly and want them to have the comfiest bed, healthiest food, yummiest treats, best pet insurance, and most fun toys. But there are also necessities that our pets need like vet care, grooming, and medication. In 2020, U.S. pet industry expenditures totaled $103.6 billion. That number is estimated to increase to $109.6 billion in 2021. That's an increase from $97.1 billion in 2019 and $90.5 billion in 2018.7
Estimated Dog Expenditures For 2021:
Pet food and treats: $44.1 billion
Vet care and products: $32.3 billion
Supplies: $23.4 billion
Boarding, grooming, insurance, training, sitting: $9.7 billion
Dog Expenditures In 2020:
Pet food and treats: $42.0 billion
Vet care and products: $31.4 billion
Supplies: $22.1 billion
Boarding, grooming, insurance, training, sitting: $8.1 billion
The average annual expense for dog parents totals $1,381 and $908 for cat parents, including surgical and routine vet visits, food, treats, boarding, vitamins, grooming, and toys.5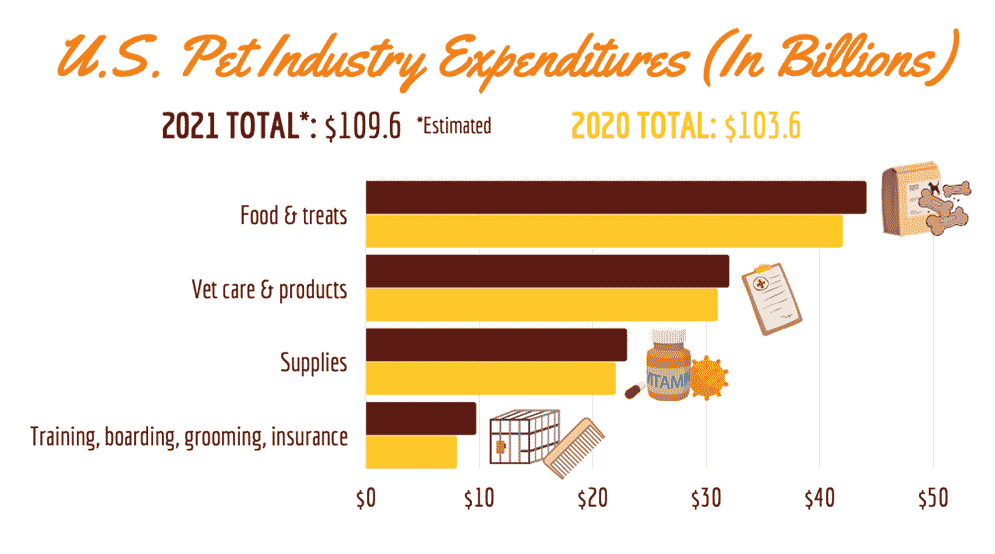 Annual Dog Expenses:
Surgical vet visits: $426
Food: $259
Kennel boarding: $229
Routine vet visits: $212
Treats: $76
Grooming: $73
Vitamins: $58
Toys: $48
Annual Cat Expenses:
Food: $228
Surgical vet visits: $214
Routine vet visits: $160
Kennel boarding: $120
Treats: $58
Vitamins: $54
Grooming: $43
Toys: $31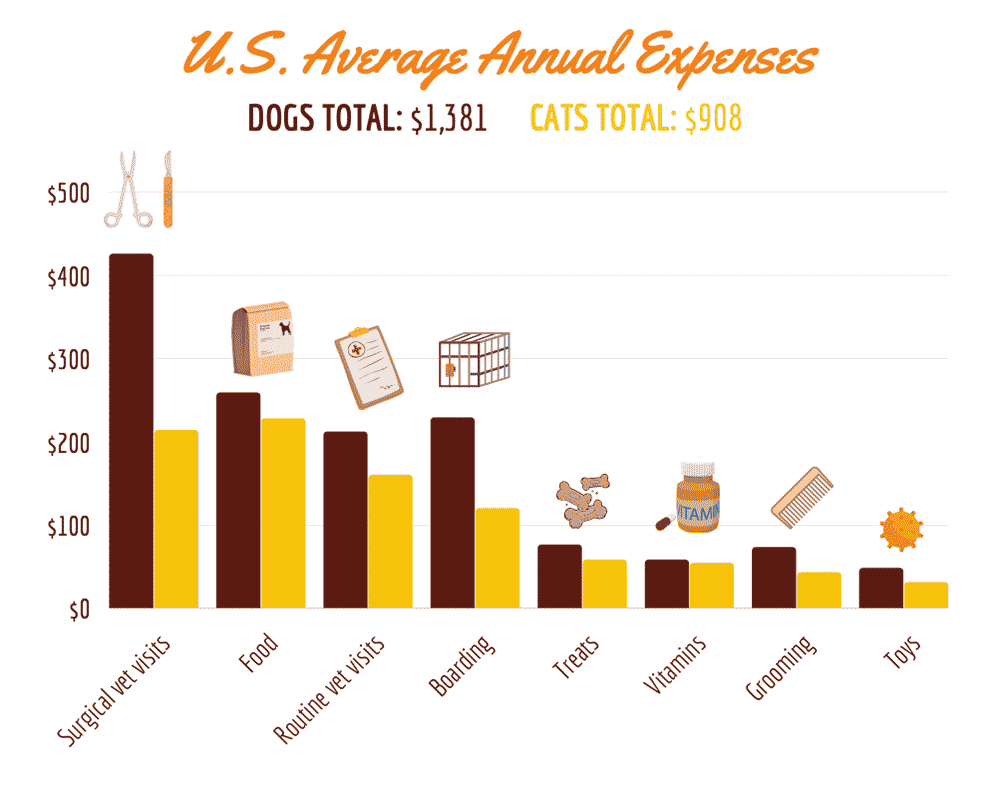 Pet Owner Demographics In The U.S.
Here are some quick stats from 2016 about pet parent demographics.4
The following percentages of owners had household incomes higher than $55,000:

56% of horse owners
52% of dog owners
47% of cat owners
41% of bird owners

Number of annual visits to the vet (on average):

Dogs: 3
Cats: 2.4
Horses: 2.8

Households with pets by racial and ethnic type:

64.7% White
61.4% Latino/Hispanic
36.9% Black/African-American
What Type Of Home Do Pet Owners Live In?
The highest rate of pet ownership is among households living in mobile homes (73.8%), followed by houses (65.8%). The lowest rates appear among those living in apartments, condos, duplexes, and other multiple-family residences.4
Cat Owners vs Dog Owners
Did you know cat owners differ from dog owners, on average?8
Dog Parents:
Watch more romcoms, horror, and action films
2x as likely to work in finance and tend to earn more money than cat owners
Enjoy sports, yoga, dancing, and travel
Cat Parents:
Watch more documentaries, musicals, or indie films
Are more creative and 4x more likely to work in a creative field than dog owners
Enjoy reading, writing, and gardening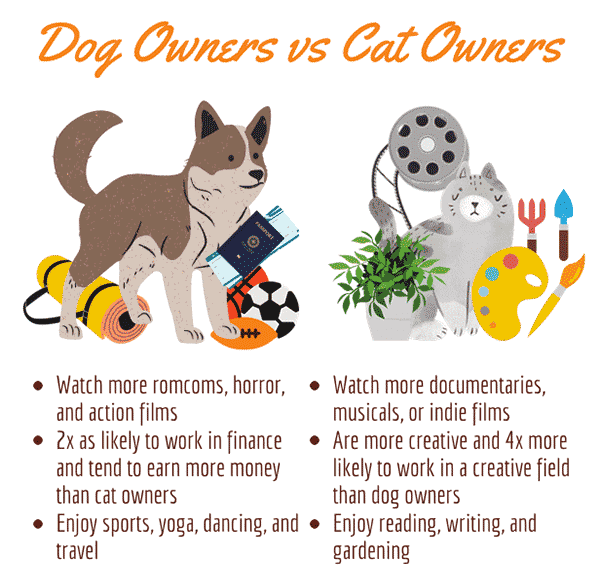 Pet Insurance Statistics
No matter the country, people love their pets. It doesn't matter where you live, what your income is, or what your ethnic background is. Pets make this world a better place. If you would like to learn more, we recommend the book Pet Nation by Mark L. Cushing. It provides a deep dive into the history, data, and dynamics that better explain the rapid rise in the popularity of pets in our homes and our economy.
If you enjoy reading about pet statistics, you may like to read our pet insurance statistics. You can learn more about health-related expenses associated with dogs and how pet insurance can help pay for these costly, unexpected vet visits.
Was there a stat that you were surprised by? Which one?
Sources: [1] Statista, [2] Statista, [3] Statista, [4] AVMA, [5] APPA, [6] AKC, [7] APPA, [8] Mars Petcare, [9] Pet Nation by Mark L. Cushing
Tagged With: