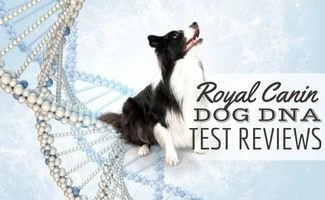 If you want to know which breeds make up your one-of-a-kind pup and if she's at risk for developing genetic health problems, you have several options. One test that many veterinarians offer is the Royal Canin Genetic Health Analysis test. (Yes, this is the same premium pet food company, if you were wondering.)
Are Royal Canin DNA test results accurate? And how does it compare to the best at-home dog DNA tests? We'll answer these questions and more in our Royal Canin Genetic Health Analysis review.
Royal Canin Dog DNA Test Review

Product Name: Royal Canin Dog DNA Test
Product Description: Royal Canin offers DNA testing to help you learn more about your dog's breed makeup and health.
Summary
Our team determines the overall rating by considering many criteria, including ease of testing, genetic health screenings, breed identification, pricing, customer support, and more.
Although Royal Canin's genetic testing is conducted by your veterinarian through a blood test, it may not necessarily be superior to at-home DNA tests. The most reliable at-home dog DNA tests can provide equally accurate results.
Pros
Good option if you're not comfortable doing a DNA swab test on your own
Your veterinarian gets a medically detailed report about your dog's health risks
Results emailed to you and your vet within 2-3 weeks
Cons
You must visit your vet to take a blood sample, which could end up being costly
Test doesn't consider as many dog breeds or genetic conditions as some other highly rated at-home tests
How Does Royal Canin's Test Work?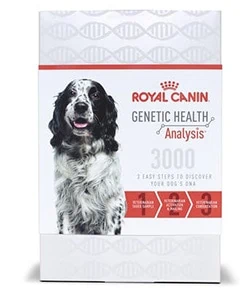 Unlike several popular at-home dog DNA tests that use a cheek swab to collect your pup's DNA sample, Royal Canin's is a blood test for dog DNA performed at a veterinarian's office. Your vet draws a small blood sample and sends it to Royal Canin's accredited laboratory for analysis.
You and your vet will receive your pup's Royal Canin DNA test results in two to three weeks. You'll get a general overview of the results, and your vet receives a more detailed, medically-focused report. Once you receive the report, you should schedule a consultation with your vet to review the findings.
Note: Be sure to check with your vet to see if they offer this test — not all do.
Key Features
The test's proprietary algorithm involves more than 18 million comparisons against over 250 different breeds and over 1,800 genetic markers
Identifies your dog's breed mix back to the great-grandparent level
You can find the Royal Canin genetic health analysis list here
Runs genetic mutation tests for over 160 diseases and conditions — this can signal whether your dog is predisposed to certain conditions during her lifetime
Predicts your dog's likely adult weight and size
Offers nutritional guidelines and feeding recommendations based on your dog's breed make-up
Customer support available by phone for questions about results
Price
The Royal Canin DNA test price varies based on what your veterinarian charges for the test kit and the vet office visit to draw your dog's blood sample. To give you a general idea, you can expect to pay around $130 just for the test.
Royal Canin DNA Test vs Embark's Test
There are some key differences between the Royal Canin Genetic Health Analysis test and Embark's Breed + Health Test kit.
| | Royal Canin Genetic Health Analysis | Embark Breed + Health Test |
| --- | --- | --- |
| Sample Collection | Blood | Cheek Swab |
| Location | Vet's Office | At Home |
| Number Of Breed Tests | 250 | 350+ |
| Disease & Mutation Tests | 163 | 215 |
| Predicts Adult Weight & Height | | |
| Physical Trait Tests | | 35 |
| Price | $130+ | $199 |
| Genetic Markers | 1,800 | 200,000 |
| Results | 2-3 Weeks | 2-4 Weeks |
Want More Details About Royal Canin's Test?
Check out this two-minute video to learn more about everything Royal Canin's DNA dog test can tell you about your pup.
Is Royal Canin Better Than At-Home Dog DNA Tests?
You might think that Royal Canin's genetic testing is better than at-home tests because it's a blood test performed by your veterinarian. But the best at-home dog DNA tests, like Embark and Wisdom Panel, are just as accurate (if not more so with breed identification since they both have a much larger breed database than Royal Canin).
Cheek swabs provide excellent DNA samples, and they're simple to do yourself. Embark and Wisdom Panel also test for more genetic conditions than Royal Canin. That's not to say that Royal Canin isn't a good option. It's accurate and well-respected in the veterinary community. And it's an excellent alternative if you'd rather have your vet handle your dog's DNA testing.
Tagged With: DNA