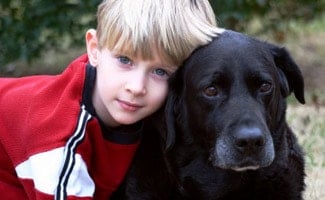 Unfortunately, it's a common part of everyday vet practice that we need to say goodbye to our patients and friends. As difficult as it can be on me, the veterinary technicians and other staff in the hospital, it is always more difficult for that pet's owner. Making the decision to humanely euthanize your pet can be hard. We all want to minimize or eliminate any pain or discomfort our pet may be experiencing, but when is it time to say goodbye?
Say Goodbye to your best friend: Dottie
When I was in the sixth grade I got a Dalmatian puppy for my birthday. I was fortunate enough to have Dottie for fourteen years before we had to humanely let her go. I was in my first year of veterinary school and Dottie started to change. It was becoming more and more difficult for her to perform her daily routines. She was an old dog and we all knew she wouldn't live forever, but things suddenly changed when she was diagnosed with a tumor located at the base of her heart.
My family considered all of our options. We took Dottie to a specialist and even spoke with a surgeon to get her point of view. At the end of the day, we all decided it was the most kind thing to let Dottie go in peace and with her dignity. She had given us her whole and uncompromising love for fourteen years and we needed to be her advocates at this most crucial time in her life. The decision wasn't easy, but I learned something that fateful day from one of the veterinarians I hold in the highest regard, Dr. Robert Granberry.
Look for Signs to Know When It's Time
Just because we can do something doesn't mean we should. Not all cases and animals are the same but something that helped me and many of my clients is this. Pets can deal with an unbelievable amount of discomfort and at times show little to no sign of distress or pain. When an animal's life is no longer enjoyable, or you as the owner believe your pet's quality of life to be less than it should be, then it's time to speak with your veterinarian. He or she may be able to help with the decision.
Talk to Your Veterinarian Before Making a Decision
Attitude and appetite are everything when assessing my patients – whether it be post-operatively, on a wellness visit, or any other occasion. Animals don't lie and it's up to us to pick up on their cues. Think of the three most favorite things your dog or cat loves to do. One of the three is almost always eating. When 2 of those activities are no longer as important to your pet as they once were, then it's time to assess the situation with your veterinarian. It may not be time to say goodbye but it's certainly time to get some expert advice and seek help understanding what may be happening. You know your pet better than we do. How have things changed over time? What is the best decision for my pet AND myself? Be the advocate and don't focus on the feelings of today. Remember the good times. The reasons we cry when losing a pet are not for the feelings of today but for the memories we have made with our best friends.