To keep the lights on, we receive affiliate commissions via some of our links. Our review process.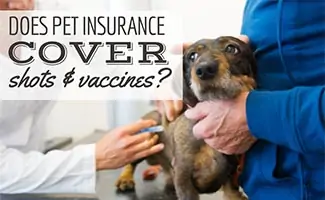 One of the most important things you can do for your dog is ensuring that she has an annual vet checkup and receives any recommended vaccinations from her veterinarian. Unfortunately, this annual checkup can become rather costly after you're charged for the exam fee, shots, preventative medicine, etc.
Can you get assistance in covering expenses like vaccinations through pet insurance? We'll explain how to find the best pet insurance policy to help you cover these wellness expenses.
Does Pet Insurance Cover Vaccines?
Accident and illness pet insurance policies don't cover vaccinations. However, if you purchase a pet insurance plan that offers a wellness coverage add-on, it may cover a portion of your dog's shots.
What Is A Wellness Plan?
Wellness plans cover a portion of routine vet treatments, such as annual exams, spaying/neutering procedures, heartworm testing, vaccinations, flea and tick prevention, microchipping, and more. The items and amounts covered vary based on the pet insurance company you purchase your policy through. Accident and illness pet insurance policies don't cover these types of preventative expenses.
Which Pet Insurance Companies Offer Wellness Plans?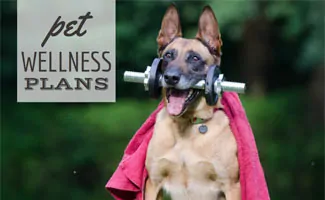 We have reviewed pet wellness plans offered by various companies. Some companies require you to purchase a pet insurance policy and then add a wellness policy to that plan. Other companies allow you to enroll in wellness coverage without buying a pet insurance plan first. To find a company to help assist in the expense of vaccinations, read about pet wellness plans.
Pet Insurance Can Save You Money
In the first year, puppy shots can cost around $100. Then, depending on where you live, your pet's health, and what your vet recommends, you'll pay for additional vaccinations. Costs for these vaccines and boosters can vary, but on average, you can expect the following annual costs unless otherwise noted.
Rabies – $30 (administered every 3 years)
Bordetella – $30
Lyme – $20 to $55
Leptospirosis – $30 to $45
DHPP Booster (distemper, adenovirus, parvovirus, and parainfluenza) – $20 to $55 (administered every 1- 3 years)
So, if your dog lives 12 years, you could pay $3,000 or more for vaccinations over your dog's lifetime. A wellness plan could help you cover a portion of these expenses and other preventative items as well.
Make Impossible Decisions A Little Easier
If you opt for a pet insurance policy with wellness coverage, you're eliminating the decision to choose between your bank account and your pet's health. On average, pet insurance plans cost $50 per month for dogs ($30 for cats). Budgeting for this monthly expense could save you thousands in unexpected vet bills. We review the best pet insurance and rank them based on coverage, customer service, price, and more, so you can choose the best policy for your sweet pet.
Tagged With: Reviewed By Insurance Agent