To keep the lights on, we receive affiliate commissions via some of our links. Our review process.
Selecting the right pet insurance for your dog is a personal decision. Each policy covers and excludes different conditions. Find out how to get your dog's surgery considered by pet insurance.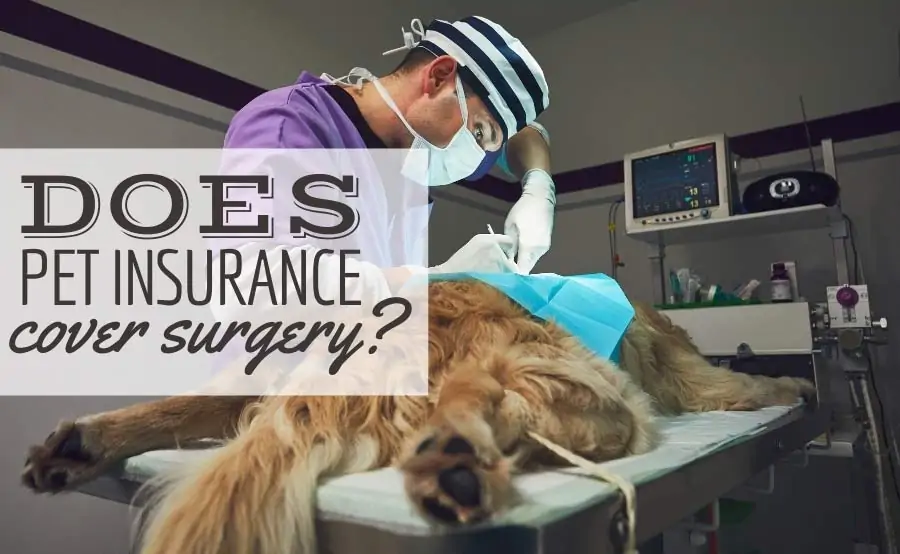 Are you wondering if you can get pet insurance for surgery? It all depends on the current state of your dog's health. What does that mean? Pet insurance doesn't cover pre-existing conditions. So, if your dog has already been diagnosed with an ailment and you know she needs surgery, then it will most likely be ineligible from coverage. However, there are still many other instances where getting pet insurance makes sense, especially if you are trying to minimize unmanageable vet bills in the future.
When Will Pet Insurance Cover Surgery?
Pet insurance covers surgery for procedures of eligible accidents and illnesses. Eligible accidents and illnesses include conditions that haven't been diagnosed or occurred before the pet insurance policy's effective date and applicable waiting periods.
Is Getting Pet Insurance Before Surgery An Option?
Yes and no. You can always purchase a pet insurance policy for your dog. However, if you know that your dog needs surgery and then decide to sign her up for an insurance plan, the surgery will be excluded from coverage because it's considered a pre-existing condition.
Does Pet Insurance Cover Soft Palate Surgery?
Vets often recommend soft palate surgery (aka BOAS correction procedure) to pet owners of brachycephalic or flat-faced breeds like Bulldogs. This surgery can improve your dog's ability to breathe more comfortably and is often recommended to dogs with elongated soft palates.
This condition is part of Brachycephalic Obstructive Airway Syndrome (BOAS), classified as hereditary or breed-related. So, if you have a flat-faced breed and are concerned about BOAS surgery down the line, then make sure you purchase a pet insurance policy that covers inherited and breed-related conditions. Fortunately, all of the companies listed in our pet insurance reviews cover genetic concerns.
Does Pet Insurance Cover Knee Surgery?
One of the dogs' most common knee surgeries is CCL repair (known as ACL surgery for humans). CCL stands for cranial cruciate ligament and is the connective tissue for the dog's tibia and femur. Dogs with patellar luxation are at an increased risk for tearing their CCL. TPLO (tibial-plateau-leveling osteotomy) surgery is a reliable approach to help stabilize the knee joints after a cruciate ligament rupture.
Pet insurance plans typically include coverage for knee injuries like the CCL. However, there may be restrictions. Some companies have waiting periods associated with their knee and orthopedic coverage.
Additionally, some pet insurance companies have bilateral exclusions, a condition or disease that affects both sides of the body. Knee conditions are often classified as bilateral exclusions, including luxating patellas and cruciate ligament tears or ruptures. As long as your pet is signed up before any knee injury occurs and the diagnosis takes place after the waiting period, your dog's knee surgery should be eligible for coverage.
Does Pet Insurance Cover Spay & Neuter Surgeries?
Spaying and neutering aren't covered through accident and illness pet insurance plans. However, if you sign up for a pet wellness plan, there may be an allotted amount you can use towards desexing your pet.
A few pet insurance companies offer pet wellness plans. Most of them require you to purchase their accident and illness policies and then add a wellness plan for an extra fee. In addition to desexing, pet wellness plans also offer coverage for other routine preventative practices, such as vaccinations, annual exams, flea and tick preventative, and more.
Does Pet Insurance Cover Hip Dysplasia Surgery?
Pet insurance policies typically include hip dysplasia coverage in their accident and illness policies. However, some restrictions may apply. Some companies have waiting periods or age restrictions associated with this coverage. Hip dysplasia is also classified as a bilateral exclusion.
But your dog's hip dysplasia surgery should be eligible for coverage as long as you:
Signed your pet up before applicable age restrictions,
Confirm it isn't considered a pre-existing condition,
And it was diagnosed after the waiting period.
Best Pet Insurance For Surgery
Fortunately, you have many options for dog insurance that covers surgery and related expenses. Our pet insurance comparison allows you to analyze the top pet insurance companies. We have comparison tables for plan customizations, coverage and exclusions, waiting periods, age limitations, and sample price quotes to help you see how the pet insurance companies differ. All of the current insurance policies cover surgery as long as the condition isn't considered pre-existing.
Tagged With: Reviewed By Insurance Agent