To keep the lights on, we receive affiliate commissions via some of our links. Our review process.
It's tempting to slip Fido a piece of Thanksgiving turkey or lunch meat, but could turkey harm your dog? Learn the answers and some alternatives. Also, enjoy a yummy turkey treat recipe to make with your Thanksgiving leftovers.
Can Dogs Eat Turkey? Is It Bad For Dogs?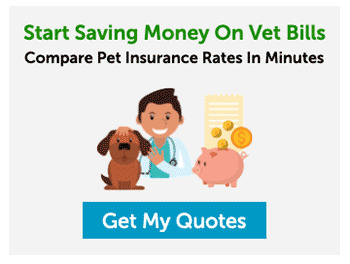 Plain, unseasoned turkey is a tasty and nutritious snack for most dogs and is often an ingredient in commercial dog foods. There isn't anything particularly toxic about it, but when processed, like deli meats and turkey hot dogs, the chemicals used to keep them "edible" are often not digested well by dogs. We do not recommend feeding your dog any processed meats. So it is best to avoid deli turkey and other sandwich meats.
Thanksgiving turkey can be just as dangerous. We like to cover and fill our birds with oil, butter, seasonings, garlic, onion, stuffing, etc. These extra ingredients can upset your dog's digestive system or even cause pancreatitis. It's better to avoid sliding the dog a piece under the table.
If you choose to give turkey to your dog, moderation is crucial, and always remember that each dog has unique dietary needs and sensitivities.
What Thanksgiving Sides Are Safe & Dangerous For Dogs
Mashed Potatoes – Cooked potatoes are okay but they contain seasonings, salt, and fat which can upset their stomach. Potatoes also contain solanine and oxalates which can be toxic. Dogs can eat cooked, unseasoned, peeled sweet potatoes. The skin can be difficult for your dog to digest, and you should never feed your dog raw potatoes of any sort. Learn more about dogs and potatoes.
Gravy – Dogs should stay away from the sauce too which has seasonings and salt (plus loaded with fat).
Pumpkin Pie & Sweet Potato Casserole – Plain canned pumpkin or cooked sweet potatoes are fine but avoid giving them a slice of pie or casserole which is made with sugar and sweeteners. Too much sugar for your pup can lead to dental issues, obesity, and even diabetes.
Dinner Rolls – Just like yeast rises in bread, it will also expand and rise within your pup's tummy. Make sure they don't get any. While mild cases will cause gas, lots of farting, and discomfort — too much of it could rupture the stomach and intestines. Yeast dough is also dangerous because as it ferments and rises it makes alcohol which can lead to alcohol poisoning.
Cranberries – Cranberries and dried cranberries are safe for your dog to eat in small quantities. However, your dog may not be a fan of tart fruit. If you find that your dog likes cranberries, feed them in moderation to prevent an upset tummy.
Alcohol – While tempting, do not let your dog indulge in beer or wine. Alcohol can cause not only intoxication, lack of coordination, weak breathing, and abnormal acidity but potentially even coma or death.
Can Dogs Chew On Turkey Bones?
Feeding your dog meat bones is always a risk, especially if cooked. So we recommend that you avoid feeding your dog meat bones. And, in the case of turkey bones, like chicken and other poultry, they tend to splinter easily, which can wreak digestive havoc on your dog's insides. To avoid this risk, it is also best to avoid giving your dog turkey bones.
Does Your Dog Have A Food Allergy?
Some dogs have food allergies. If you see a pattern with your pup eating turkey and subsequently getting sick, then you may consider removing the turkey from their diet. To confirm a food or environmental allergy, you can order this test and consult your vet for more advice.
Turkey Dog Treat Recipe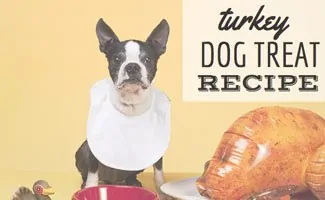 If you want to try giving your dog some Thanksgiving leftovers, here is a dog treat recipe you can make at home.
Remember to avoid giving your dog a butter-soaked, herb-covered, stuffing-filled turkey. Unseasoned cooked turkey is best, and only feed it in moderation.
Making these treats is a healthy alternative.
1 unbaked loaf of bread or pizza crust
1/4 cup water
1-2 teaspoons flour
3/4 cup cooked turkey chopped into small pieces
1/2 cup cooked vegetables that are safe for dog
1/4 cup grated cheese (pick your pup's favorite)
1/4 cup sesame seeds
Cooking Instructions:
Preheat oven to 375°F.
Roll out the dough and cut it into 3″ circles with a cookie cutter.
In a pan, combine the water and flour, stirring until the flour dissolves.
Heat on medium until the mixture thickens.
Add the turkey and vegetables. Cook until the mixture is thoroughly heated.
Simmer for a few minutes.
Spoon one to two teaspoons of the turkey-veggie mixture onto each circle.
Fold up the sides and pinch shut.
Roll into a ball shape.
In a separate small bowl, mix the cheese and sesame seeds.
Roll or sprinkle each ball with the cheese-sesame seed mixture.
Arrange the balls on a baking sheet and cook for 10-15 minutes, until golden brown.
Allow the turkey dog treats to cool and store them in the refrigerator for up to 4 days.
Serving Size: Approximately 8 cups (64 oz.)
Is Turkey Bad For Dogs Infographic
Here's a handy graphic you can share and print out to make the turkey treat recipe.

A No-Cook, Year-Round Alternative
If you are looking for a delicious pre-made turkey recipe to enjoy all year long, we highly recommend you get your paws on The Farmer's Dog. Your dog will gobble it up (or at least ours do!). The Farmer's Dog is fresh, all-natural wet dog food packed with all the nutrients your pup needs. If your dog prefers other flavors, they offer meat-first recipes with chicken, beef, pork, and turkey. For added convenience, it is delivered right to your doorstep. Learn more in our Farmer's Dog review.
Tagged With: Food Safety, Reviewed By Dr. Racine, DVM