To keep the lights on, we receive affiliate commissions via some of our links. Our review process.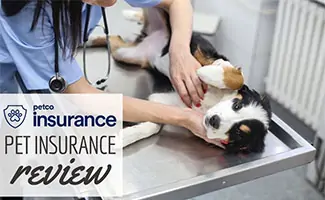 PetCoach began offering pet insurance under the Petco brand name in 2017 and has some impressive coverage. But there are dozens of pet insurance companies to consider for insuring your pet. Is Petco worth your consideration? Learn all about Petco's policy, pricing, waiting periods, and more.
Petco Insurance Review

Product Name: Petco Insurance
Product Description: Petco offers pet insurance for dogs and cats.
Summary
Petco specializes in many things related to pets. However, its insurance isn't entirely up to par with its competitors. Premiums are often higher than average, and there's a longer 14-day waiting period for accidents. With some small changes, Petco could become a powerhouse in the pet insurance industry.
Our pet insurance experts read through each pet insurance company's policy to provide detailed comparisons and information regarding how a provider fares against others in the industry. We also speak with customers, read online feedback, and communicate one-on-one with pet insurance companies to obtain a well-rounded, unbiased analysis of a company's standings.
Our team rates pet insurance companies based on several factors, including A.M. Best ratings (an indicator of financial stability), claim processing reputations, contract coverage, customer service, pricing, plan customizations, and more.
Pros
No lifetime or per-incident payout limits with any plan
No upper age limits
BBB rating: B
30-day money-back guarantee
10% multi-pet discount
Covers alternative therapies, like acupuncture
Your pet is covered when they travel with you in the U.S., Canada, Guam, Puerto Rico, U.S. Virgin Islands, and other U.S. territories
Cons
No wellness plan
Premiums were higher than average when we ran quotes
14-day waiting period for accidents (some cover accidents within 2-3 days)
If there's a knee injury prior to enrollment or during the waiting period, they won't cover the second leg if an injury occurs. It's considered a bilateral condition.
Alternatives To Petco Dog Insurance
We don't include Petco (or any company with less than five years of pet insurance experience) in our annual rankings. Why? Because it takes time for providers to establish consistent pricing and customer experience. To find the best, our experts regularly analyze over a dozen established companies. Learn more in our top pet insurance reviews or get free quotes now.
Key Features
Pre-Existing Conditions
Pet insurance providers don't cover pre-existing conditions, but the specific definitions can vary by company. A pre-existing condition is defined by Petco in their policy as:
Illness, disease, injury, or change to your pet's health that first occurs or shows symptoms before coverage is effective or during a waiting period. This includes conditions that are related to, secondary, or resultant from a pre-existing condition.
Petco covers curable pre-existing conditions after 180 days. This doesn't apply to ligament and knee conditions.
Customer Service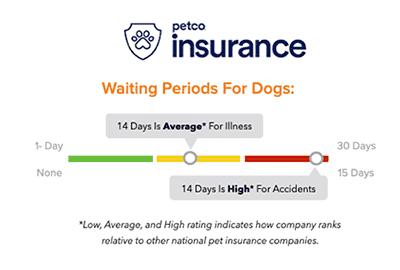 Waiting Periods
What Does Petco Pet Insurance Cover?
The details below are for Petco's accident and illness policy. Petco also offers an accident-only plan, which we discuss in more detail below.
Please know that none of the providers in our pet insurance comparison cover pre-existing conditions or cremation and burial costs. All of them cover the following items when deemed medically necessary: x-rays, blood tests, ultrasounds, cat scans, MRIs, rehabilitation, specialized exams, surgery, hospitalization, emergency care, specialty care, hydrotherapy, chronic conditions, cancer, diagnostic treatment, alternative/holistic therapy, and euthanasia. However, there may be limitations to this coverage, so please check your policy.
| Condition | Covered By Petco |
| --- | --- |
| Exam Required To Set Health Baseline | |
| Behavioral Therapies | |
| Exam Fees | |
| Wellness Care Available For An Extra Fee | |
| Non-Routine Dental Treatment | |
| Hereditary Conditions | |
| Congenital Conditions | |
| Prescription Medication | |
| Breed, Whelping, Pregnancy | |
| Cosmetic Procedures (e.g., Tail Docking, Ear Cropping, Dew Claw Removal) Unless Medically Necessary | |
Accident-Only Plan
Petco's Accident-Only plan covers items related to injuries and accidents, including:
How Much Does Petco Insurance Cost?
Your monthly Petco Insurance premium is based on the deductible, reimbursement percentage, and annual payout options that you choose from the table below.
Deductible Options
Payout Options
Reimbursement Options
$100
$250
$500
$5,000
$10,000
$15,000
$20,000
Unlimited
70%
80%
90%
Pricing is also based on your pet's details (age, breed, location, pre-existing conditions, etc.). We recommend obtaining quotes from Petco for your specific pet to get an idea of how much a policy would cost you.
You can also use our pet insurance quote form below to see how top providers compare for your actual pet.
Is Petco The Best Pet Insurance?
Petco's pet health insurance has competitive coverage and a variety of policy customization options to help it best fit your budget and needs. However, Petco is fairly new to the pet insurance marketplace, so we'd like to hear more about customers' experiences before recommending them to you.
If you're unsure about signing up for Petco Insurance, you can consider other options. Read our best pet insurance article to learn more about our top picks ranked based on coverage, customer service, price, and more.
Tagged With: Reviewed By Insurance Agent