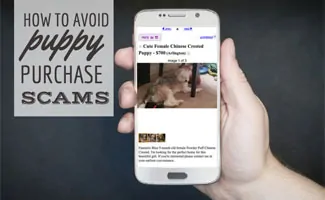 Buying a puppy online can quickly turn into you spending hundreds (or thousands) of dollars but still being dogless. How? Because con artists are running puppy scams and getting away with it. Follow our suggestions to avoid being their next victim.
Article Overview
How To Avoid Puppy Scams
The most obvious way to avoid a puppy scam? Don't purchase a pet online. However, there are other steps you can take to make sure you don't get scammed.
Adopt From A Shelter
We're strong advocates for adoption. There are many shelters and organizations you can adopt through, and if you need a recommendation, ask your vet, family, friends, and neighbors.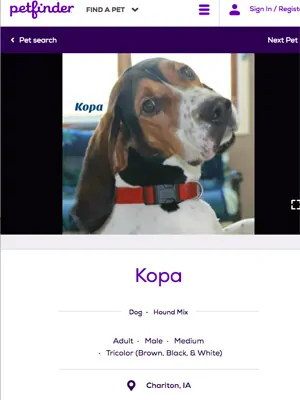 Just because a dog is in a shelter doesn't mean they come with "baggage." Many dogs wind up in shelters because the owner is moving and can't take the dog with them. The dog was found and never claimed. Adopting a dog was too much responsibility for the owner. And other reasons that have nothing to do with the dog's behavior.
If a purebred or specific breed is your heart's desire, don't be deterred from adopting. Many dogs need adopting, and there are some rescue groups dedicated to finding homes for specific breeds or purebreds.
Purebred Doesn't Necessarily Mean Well-Bred
If you have your heart set on a purebred dog, but you aren't finding one through a shelter, you want to make sure you're buying from a legitimate breeder. (Take a look at this PDF from the Humane Society about finding a responsible dog breeder.) Legitimate dog breeders provide quality vet care for the animals, food, and sanitary kenneling.
Many unprofessional breeders are trying to make extra cash but not willing to put in the time and money to breed good purebreds. It's expensive to raise well-bred purebreds; therefore, they cost more to buy.
Never Buy A Dog From Craigslist
It's okay to search on Craigslist for dog listings from reputable organizations, but we don't recommend buying off the site itself. If you think you're getting a purebred dog that's well-bred from Craigslist, you're not. Good breeders don't need to post on Craigslist. They often have waiting lists and don't need to search for buyers.
Research The Seller Extensively
If you must purchase a dog online, search the seller's name and contact information with the words scam and complaint (e.g., John Doe johndoe123@website.com scam) to see if they're on a puppy scammer list.
Canine con artists are good at what they do, and they're known for changing their names. So be aware that it can be just as bad if you search their name and come up with nothing.
Ask the seller for references and follow up with those references. Ask them about their experience with the seller.
Meet & Pick Up The Dog Yourself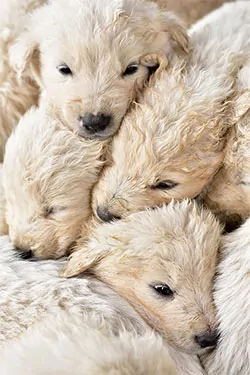 You should be able to meet the seller and dog in person, see their place of business, collect all vet papers, and obtain documentation for proof of your purchase. If the seller doesn't want you to see the dog's housing, that's a red flag. Not to mention you should always meet a dog in advance to make sure he's a good fit for your lifestyle. Choosing a dog based on his photo alone is like buying a house and never stepping foot inside.
Don't Wire Money Or Send Prepaid Cards
You may think you're "securing" your claim for a dog by wiring a "deposit" or full payment in advance, but, really, you're getting scammed. Wiring money is like paying in cash; there's no way to trace it back. A professional breeder won't ask you to wire them money and then ship their valuable puppy off to someone they've never met.
Breeders care about their dogs and want them to go to good homes. It's equally as important for you to find a dog that can mesh well in your life as it is for the breeder to find a comfortable home for each dog.
If the seller refuses refunds, that's another red flag. Legitimate breeders will offer to help if a problem arises — that often includes taking a dog back or finding it a new home.
Puppyhood Is The Best Time To Consider Pet Insurance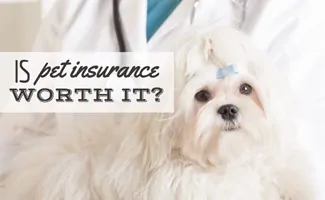 As a puppy, your dog has probably not shown any significant health concerns at their young age. Since pet insurance companies do not cover pre-existing conditions, the younger your dog is when you signup, the better coverage you will likely receive throughout their lifetime. Further, pet insurance can help support you financially during the unpredictable puppy years when dogs are more likely to chew on things they shouldn't and run into dangerous situations. Check out our pet insurance 101 guide to learn more and determine whether pet insurance is worth it for your puppy.

9 Signs Of A Puppy Scam
Prices are too good to be true, or the price is negotiable, on sale or at a discounted price
Puppy is free if you pay for shipping
The seller won't talk on the phone and only communicates through emails or texts
The only way to get the puppy is to have it shipped to you, and you can't pick it up
You must pay by money transfer or prepaid debit card
After you make a payment, there are suddenly more expenses (e.g., shipping insurance, vet bills, crate fees, etc.)
The seller tells you a sad story about why the puppy is for sale for reasons such as family hardship, relocation, or death
If the seller says something like, "We're not breeders. Our dog just had puppies, so we're trying to find them a good home." A red flag that it's a potential scam.
The puppy's photo is in other ads (discovered when you do a reverse image search)
Signs Of A Puppy Scam Infographic

What If I Think Someone Is Running A Puppy Scam?
If you think someone is running a puppy scam, file a complaint with your state attorney general's office and with the Federal Trade Commission.
Dog DNA Tests Can Confirm Dog Breed
If you're concerned about the breed make-up of a dog you want to buy, you could conduct a DNA test on the dog. Many breeders will even do this ahead of time to validate their claims, and so you can see the results for yourself. We've reviewed the Best Dog DNA Tests, and we include pros, cons, and more for each test. Another more detailed and scientific option to verify the history provided by a breeder is to get a parentage test from EasyDNA, which promises to show the pedigree of a dog with 99.99% accuracy.
Have you come across a nasty puppy scam?